Hello everyone. How have you all been?
To be honest, I was a bit nervous of putting this outfit together. Because I don't always wear pattern on pattern and hair up do. But I was quite satisfied with how it came out. Except for the part that I was sweating really bad. lol. Please don't even get me started on the scorching heat of Delhi.
Outfit
Anyway coming back, I wore a striped shirt here which I think contrasted very well with everything else being black and white. The balloon checked skirt with the black buttons on the pockets is one of my favorites this summer.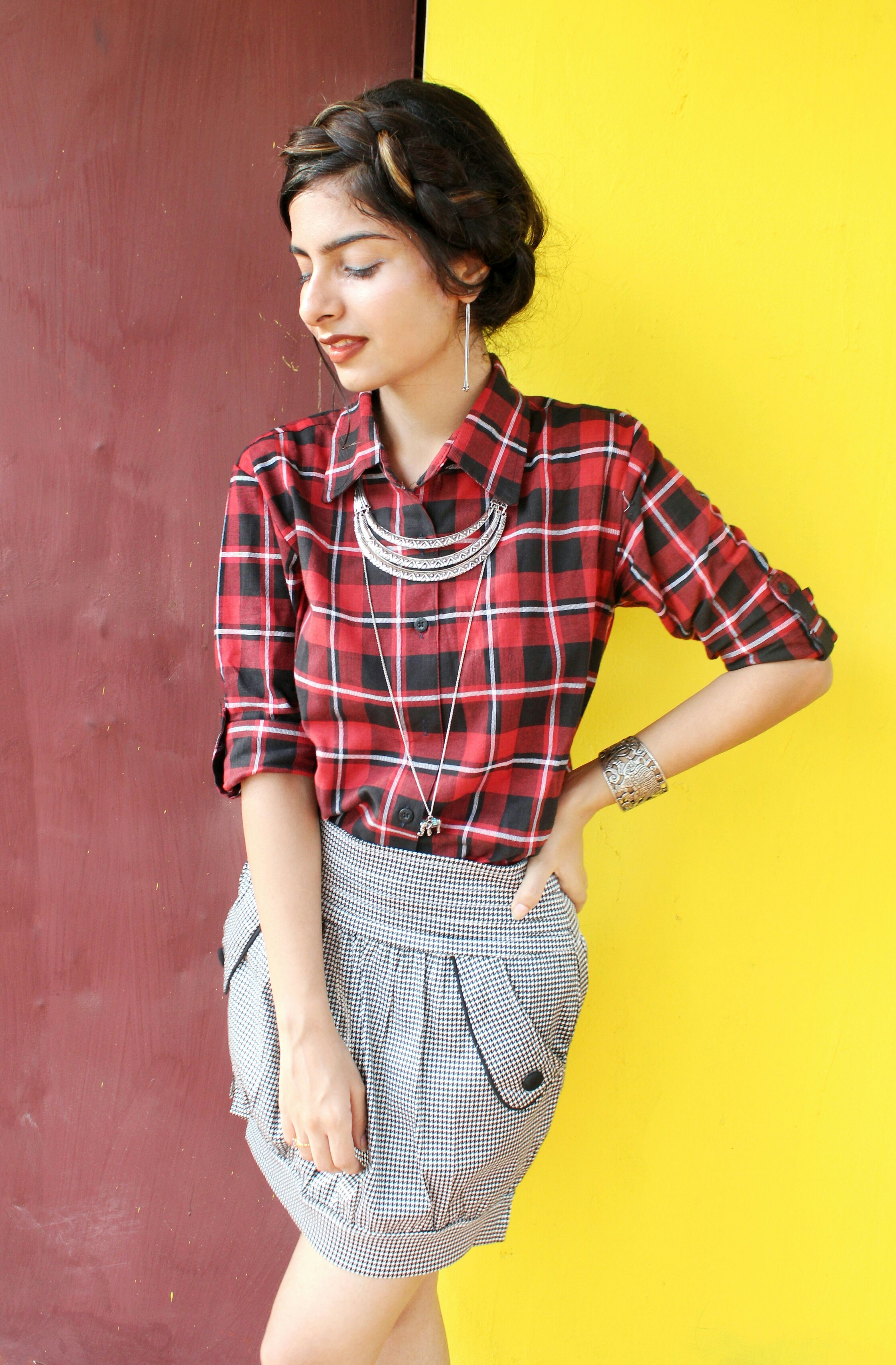 Jewellery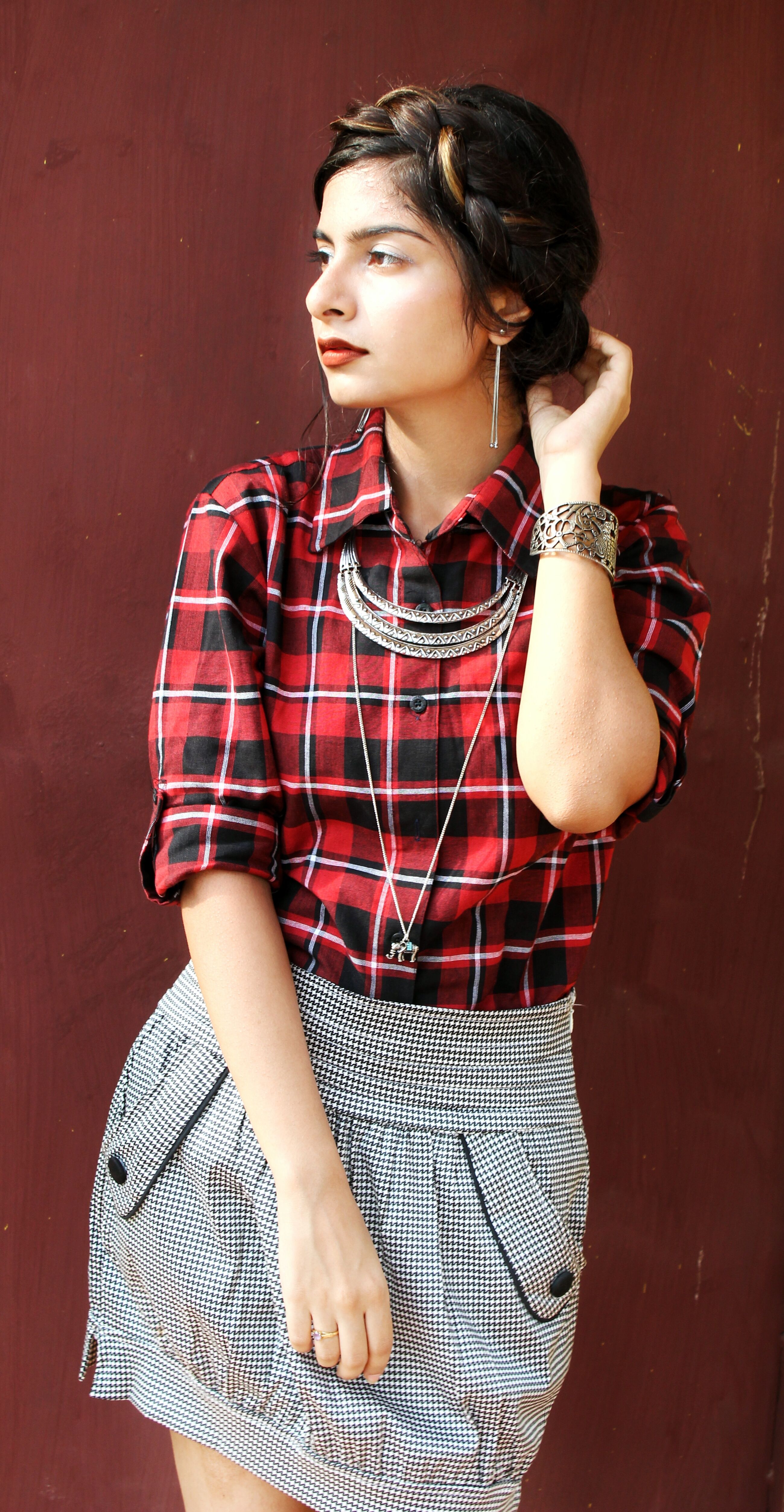 Recently I have been obsessed with oxidized silver jewelry. I feel it adds a perfect little bohemian touch to any outfit.
Be it Indian wear or a classy black dress or any simple top, basically it goes with anything. So I wore this choker neck piece and a long silver chain with a little turquoise elephant pendent. (Random fact – Turquoise is my favorite color). I also wore these long silver earrings which I think are really unique because they have the chain behind the ear. Also, a bold bracelet which looks elegant to complete the look.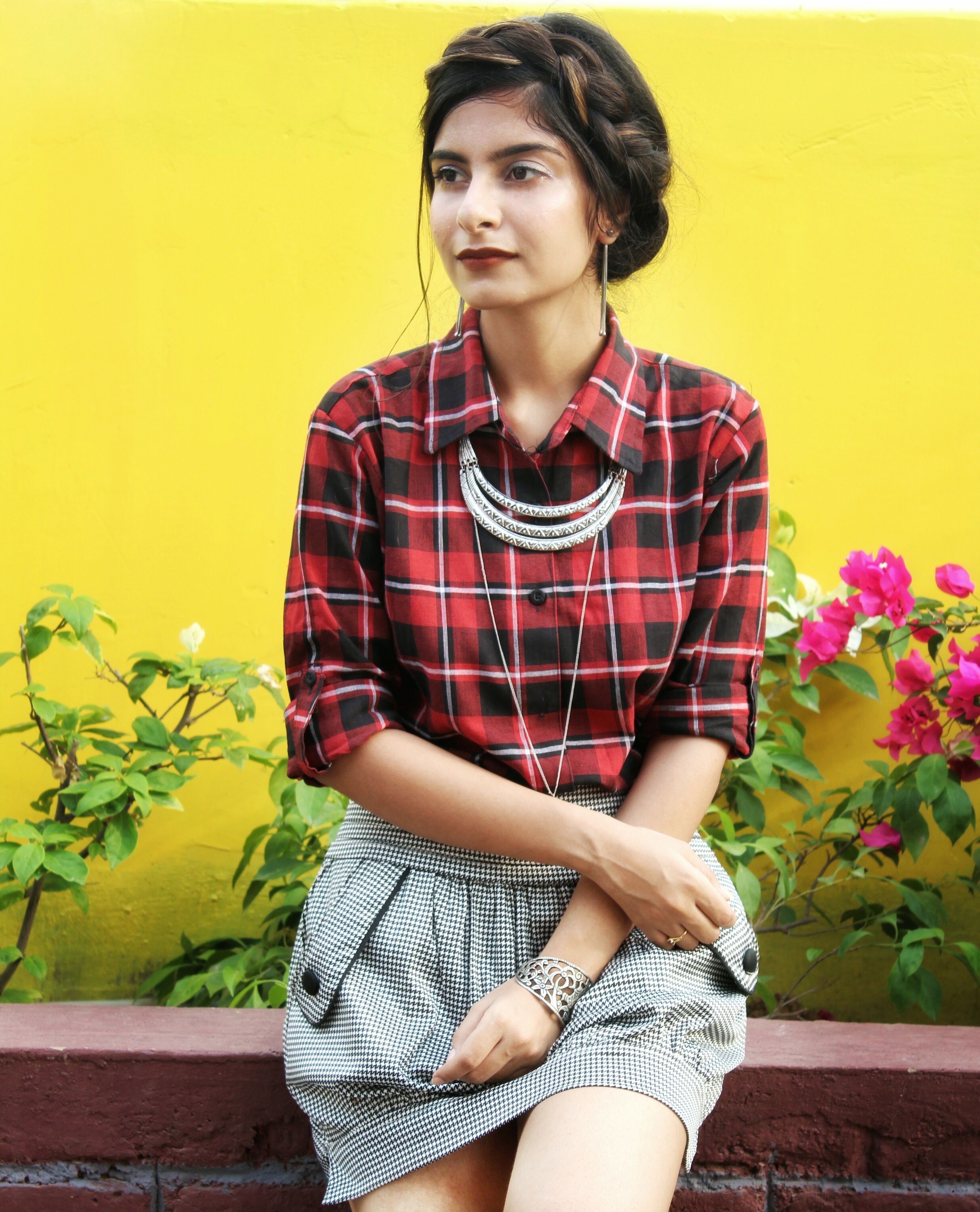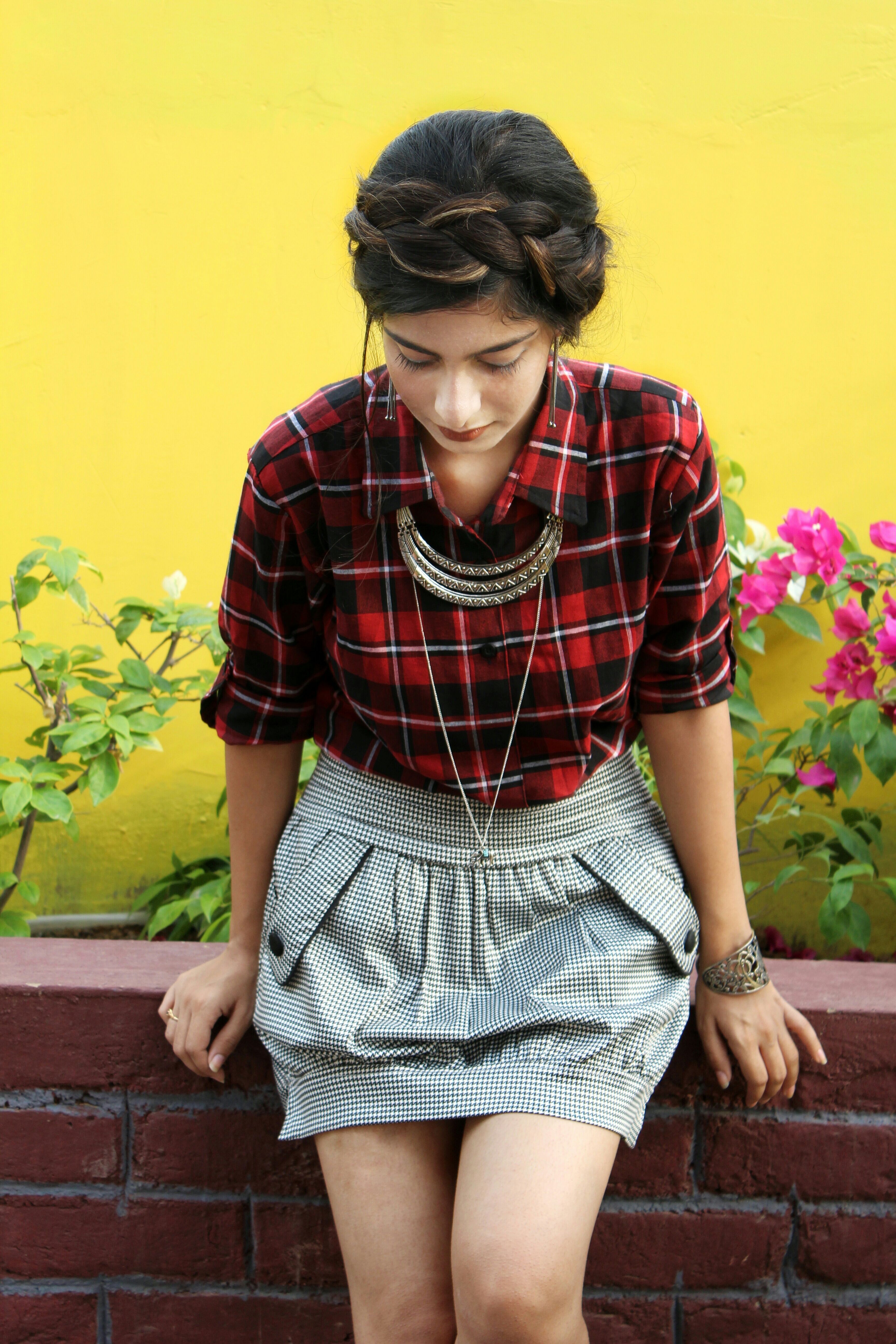 Makeup
For the makeup I kept it really simple because I didn't want it to literally melt away in the heat. For the face, I used a light base, a blush to add some color to the cheeks and a highlighter (Cannot do without it) for the glow. For the eyes I simply wore a silver eyeliner and mascara.
And to complete the whole look, a nude matte lipstick which I believe is a must in every girl's makeup kit.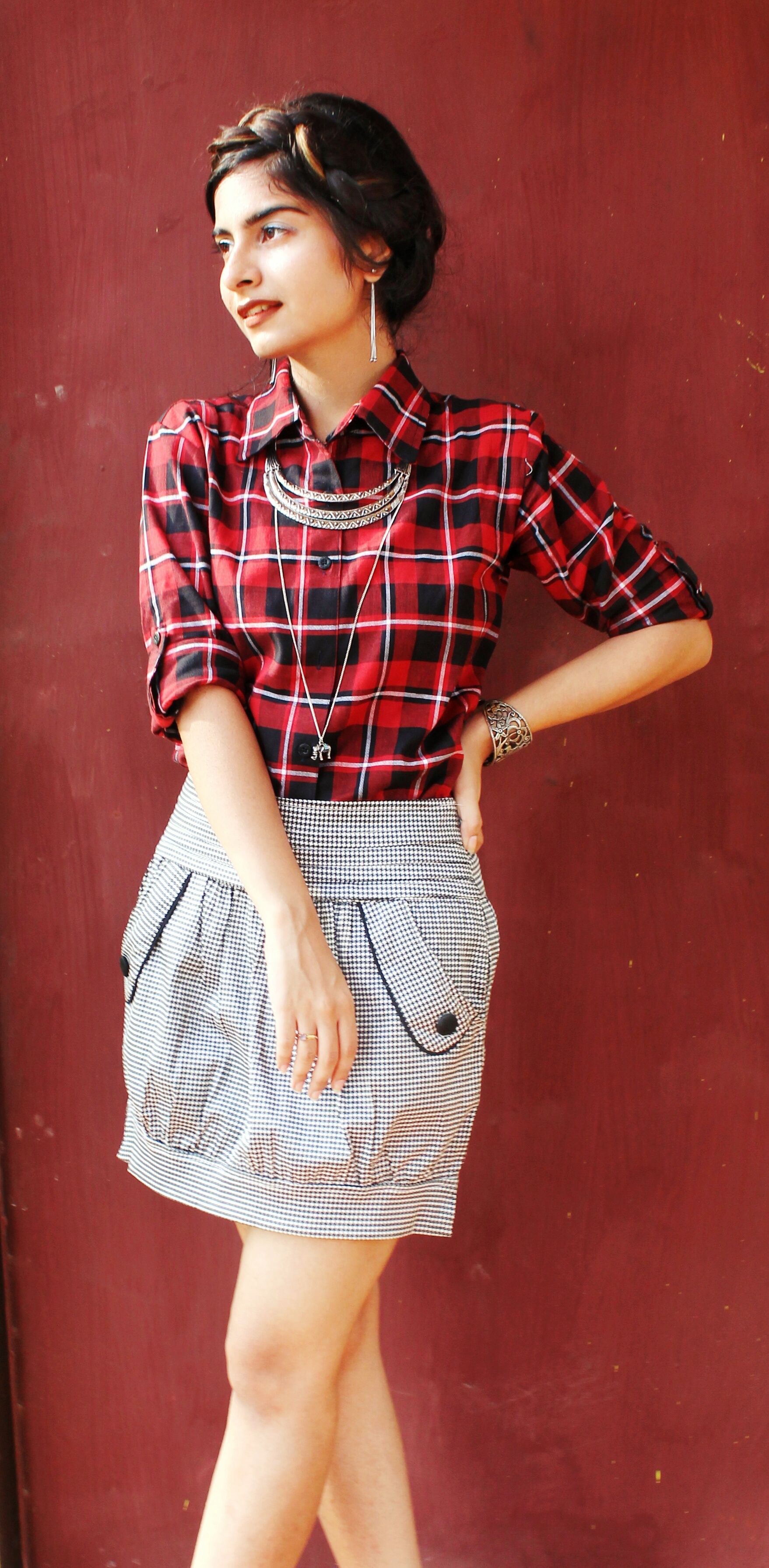 Since I have long hair and a few blonde streaks at the ends, I thought a milk maid braid would look perfect with this attire. It is also very simple to do and looks very cute.
Outfit details :
Shirt – H&M (Buy Similar HERE)
Skirt – Zara (Buy Similar HERE)
Choker neck piece – Delhi Haat (Buy Similar HERE)
Long neck piece – H&M (Buy Similar HERE)
Bracelet and earrings – Sarojini Nagar (Buy Similar HERE)
So that's it for this post, the next one is going to be a bit different and will include skincare and beauty related products. So stay tuned.
Until next time.
xoxo.