Hey guys, how are you all?
Summer has already hit the streets of Delhi in full-wave, and so have the various spring summer trends.
In this post, I am going to share my best-loved fashion trends of this season, how I styled them in two different looks. Both of them are quite simple and yet sassy.
I am starting on with my personal favorite – The Bell sleeves.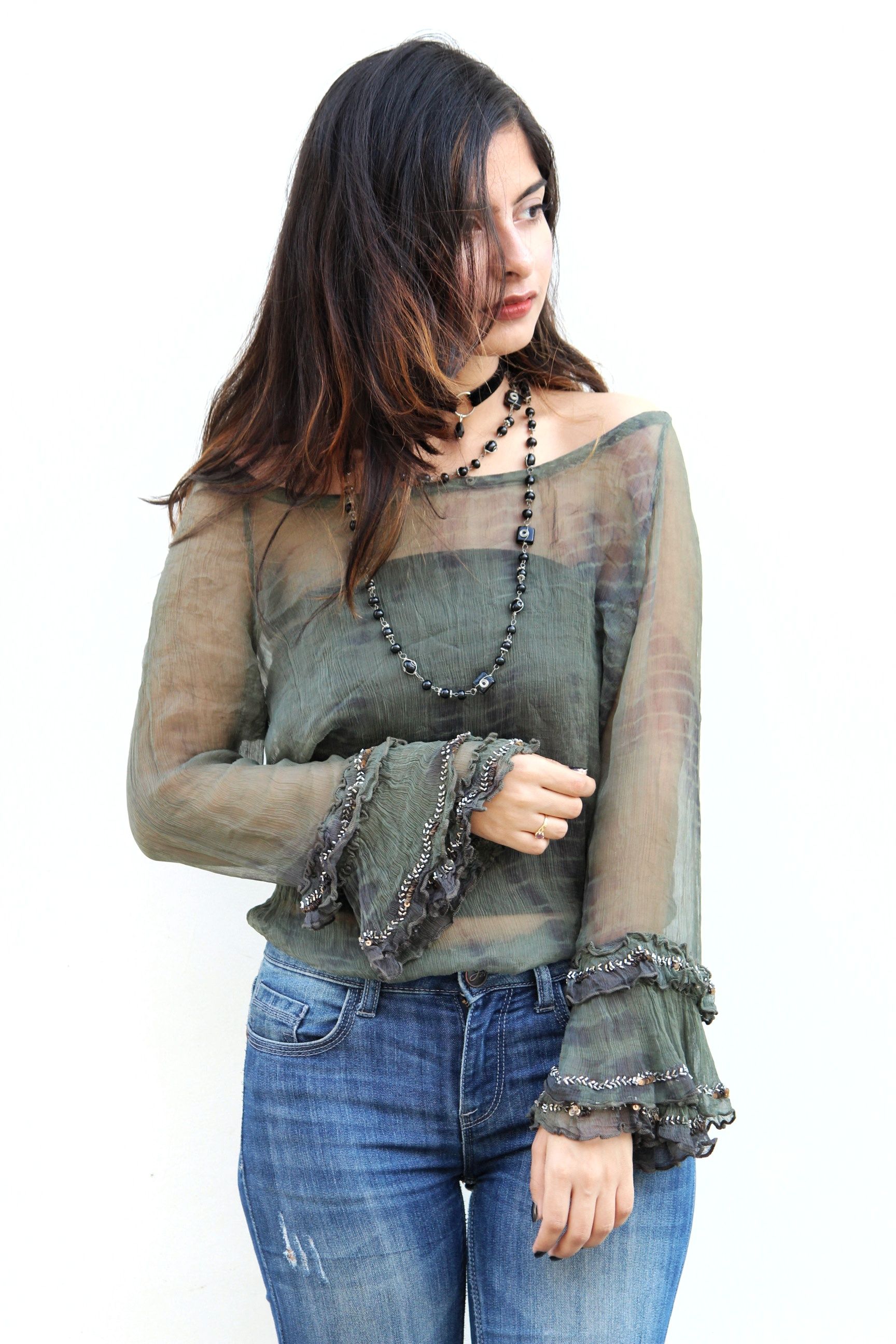 This style may have been a fashion staple to come out of the '70s when in Bollywood. You had everyone from Saira Banu to Zeenat Aman sporting the style.
Slowly and steadily, bell sleeves seem to have been inching their way up the fashion ladder. The catwalks at London, New York, Paris, and Milan Fashion Week, this year, had this trend in various forms, patterns, and styles. However, I feel there is an alluring feminine and free spirit appeal to this fashion. Many would call this bohemian chic, the kind you would see women attending a Coachella concert wear. But I think it has a chill, down-to-earth look that's perfect for summer.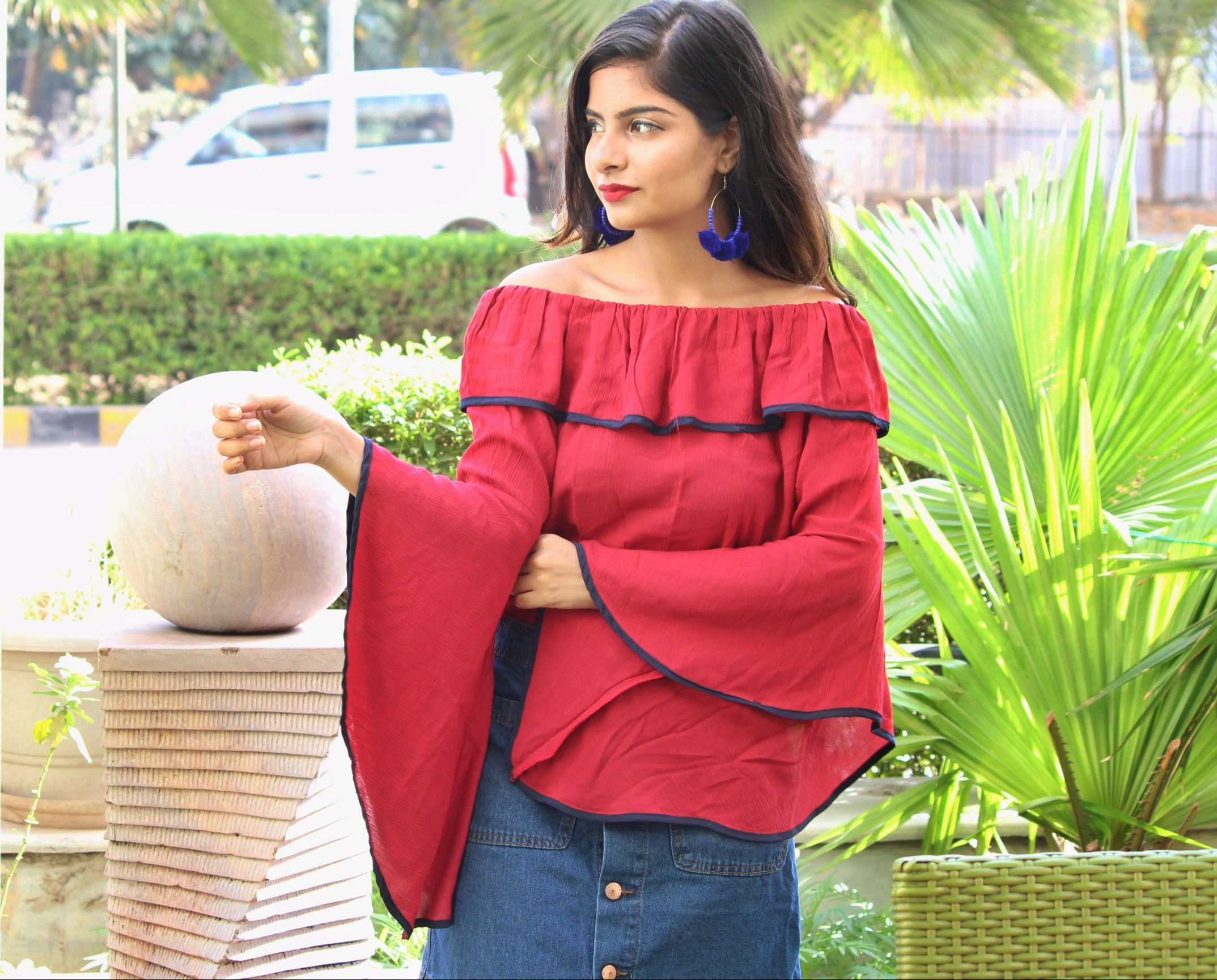 If you're petite, like I am, you know how difficult it is to add volume into your outfits. There have been so many oversized trends that I missed out on because they just don't work for my body type. But bell sleeves are the rare exception and surely look great if you want to add some volume and still look cute.
For my first outfit, I styled red bell sleeves and ruffles top, which is simple but still looks adorable. The sleeves turn this ordinary top to an extraordinary one. It also has a navy blue hemline, which adds a nice touch to it. I paired this top with a denim skirt, which is a wardrobe staple. The dramatic sleeves also mean you can get away with keeping baubles to a minimum, not having to deal with your jewelry box, and still looking put together? Win and win. I just added pom-pom navy blue hoop earrings (buy similar HERE), which I got from a street shop, so they were a complete steal.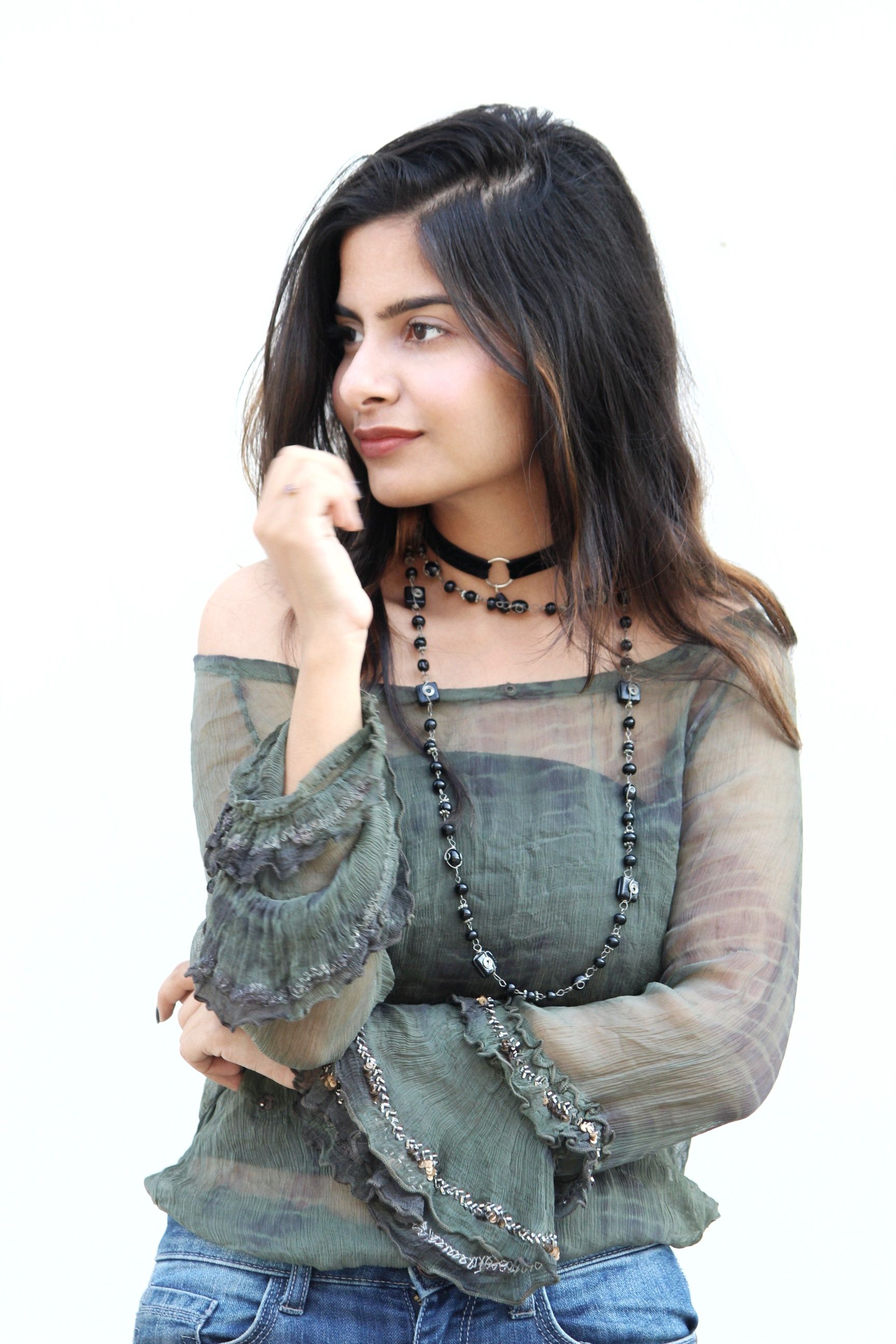 Moving on, One trend that is making a dramatic comeback is the ruffle. Small or large, subtle, or voluminous—there is a ruffled style to satisfy anyone's fashion palate! When it comes to ruffles, we can happily say that this isn't bouncing anytime soon.
Part Romeo and Juliet, and part Italian glam, this romantic trend is surprisingly versatile.
The best part about it is that they can instantly elevate even the most casual outfits.

The thing I love about a ruffle is how it demands attention. Depending on the design, a ruffle can be placed in such a way that it draws attention and creates a strong focal point of the piece. Whether draped across your shoulders, falling along the side or spilling down your arms like a cascade of waves, a ruffle is a visually stunning piece of fabricated architecture and undoubtedly worthy of a dominant fashion trend.
For the second look, I wore a sheer green top (oh btw, sheer and mesh are really in fashion too), which has beautiful sequence detailing on the sleeves. It not only has a perfect amount of ruffles and bell sleeves but is off shoulder too. I also wore a long neckpiece and added a black velvet choker, which I think puts the whole look together. Keeping the other half simple,  as I wanted to keep the focus on the top, I wore blue slim fit jeans. Lastly, I wore a "no-makeup" makeup look with lots of mascara and nude lipstick.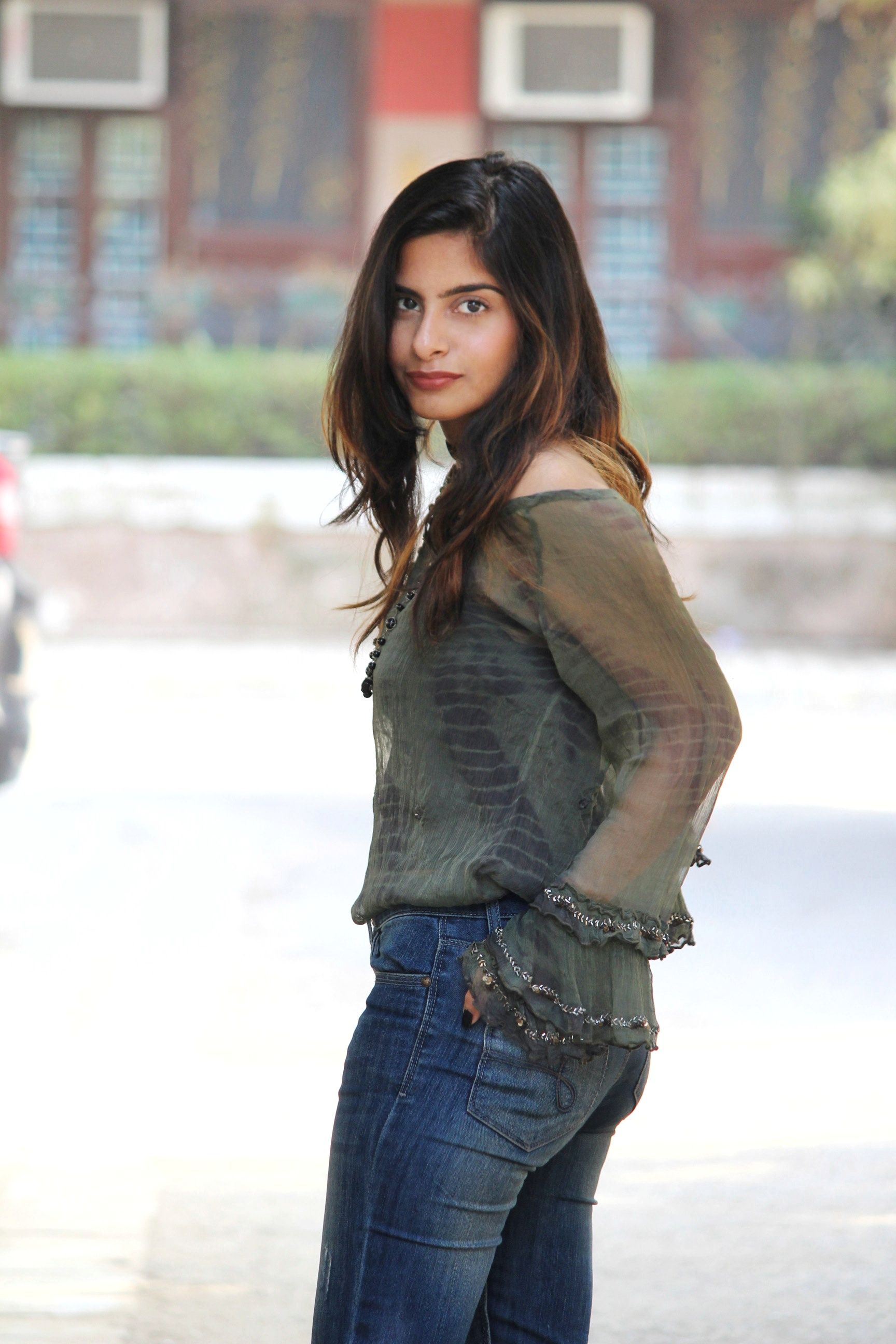 Coming to the last fashion trend, which isn't a huge surprise to anyone as this trend has been around since last year – off-shoulder. Now, you might start wondering this trend is a bit passé, but hear me out—this is one of those trends that just won't die. Rather than running its course, it will only continue to take on newer and fresher forms as designers continue to play with it season after season. Whether you channel Katy Perry with a statement-making gown or Kerry Washington in a floaty LBD, an off-the-shoulder look is this season's cool-girl calling card. Off-shoulder tops and dresses have long ceased to be a trend, and it is now a fashion essential. So much so that now, there are offshoots of the trend. After cold shoulder tops, off-the-shoulder ruffles are currently in vogue.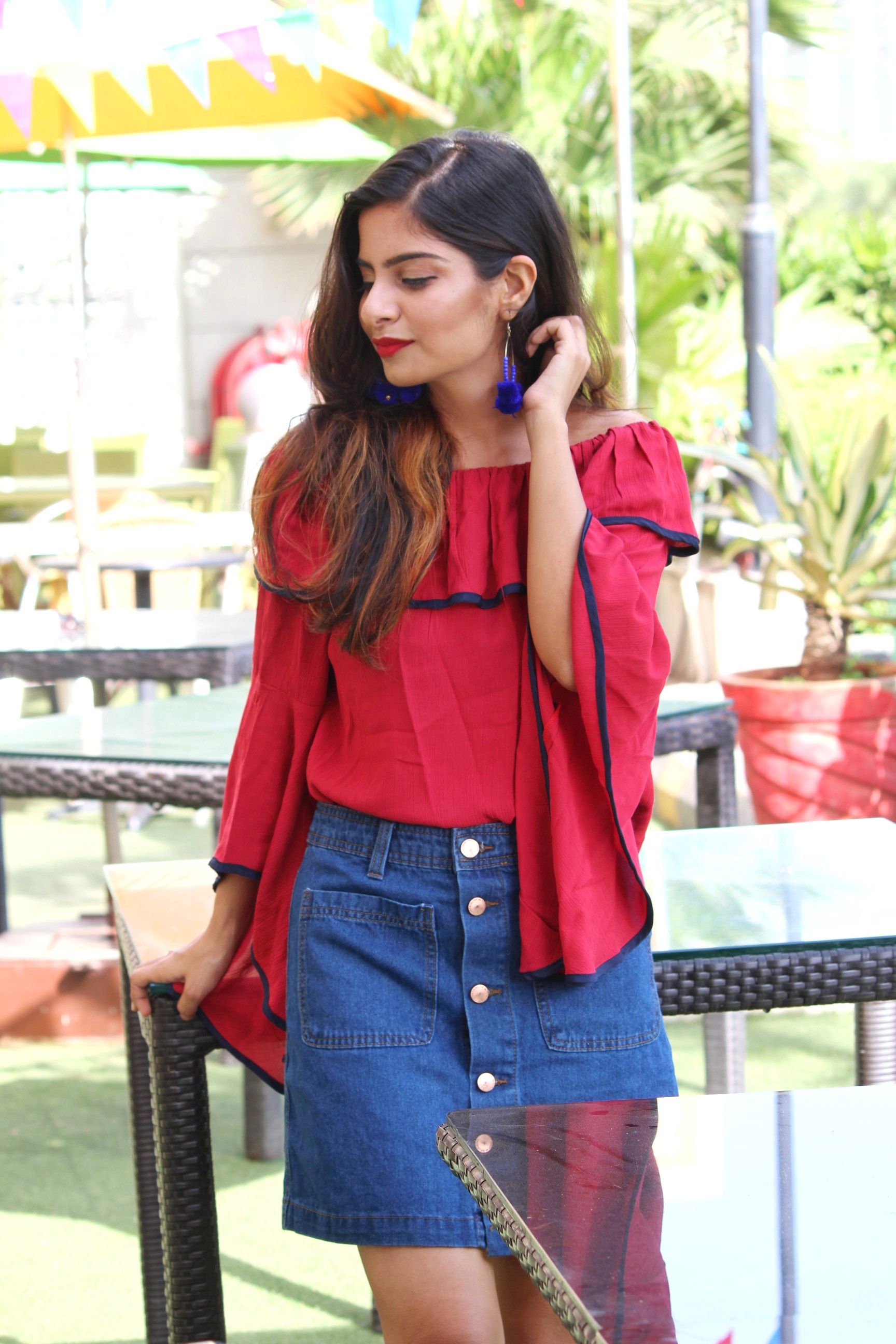 I feel they add a feminine touch to the outfit while you can show off those collar bones. Both the tops I wore had an off-shoulder style which I think looks perfectly blended with ruffles and bell sleeves. All the trends put together complement each other well. And with the right kind of accessories and makeup, it looks perfect!
Lastly, I would like to give few suggestions relating to where you can buy these outfits online.
Stalk Buy Love
is my favorite Indian shopping site as it not only has essential and classic pieces. They also have a trending section on their website where you can shop almost all of the trends mentioned.
Koovs
also has an exquisite collection, and I do shop quite often from there. You can also check out
Forever 21
for some fantastic outfits.

So that puts an end to this post, I hope you guys had fun reading it and got some inspiration. Let me know what you think. You can reach out to me on my Instagram (@khyati_sethi) or by email.
Have a great weekend and until next time, bye!
Xoxo.