Hello everyone!
Rajasthan is a state full of bright colors filled with tradition and infused with a contemporary lifestyle. It's a quintessential land of rich history and culture, which includes folk music, spicy food, palaces and forts, unique festivals, traditional clothes and handicrafts, biggest deserts, and so much more! 
I visited the cities of Jaipur, Jodhpur, and Ajmer in the fall of 2019 for a vacation, and I can easily say that it was one of my favorite vacations. While packing for the trip, I wanted to celebrate the colors that this state offers. Hence, all my outfits were vibrant Indian wear with an amalgamation of indo-western and lots of chunky jewelry. Here is a lookbook and all the details of the outfits that I wore for the six days of the trip.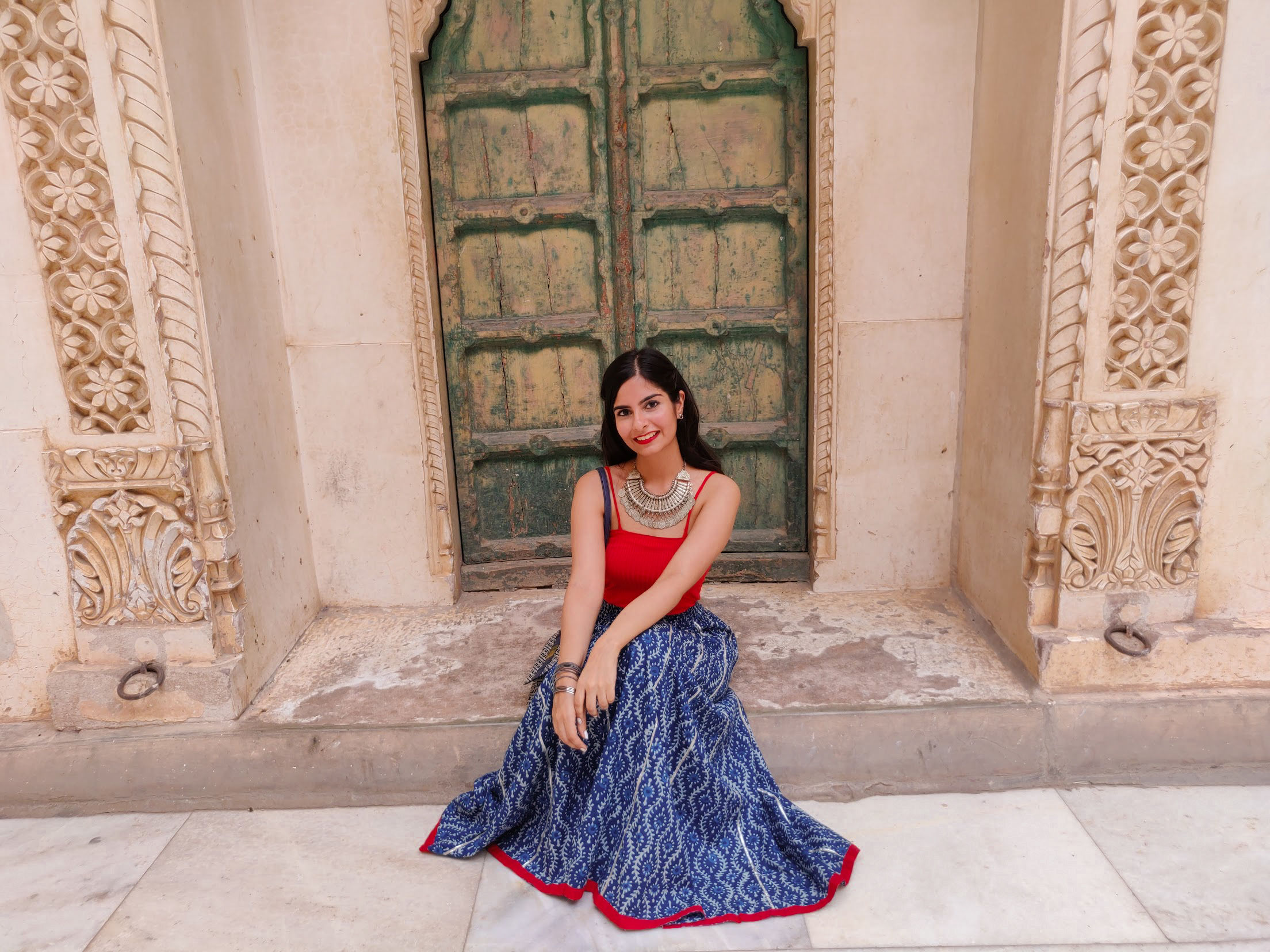 On the very first day, we visited the Mehrangarh Fort in Jodhpur in Rajasthan, which has beautiful architecture and history associated with it. For this day, I wore a bright blue block print long skirt (long skirts will be a running theme in this whole blog post), which had vertical lines of silver lace detailing throughout. I paired a red crop top with it to balance the blue. Along with it, I wore comfortable flats – which I recommend wearing since you will have to do a lot of walking around the fort. To complete the look, I also added a chunky oxidized silver coin necklace and a bright red lipstick.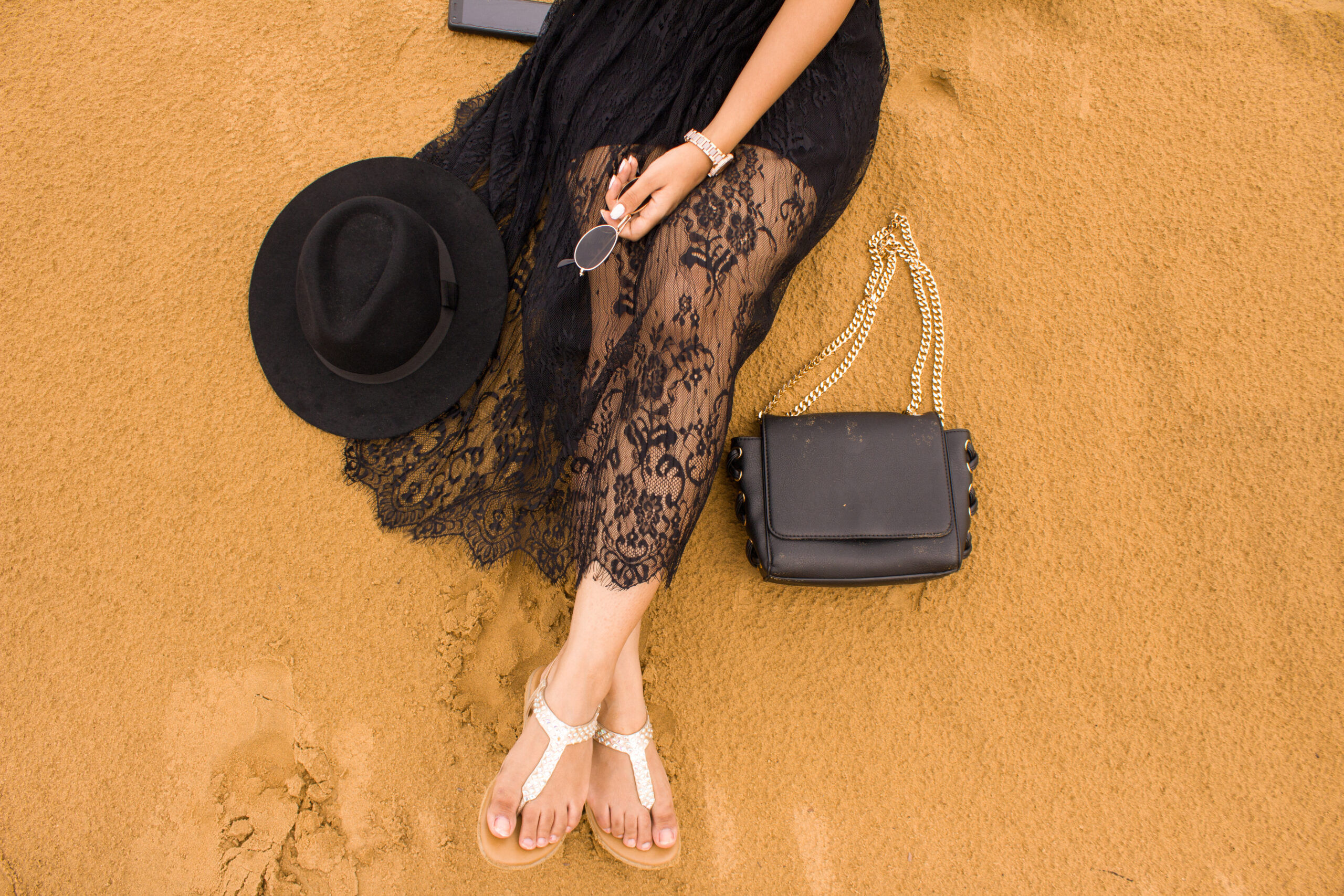 Skirt – Forever 21
Top – "INDYA" on Myntra
Earrings – "Bellofox" on Myntra (Buy Similar HERE)
Hat – H&M
Sunglasses – Shein (Buy Similar HERE)
On this day of our vacation, we visited Khimar – a tiny village just outside the city of Jodhpur, Rajasthan. We especially wanted to spend a day here before moving on with our trip because of this vast desert that gave us a real feeling of being in Rajasthan. For this day, I experimented a little with my outfit and wore a net black skirt with a printed mustard yellow top to embrace the colors of the desert. I added a black hat, a sling bag, and sunglasses as well. I also incorporated a lot of gold color into this look with my gold flats, eyeshadow, jewelry, and earrings. Also, don't forget your sunscreen when you are going primarily to the desert.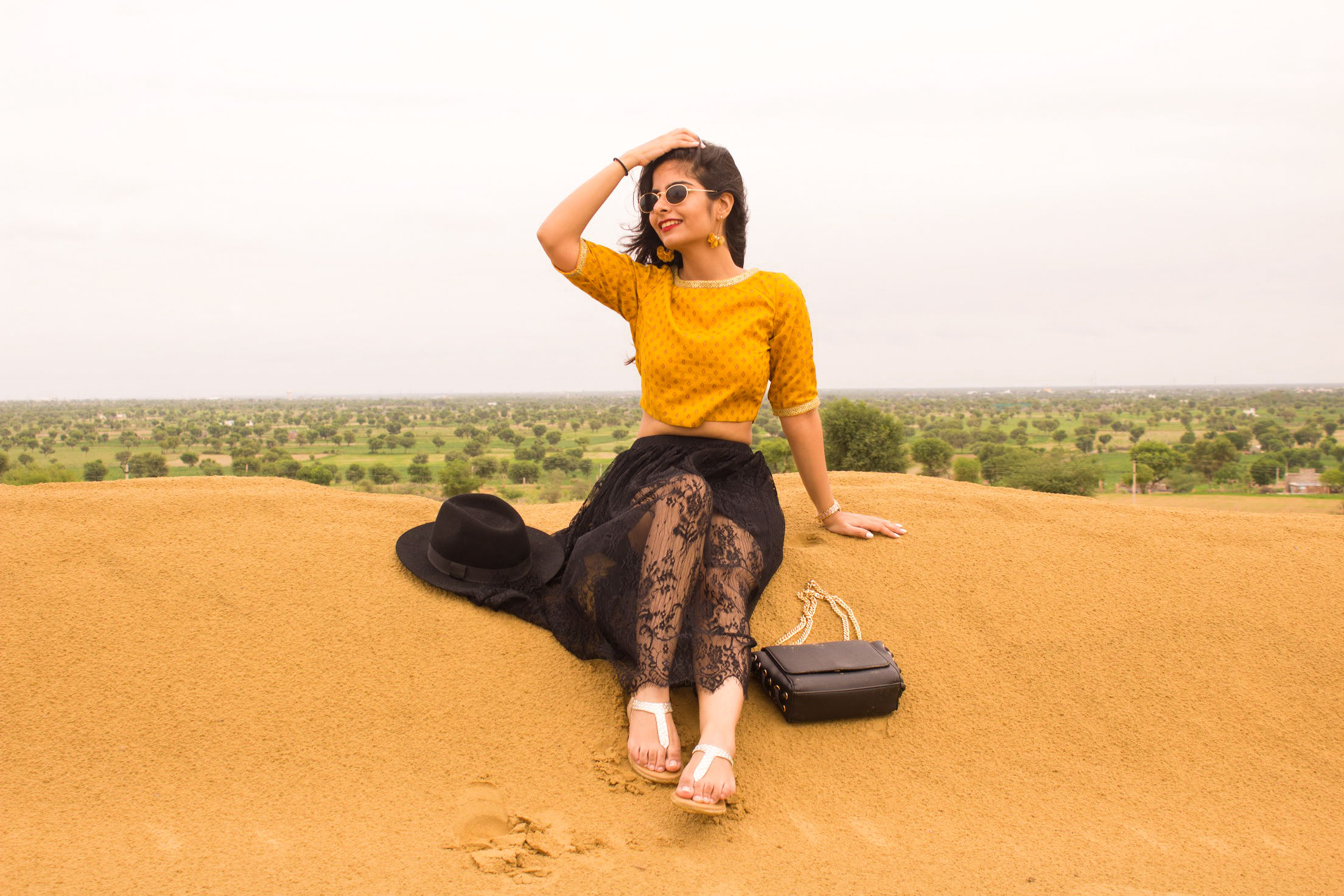 On day 3 of our vacation, we explored through the blue lanes of Jodhpur and shopped a little in the market area. As for the lookbook, I went with a fusion look for this day and wore a bright red and orange colored crop top that had a vintage vibe to it because of the puffed-up sleeves. Since the top was heavy, I balanced it out with pure skinny black denim, which is a staple in everyone's wardrobe. To complete the whole outfit, I paired it with some chunky beaded hoops that had tassels, which are now my favorite fashion accessory and, in the end, the same black sunglasses from before.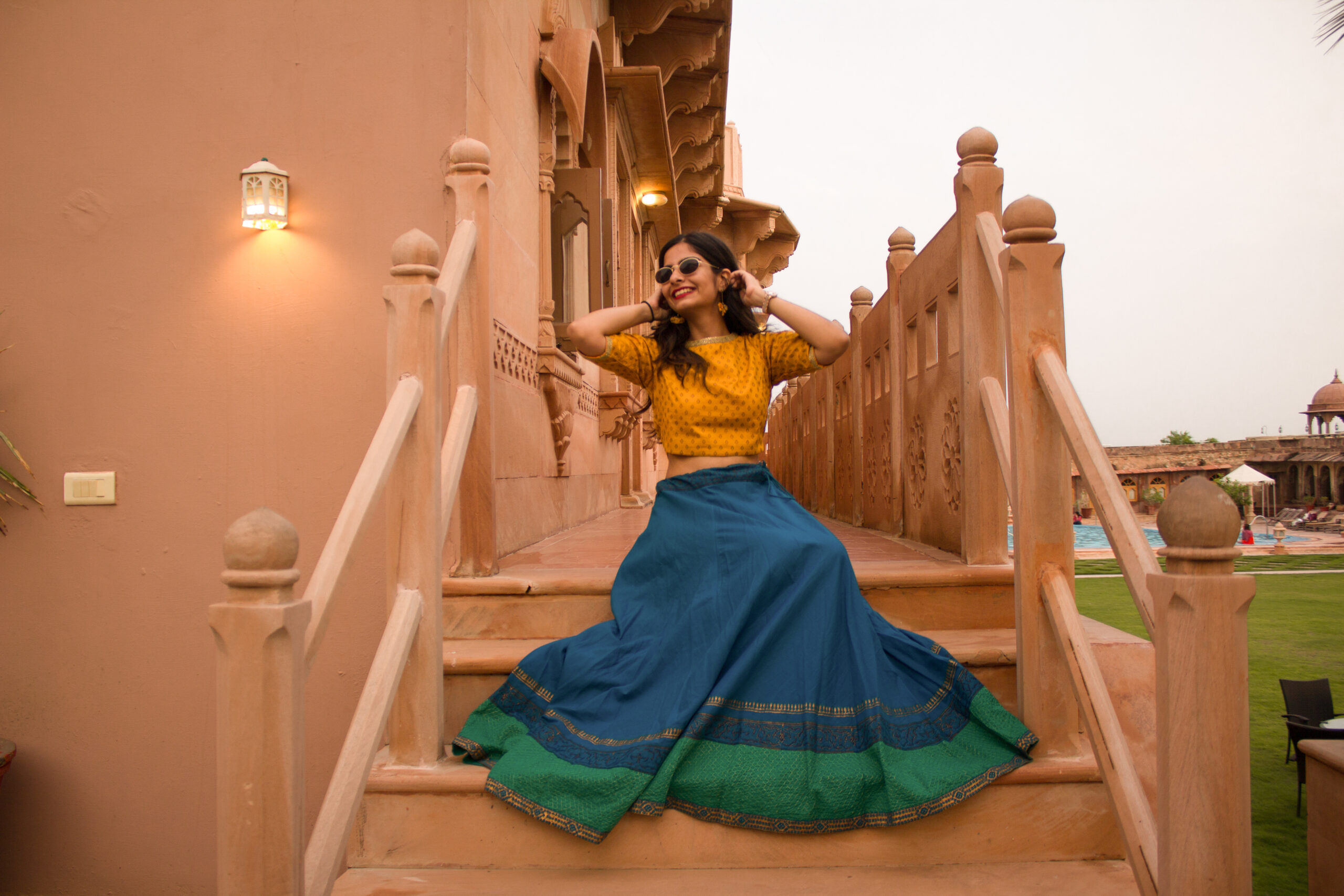 On this day, we were all exhausted and wanted to relax in our fort-cum-hotel in Jaipur. We did not go out much, but since I am such a fashion enthusiast, I had to, of course, dress up anyway. But hey, this city holds a special place in my heart, so can you blame me? I wore this rich blue skirt that I got from Fab India a few years ago with the same yellow crop top as before. I just wanted to keep it really comfortable and relaxed, so just added light makeup and flats.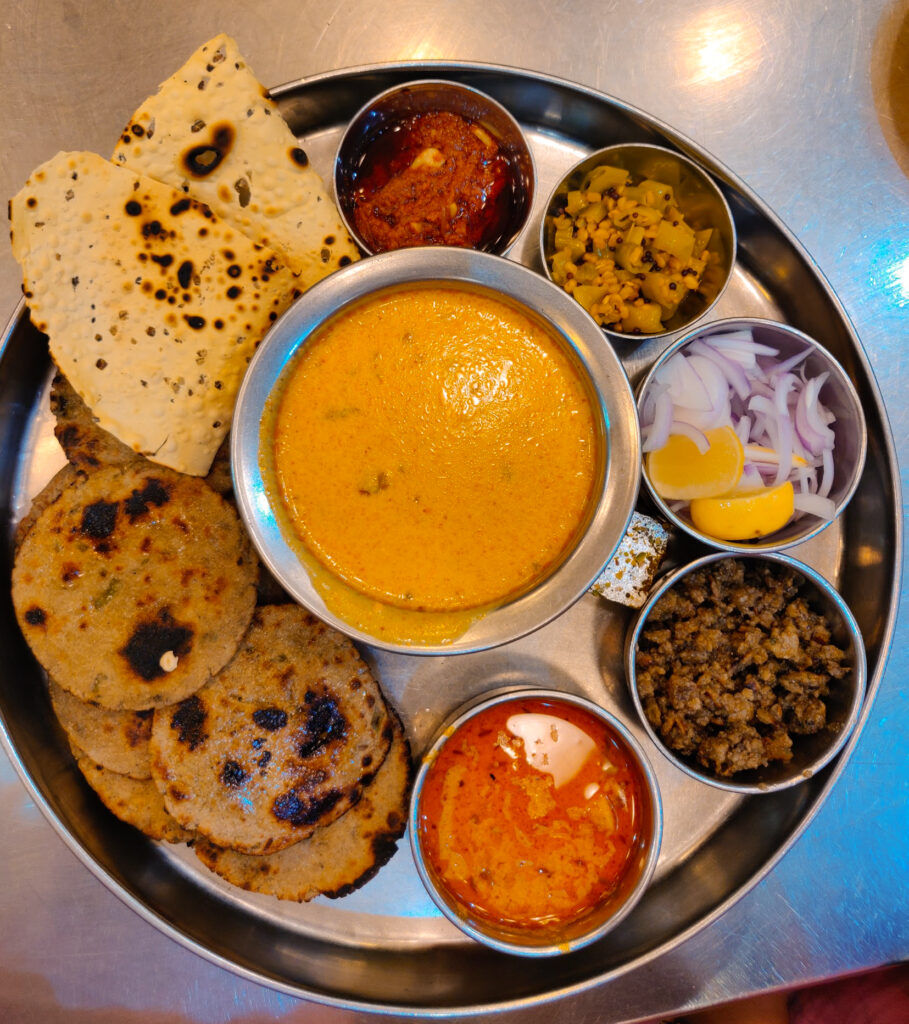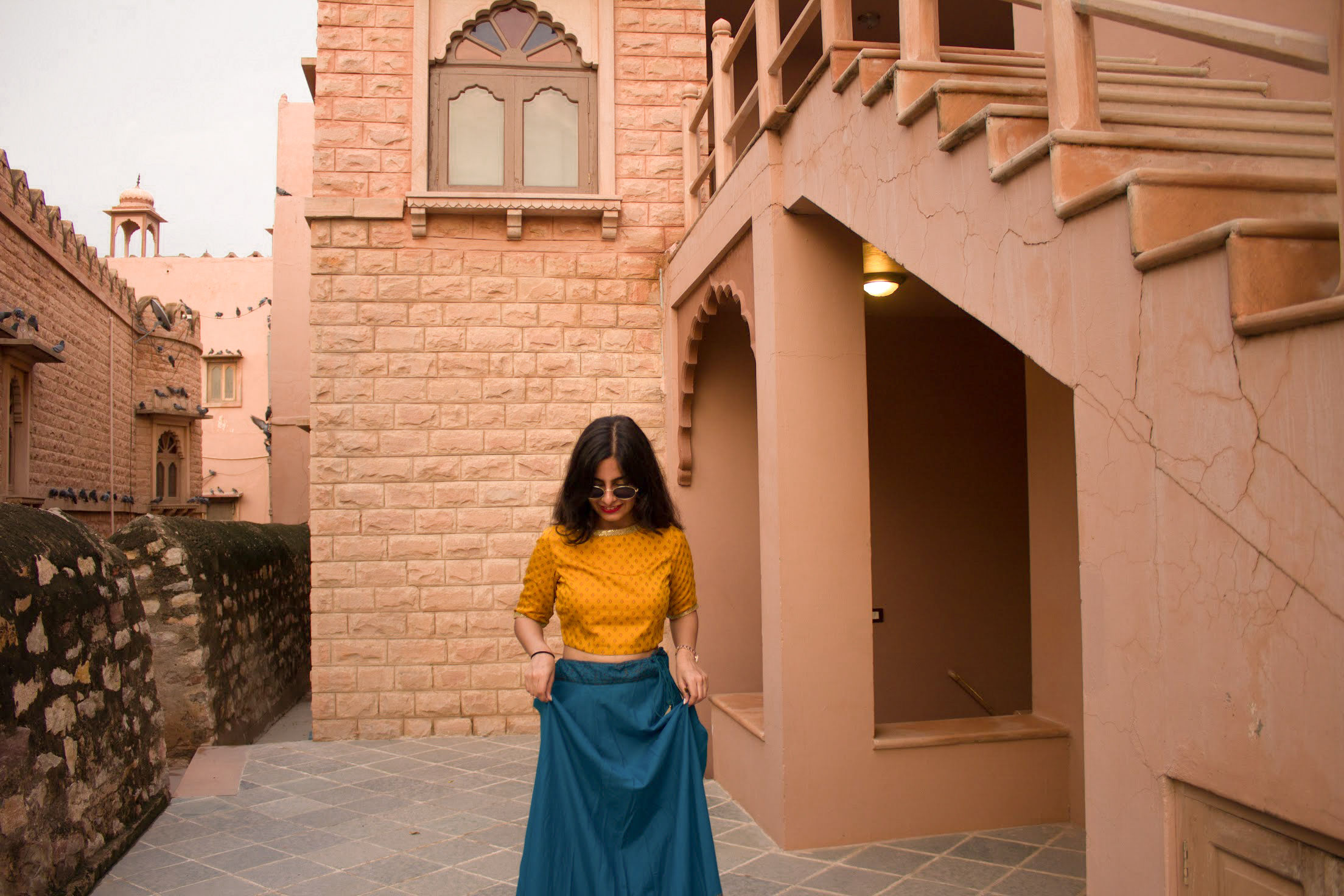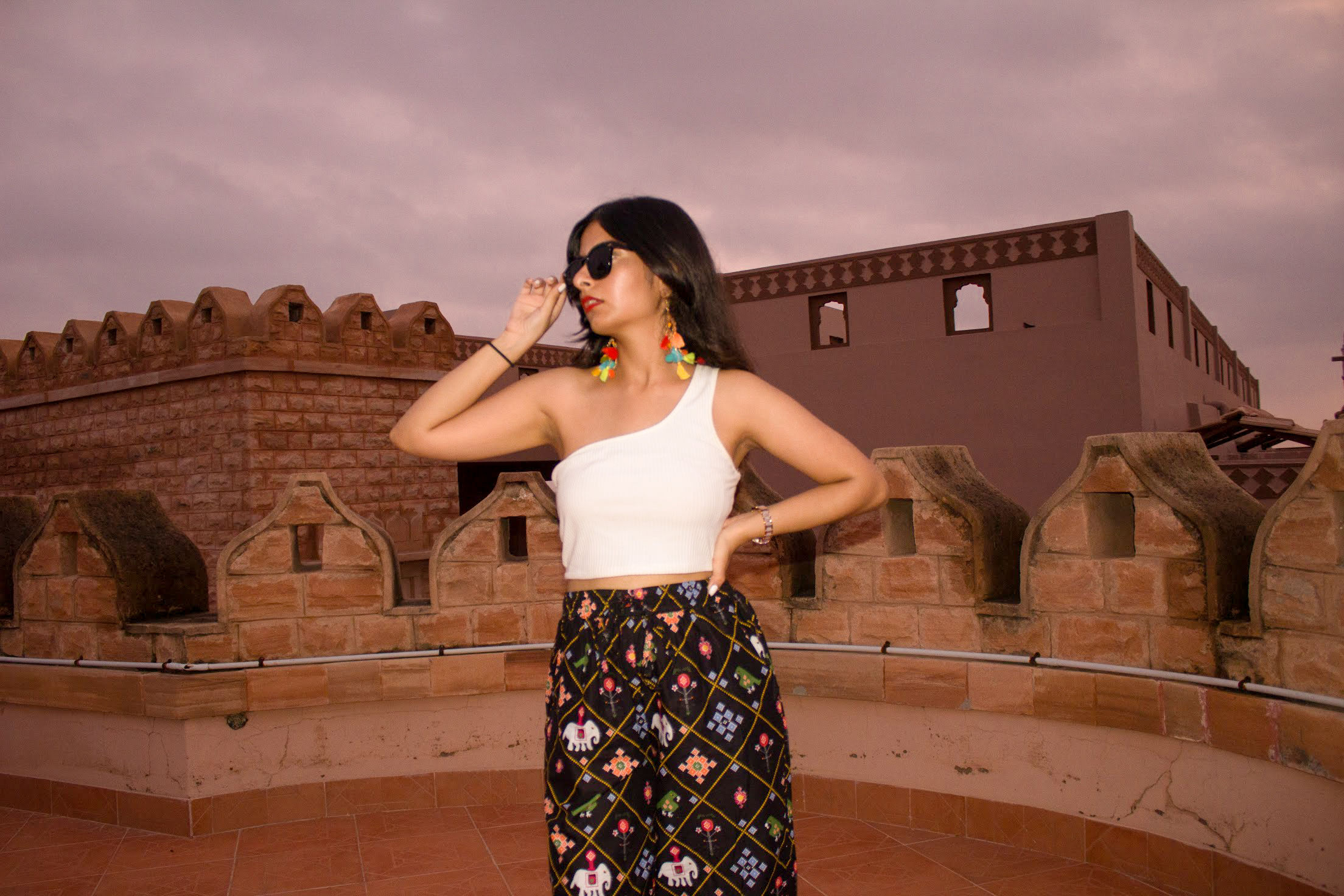 We visited the city of Ajmer on day five, and I again went with an indo-western look. One-shoulder crop tops were quite a trend in the fall of 2019, and hence I wanted to incorporate that as well. I paired the plain white crop top with these loose printed palazzo pants. They add so much to the whole outfit, and you don't need to do much with your look with them. But if you are not comfortable with a crop top, these pants would also look great with a kurta. I also, paired it up with long colorful earrings and sunnies!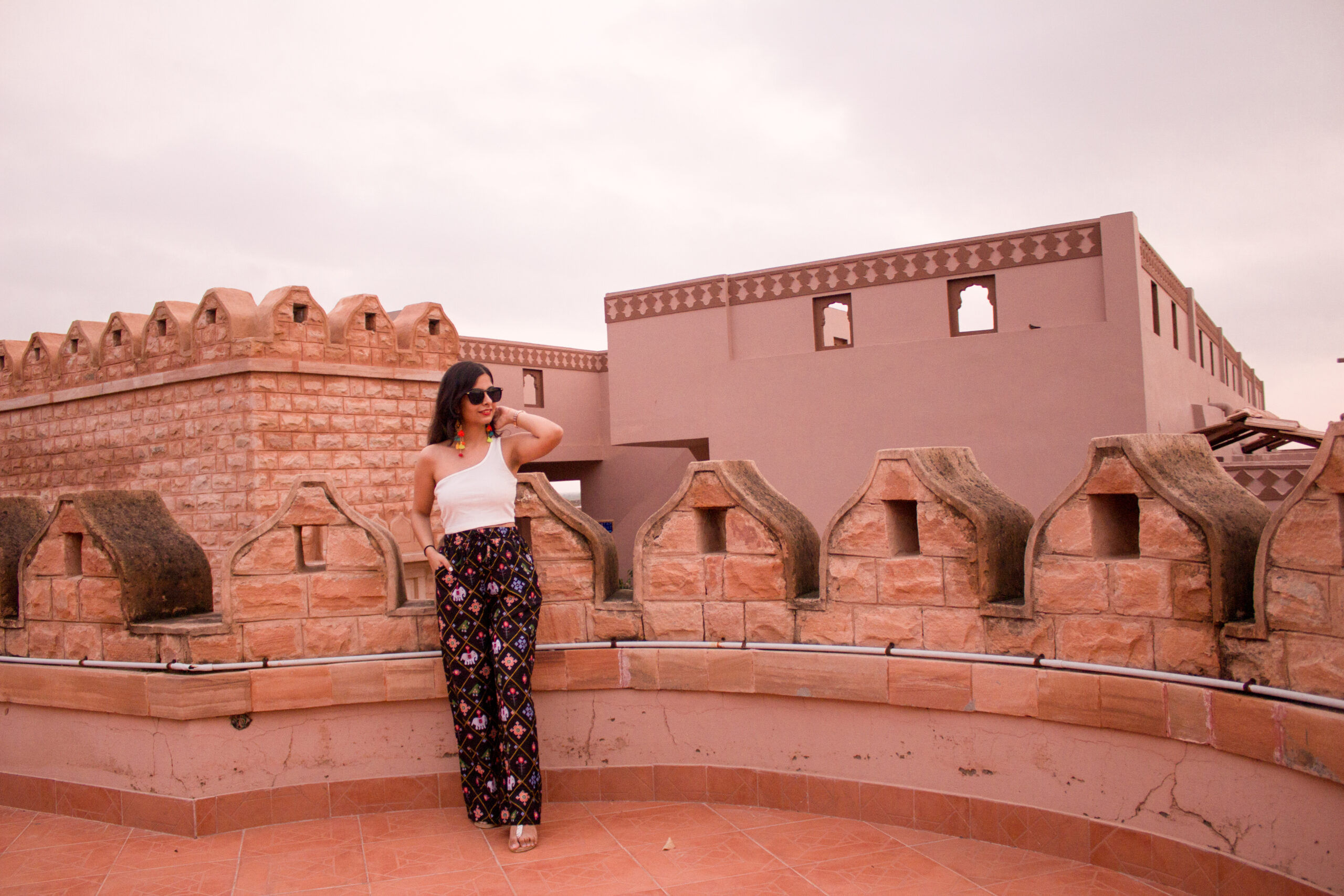 On the last day of our vacation, I again went with a vibrant pink colored skirt that had gold block printing all over it. I wore a yellow crop top with it, but again, you can also wear a kurta or even a knotted t-shirt to add a fun element to your outfit. I included a net pink dupatta (which I stole from my mom's closet) that complimented the skirt really well and lots of gold jewellery to add to the theme of the day.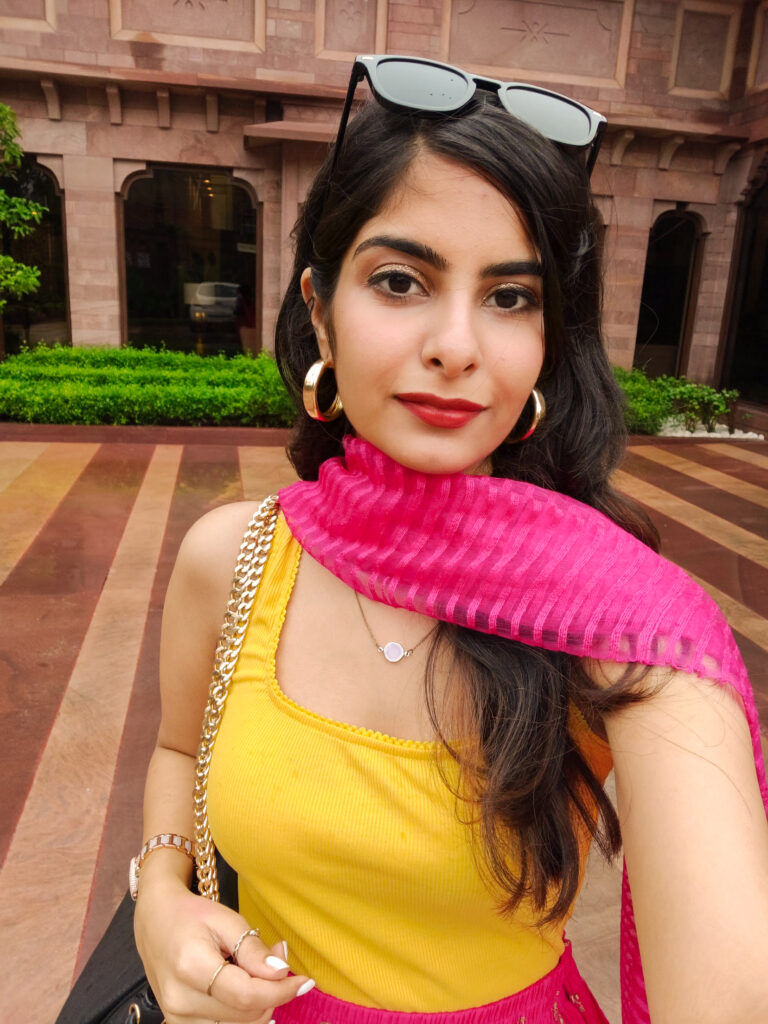 It was indeed one of the best states I have visited in India, and I sure had a fantastic experience on my vacation. I would love to revisit it someday and see the state with a fresh perspective and will be ready to be mind blown by it yet again.
If you want to check out a little video edit of this lookbook that my brother created, CLICK HERE!
You can also follow me on Instagram for lots of fashion content, styling outfit ideas, and more pictures from the trip! 🙂
Xoxo,
Khyati