At the start of each week, we all have dreadful Monday blues, and sometimes coffee just is not enough. However, another motivator that works for myself, and I'm sure many other people, are workwear outfits. 
I understand a corporate job can get extremely monotonous and boring, and there is no better way to cut through the monotony than to have fun and experiment a little with what you wear to work.
In this blog post, I will tell give you ideas on how to style outfits for work, but with a twist. It's going to include all Indian or indo-western outfits. Wearing ethnic to work can be tricky, but if done well, it can be a total hit too!
It is quite refreshing to spruce up your look with some Indian outfits, especially with a dash of kohled eyes, ethnic earrings, and a tiny bindi. I, personally, love to wear fusion outfits to work since they are the easiest to pull off and break the monotony.
Here are some ideas that you can keep in mind next time you want to add an ethnic touch to your workwear :
1. Dress for the occasion ​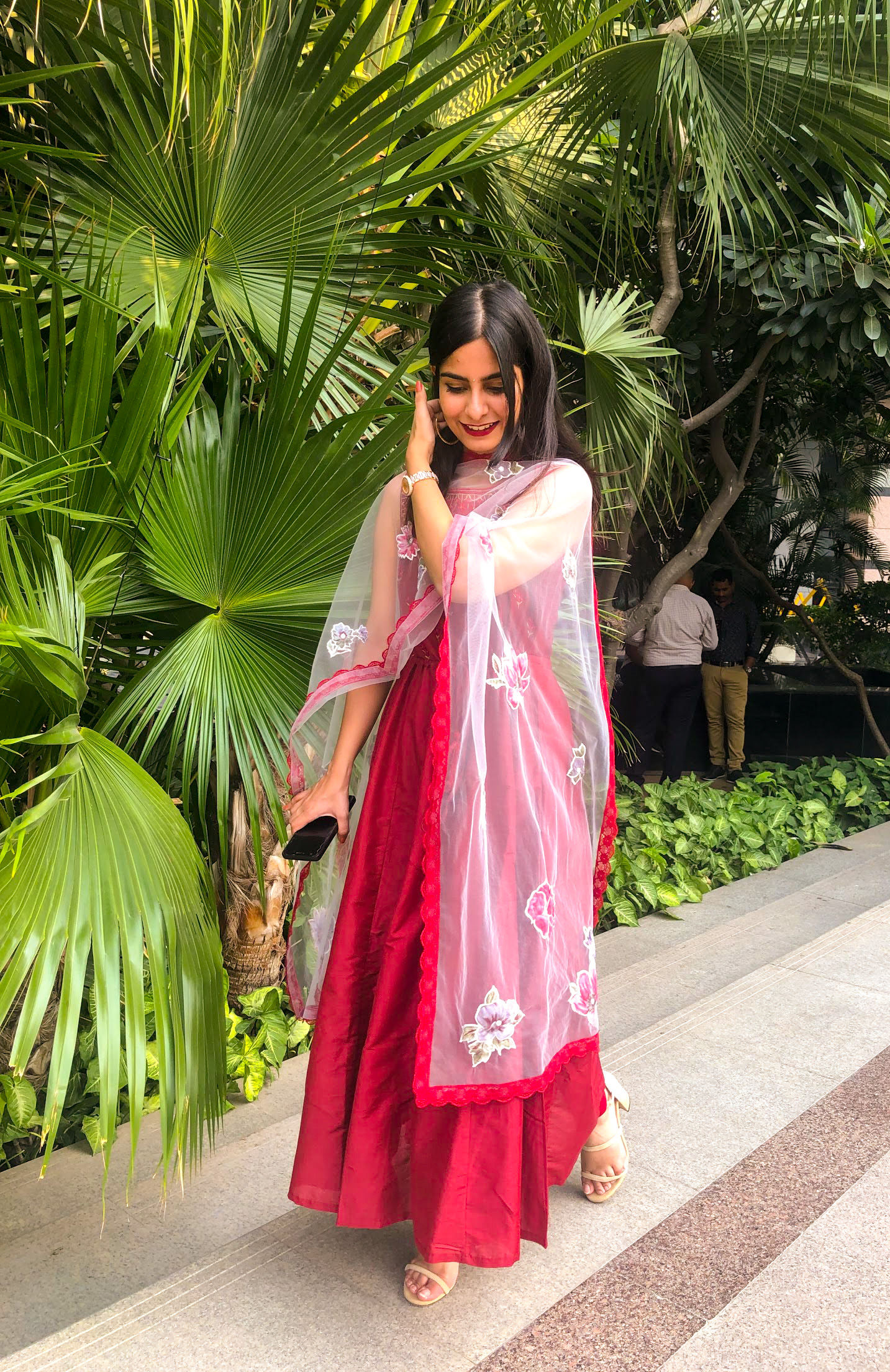 Every office has its own set of rules when it comes to a dress code; however, usually during specific festivals and events, it's a good idea to play with colors. In this outfit, I have styled this silk Kurti with leggings and a beautiful white net dupatta, that I conveniently stole from my mom's wardrobe. This is going to be a pattern in this blog post, just a head's up. Well, my mom does own the most exciting dupattas, so it isn't my fault, haha.
I wore this outfit for a Diwali event in my office, and I chose to go with a vibrant color since the occasion called for it. For makeup, I kept it very light and had a fresh, dewy look with a pop of color with red lipstick.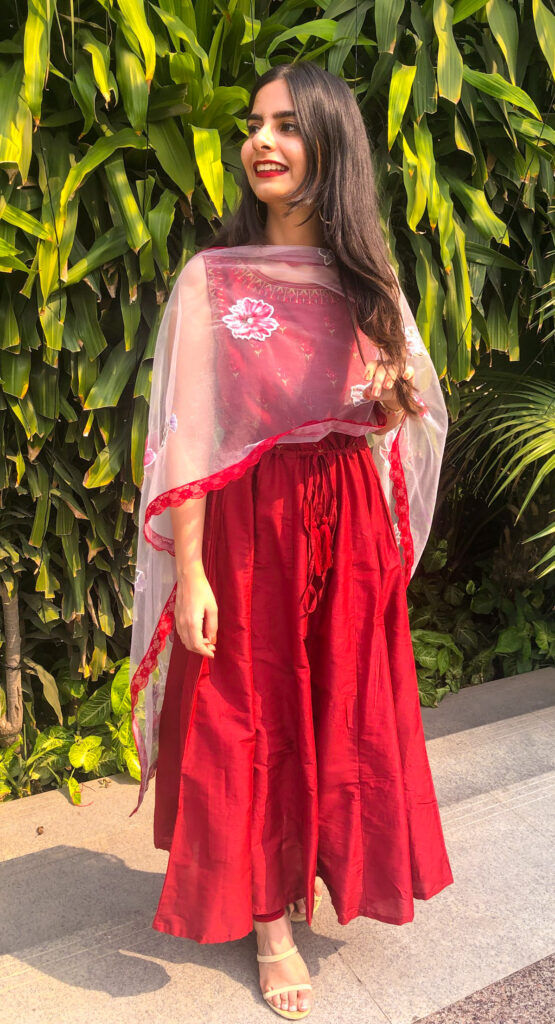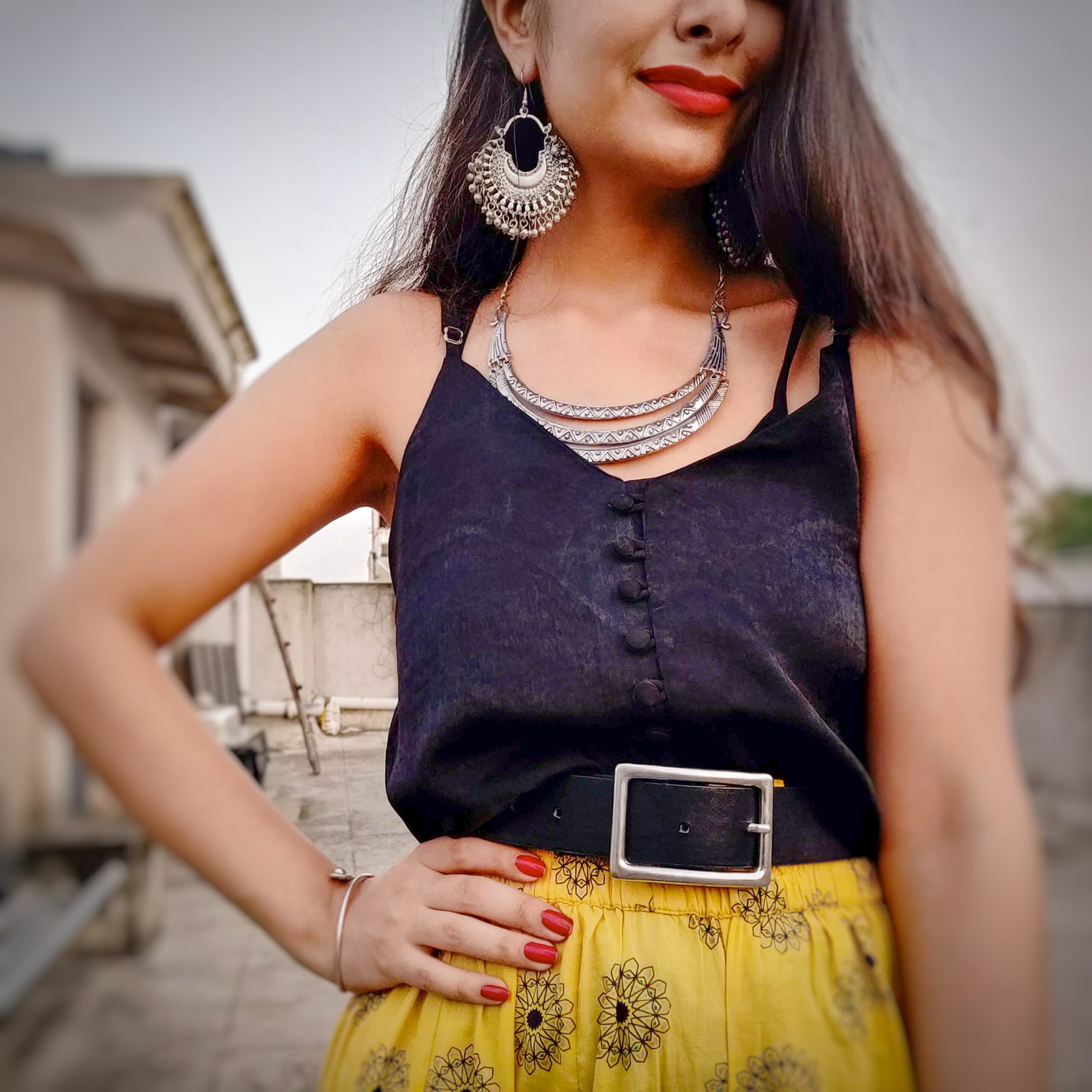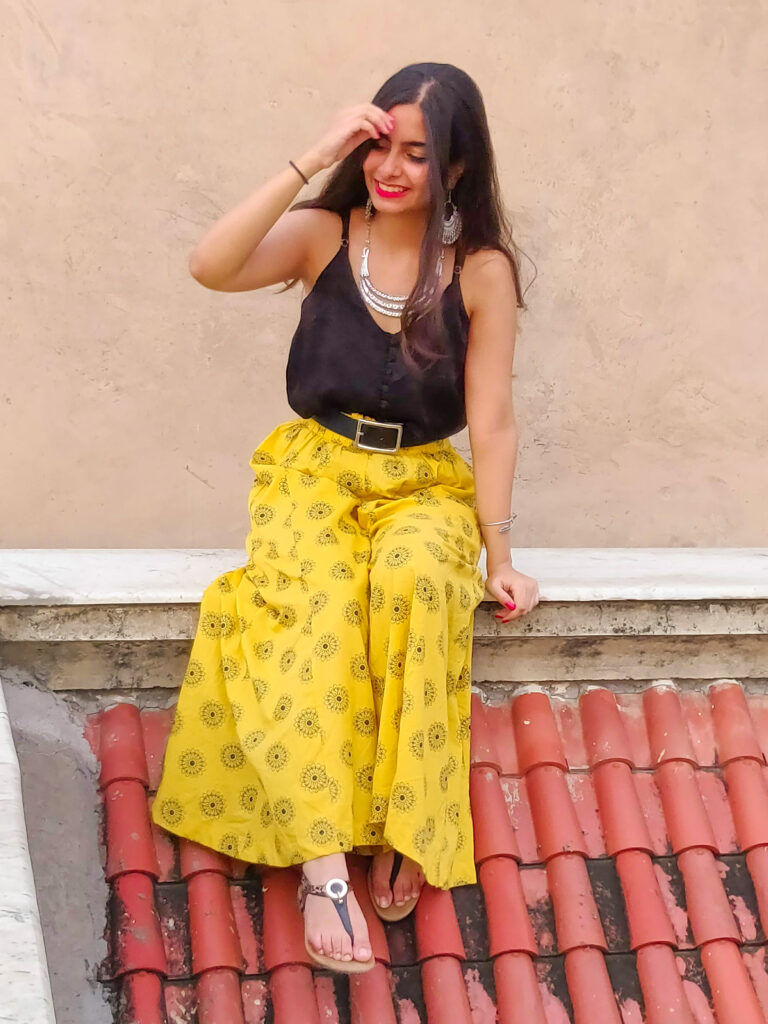 On the days when I am bored of wearing pants, shirts, and jeans, I usually go for a look with palazzos and a flowy top. It's effortless to wear in summers and is probably the most comfortable on the list. Here, I paired bright printed yellow palazzo pants with a black silk top and a black belt to tie the whole look together. However, if you are not comfortable wearing a sleeveless top, you can always improvise and go with a half sleeves black t-shirt or top. Adding to the theme, I also wore silver oxidized chunky earrings and necklaces. Since you have to move around the office space a lot in the day, I would recommend wearing flats with this outfit.
Top – H&M (Buy Similar HERE)
Palazzo pants – "Juniper" on Myntra (Buy Similar HERE)
Belt – Guess (Buy Similar HERE)
Silver jewellery – Janpath Market, New Delhi (Buy Similar HERE)
Flats – "Inc 5" on Myntra
3. The classic combination
There are days when we look through our wardrobes in the morning before work and cannot find a perfect outfit. On those days, I recommend going with the classic all-black Kurti, look as you can never go wrong with a monochrome outfit. However, to give a little twist to the outfit, you can add a bright pop of color using the dupatta (which, yes, you guessed it, is my mom's). This is a beautiful embroidered dupatta that is enough to brighten up not only your outfit but your mood as well. Since the dupatta is enough in itself, I kept the rest of the outfit very minimal and added small earrings along with a pair of sunglasses and juttis to complete the look.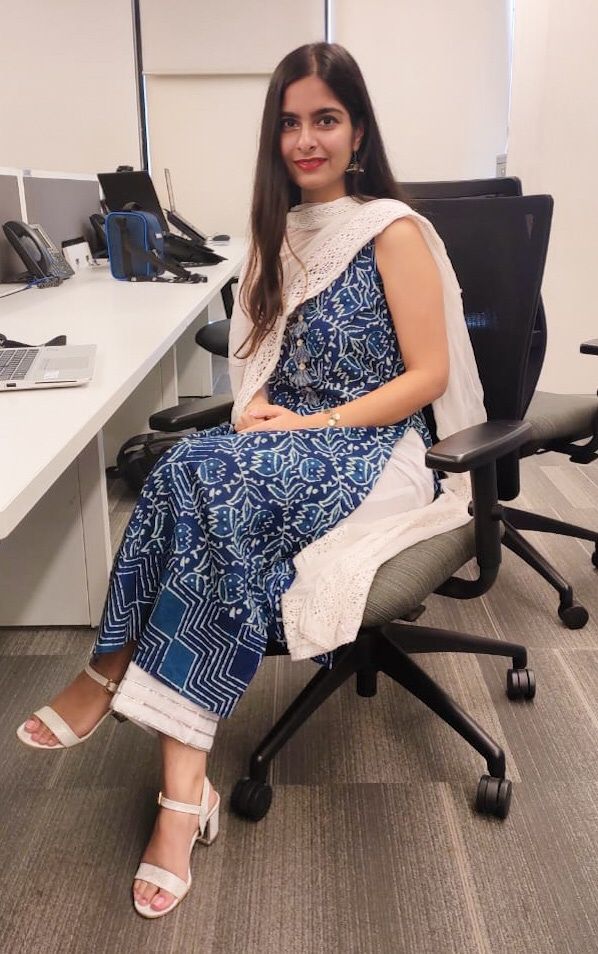 Printed Kurtis can never go out of fashion and are one of the most versatile pieces of clothing you can have in your closet. 
White and indigo make for such a beautiful duo, especially during summertime. For this outfit, I wore a Jaipuri style straight printed Kurti along with white palazzo pants and a white chiffon dupatta. All the elements of the outfit compliment each other. To finish off the look, I added silver jhumki's (which is also a must in your wardrobe) and white block heels.
Kurti – "Anouk" on Myntra  
Pallazo Pants – Got it stitched (Buy Similar HERE)
Heels – Zara (Buy Similar HERE)
Earrings – Janpath Market, New Delhi (Buy Similar HERE)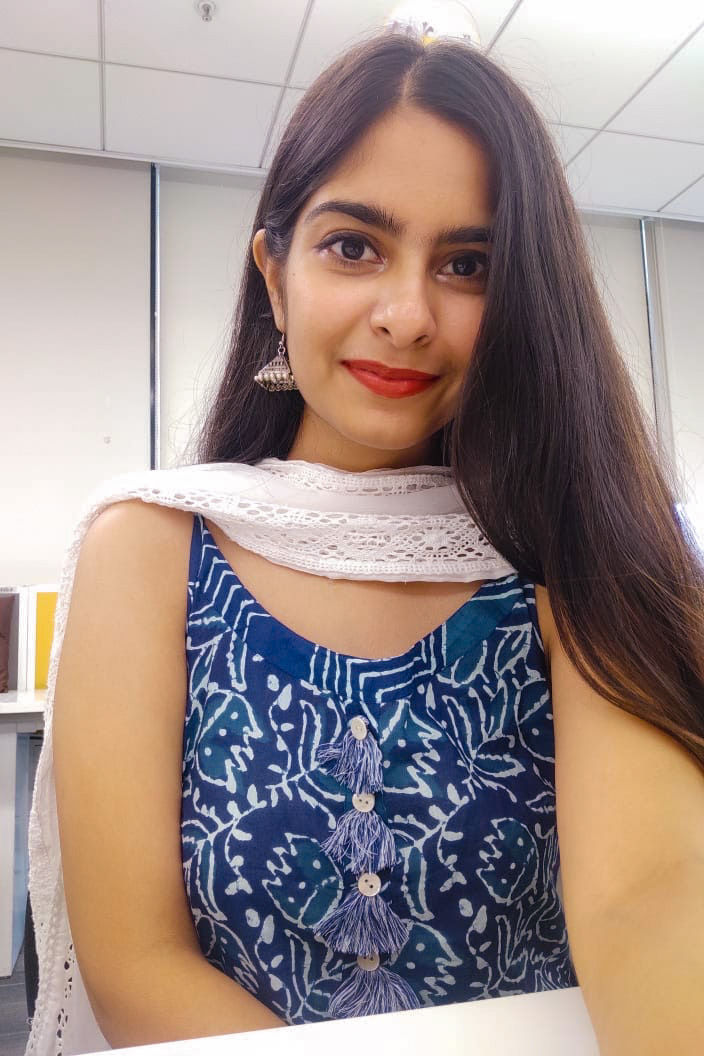 While we all love wearing dresses, pants, or even denim to work, but we have to admit, ethnic wear has its charm that spares no one. So try and play around with Indian and fusion outfits when you go to work next time, and I'm sure you're going to love it.
For all the women who still are not convinced, don't you worry, I have got you covered. I am working on content for western outfits for work as well, and I'm sure you will get some inspiration from there that will help you. 
Let me know what you like to wear to your office and connect with me on Instagram for more fashion and style tips. 
Xoxo,
Khyati.