The whole idea of doing look books is to let you guys know that there are tonnes of ways to wear the same piece of clothing, and when you experiment, dressing up gets more fun! Also, this makes it for smart shopping. You can invest in one piece that you think you will be making a lot of use out of and then balance the rest of your outfit. The perfect one-stop for all kinds of outfits for me is a white crop top. In this blog post, I will talk about how you can style one white crop in different creative ways. 
These shorter tops that bare the midriff were extremely popular in the '90s and have found their way back into our closets in the last couple of years. There are various ways and combinations to style the crop top, so you can look and feel your best.
A bonus advantage for all my petite women is that you look taller (yep, we're in the same boat, girl) wearing a crop as it creates the illusion of having longer legs than the upper part of your body. Below are five comfortable yet fashionable ways to style your cropped tops for all kinds of occasions.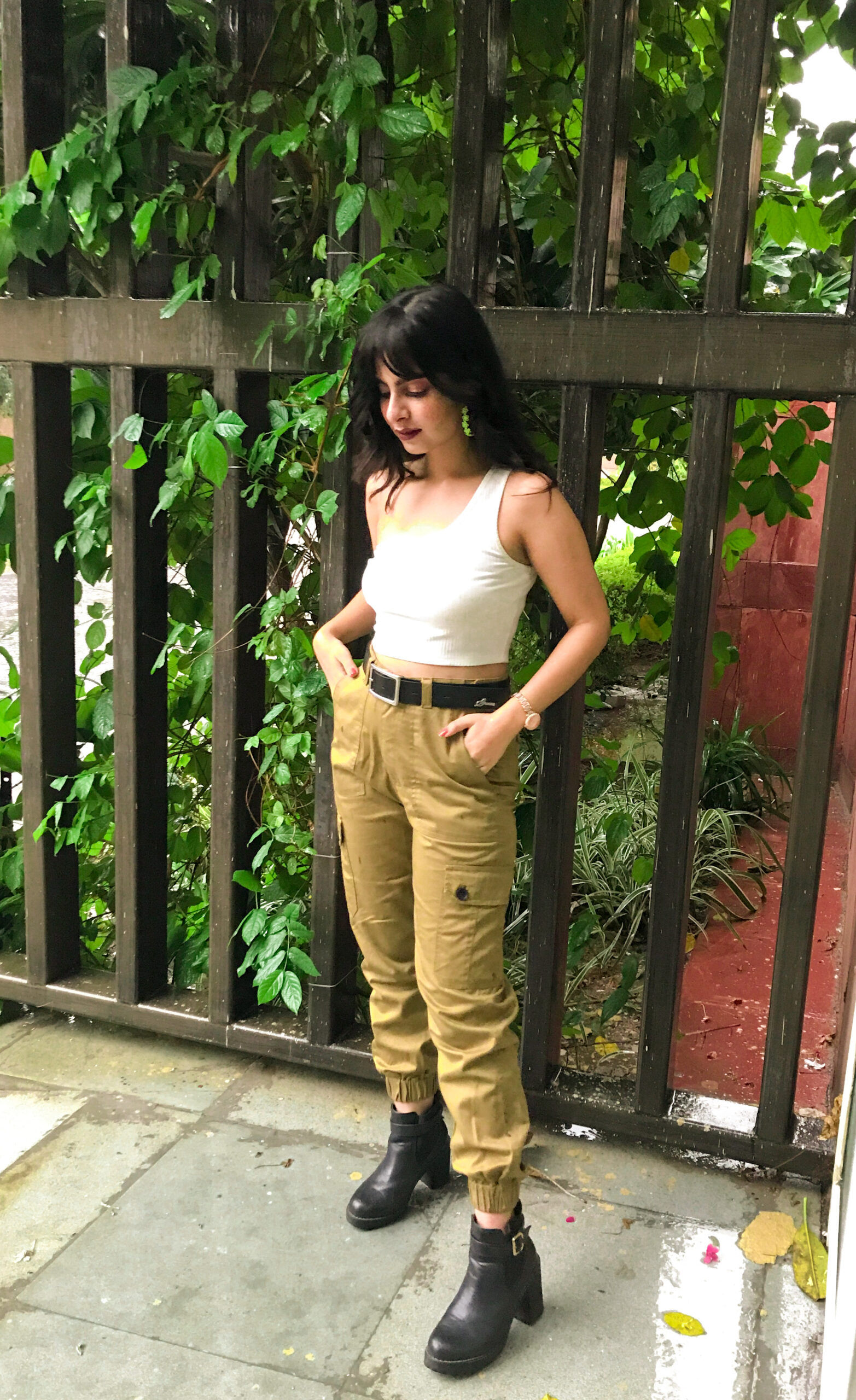 For this look, I urge you to step out of your clothing comfort zone and try the same crop you have in your closet in a cool and edgy way. You can do so by pairing the crop top with high-waisted pants and accessorizing in the right way. Here, I have worn it with cargo khaki-colored pants and gave a little throwback to the '90s. The pants are slightly more tapered, high-waisted, have a draw-string cuff, and side-button detailing. I added the Best edgy footwear in my closet – the classic black boots. 
To go with the same theme, I wore a black belt and also added neon green colored hoops. Finally, I also experimented a little more and wore some fake bangs/fringes to make it look extra (omg, they go so well with the whole look), but you can tone it down and skip on this part.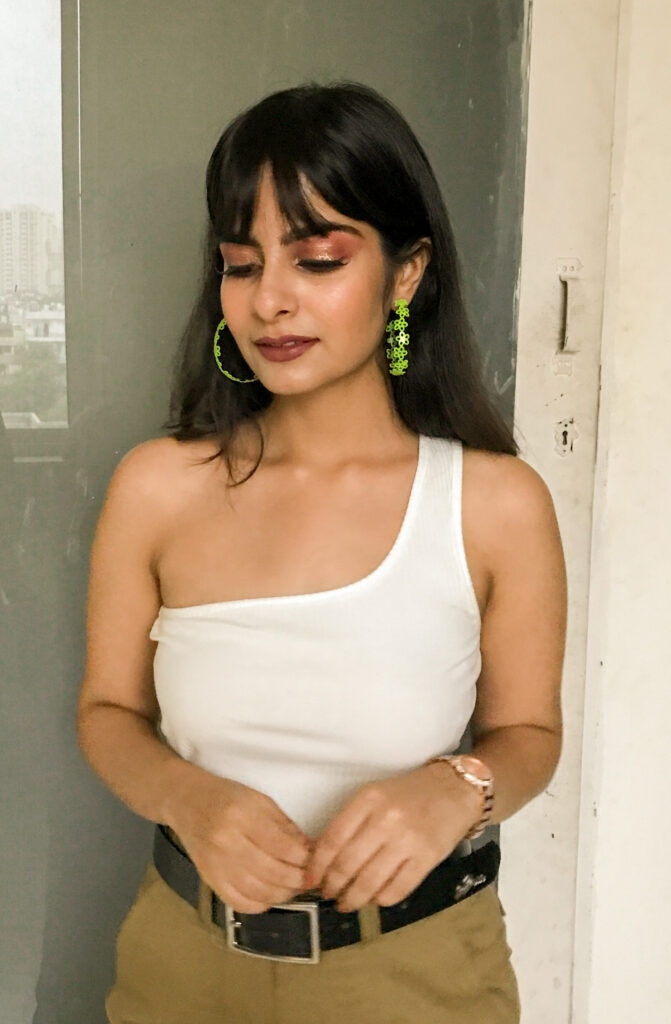 From a very grunge edgy look, this outfit is the absolute other end of the spectrum. For this look, I wore a warm brown-colored polka dot printed midi skirt along with the same white crop top. For accessories, I went with an overload of pearl! They look so classic and can elevate any look to a whole new level. Along with that, I also added a white sling bag that has bow detailing on it and some white block heels. This look is a perfect blend of vintage-inspired and has elements of the modern fashion.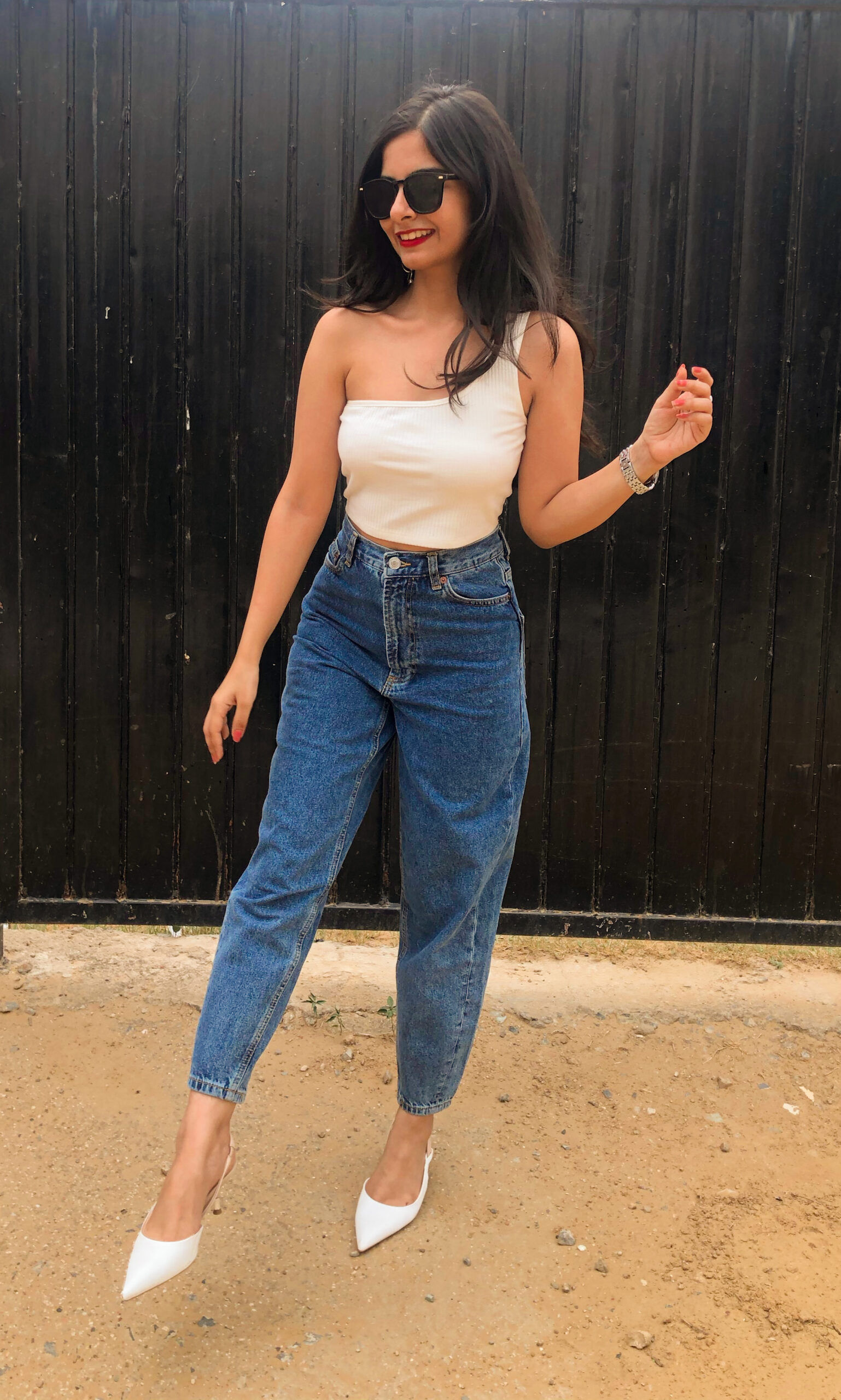 One of my go-to ways to style any sort of crop top is paired with a classic pair of high-waisted jeans. These two go together so well because the short hem of the top is balanced by the rise of the jeans, so you never feel too exposed. Here, I wore basic blue denim mom jeans with the crop top, but to twist things up a little, I also added a black blazer and pointed-toe white kitten heels.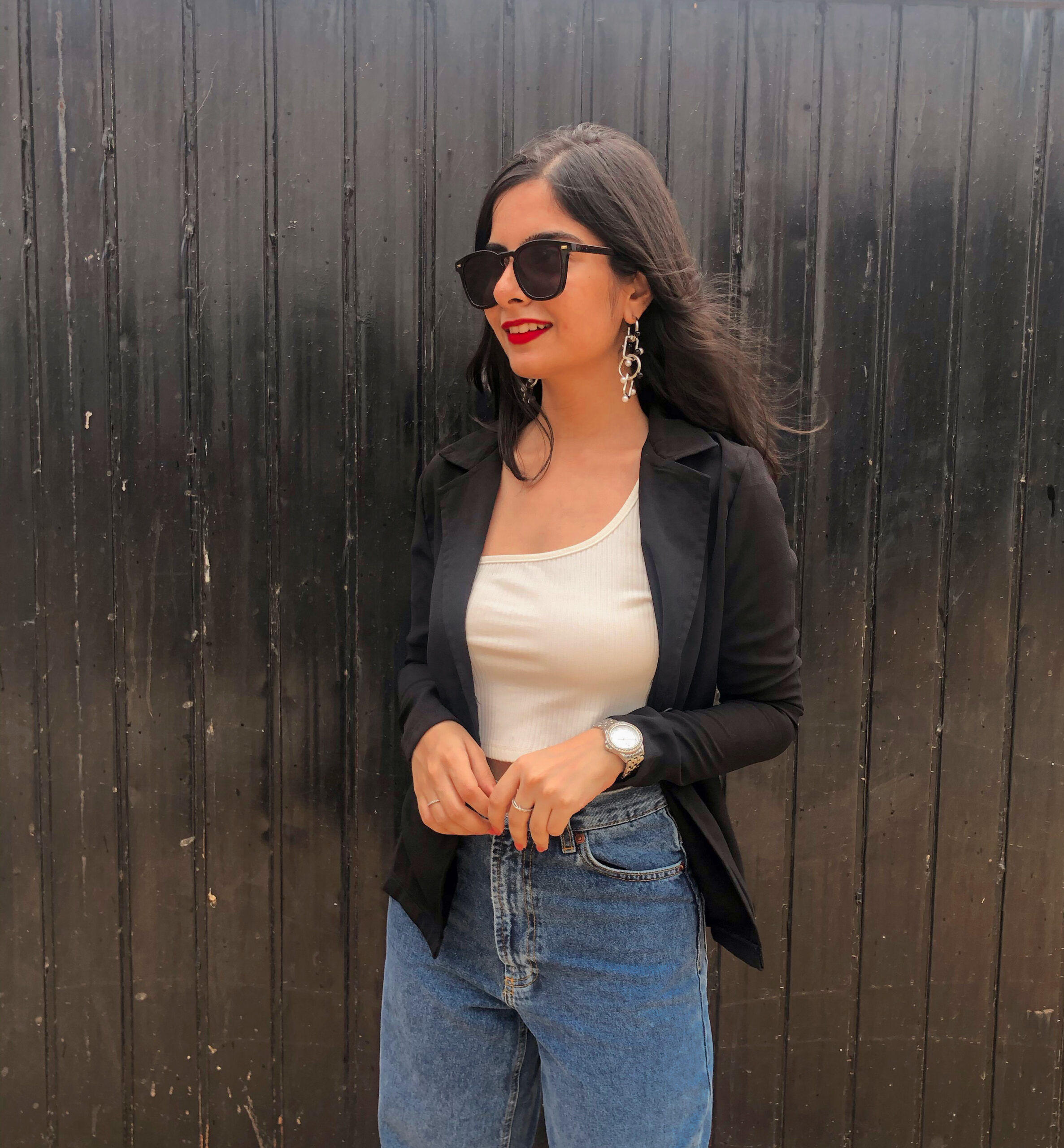 To finish up the outfit, I wore my classic black sunglasses, minimal makeup, but a bold red lipstick, a watch, and fancy earrings. You can make this look an everyday basic by switching the heels with white sneakers and blazer with a denim or leather jacket.
If you are not a person who wears gaudy clothes during festival season, then a crop top paired with different types of skirts or palazzo pants will be your best pick. For this look, I wanted to give those women a little something who likes wearing indo-western and fusion styles. I paired the same white one-shoulder crop top with printed palazzo pants and bright, colorful earrings. I wore this outfit when I visited Rajasthan for a vacation last year. You can find this and SO MANY more outfits I wore (all Indian) detailed under this blog post.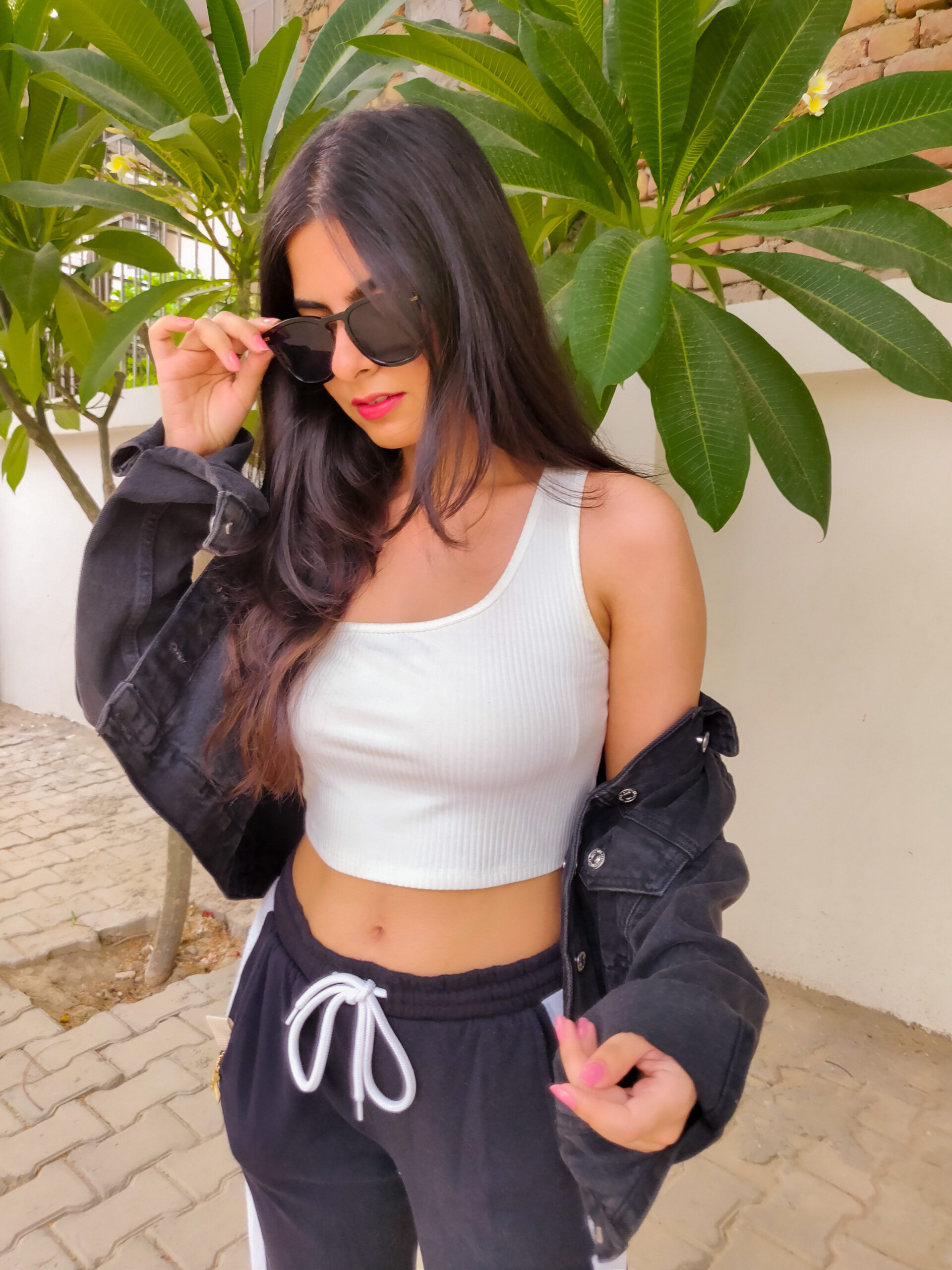 If there would be one outfit that epitomizes style and comfort both, it has to be a combination of crop and sweatpants. This is the perfect summer must-have off-duty look that is sported by so many supermodels and celebrities. Athleisure is blurring the lines between the clothes you'd wear to the gym and those you'd wear to lunch.
For this last outfit, I paired the crop top with sweatpants, sneakers, and the same sunglasses for a casual "laid back effortless" look. One of the easiest ways to tone down a crop top is to cover it up with your go-to summer outwear. For me, that's usually a denim jacket.
Crop Top – Shein (Buy Similar HERE)
Sweatpants – H&M (Buy Similar HERE)
Sneakers– Adidas (Buy Similar HERE)
Denim Jacket – Mango (which btw, was featured under the "February Monthly Obsessions" and now its July and I'm clearly still obsessed with it. Buy Similar HERE)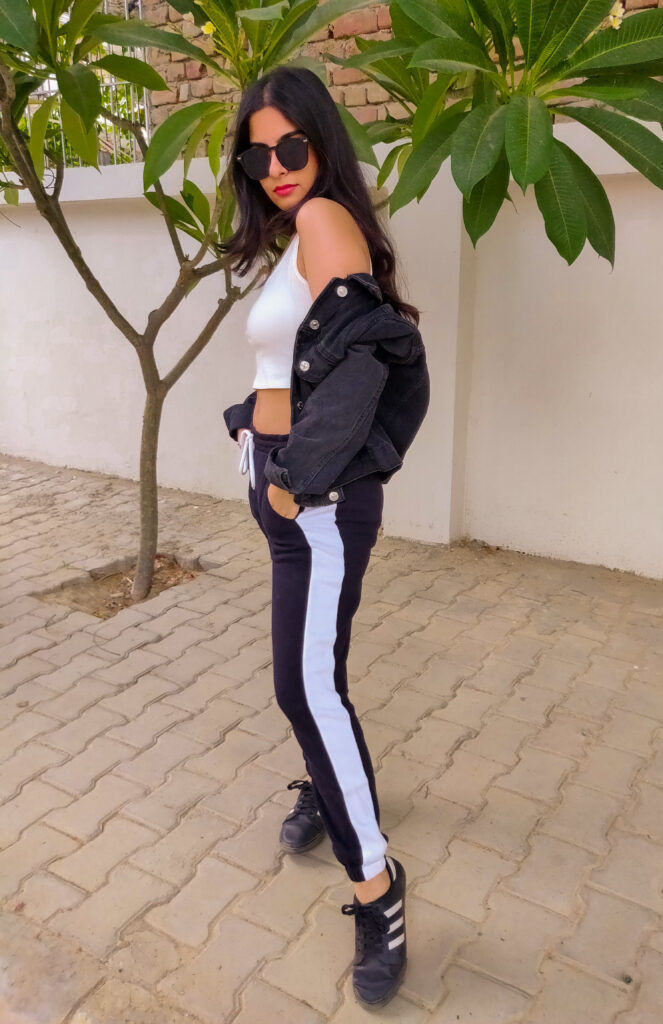 I hope with this blog post, all of you found something that could work for you, and you can give it your spin and try it out this summer. I would love to see how you style your crop tops in your unique way and if you do, definitely tag me in your photos on Instagram, and I will check them out!
Let me know what other posts would you like to see from me and until next time.
Xoxo,
Khyati.