Till a few years ago, I was not really into skincare or beauty products. I used to have the most basic skin care routine with just any face wash I found in the local market.
But now, I consciously take care of my skin and follow the CTEM (Cleanse, tone, exfoliate, moisturize) routine which has shown a visible difference and made my skin a lot better and smoother.
I also love trying out new skincare and beauty related products and experiment with them a bit to see what works for me.
There has been a recent trend of beauty subscriptions in India and they are growing pretty fast. So it is essentially a bag or a box which you get every month at your door step with some new products to try out with a prior payment for the whole subscription. It contains different quantity of products depending on which package you chose. Some of them are samples and some are full size products.
So today I have a review about the most famous beauty subscription in India called the "Fab bag".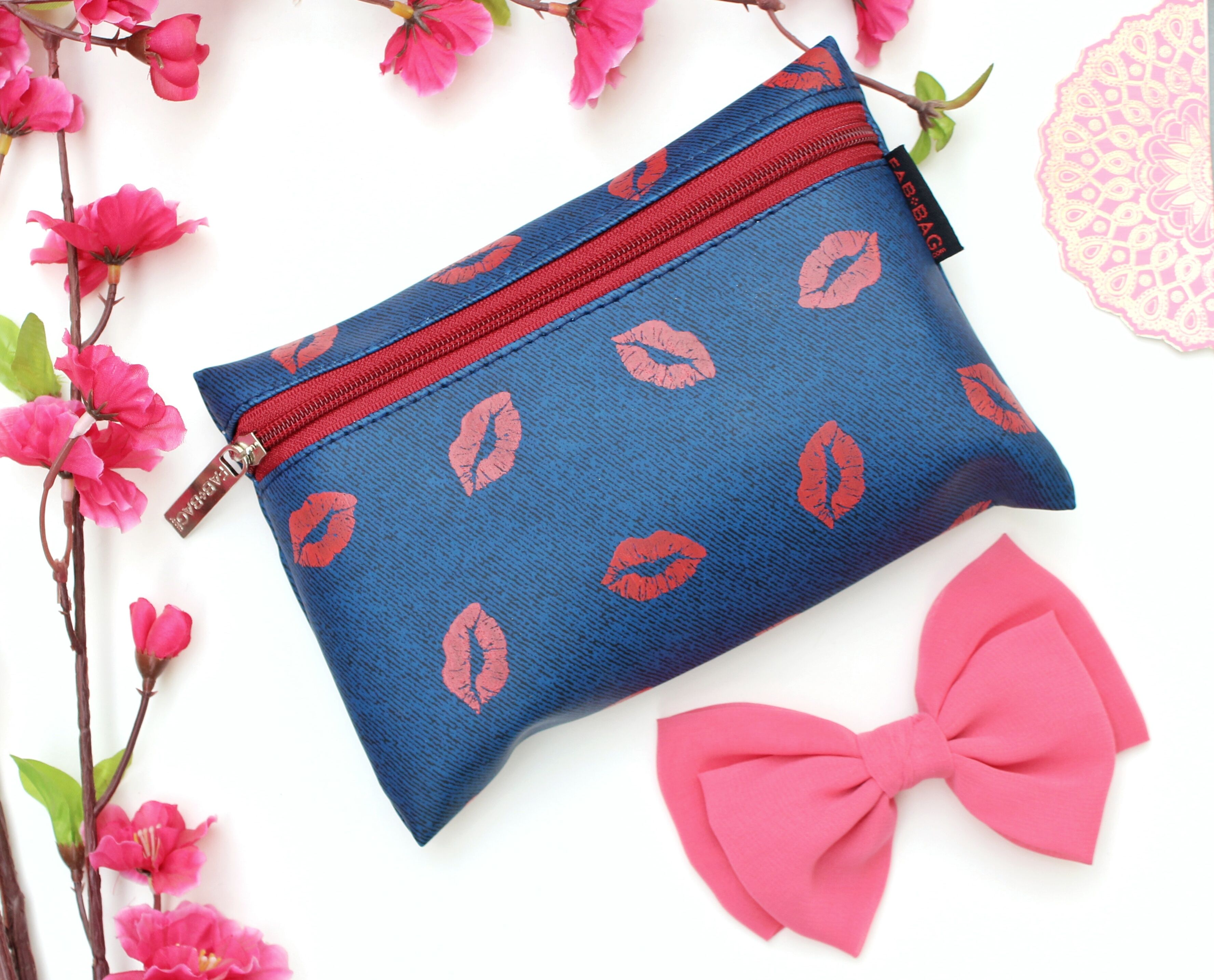 Today I will be reviewing the "July Fab Bag 2016".
What I love about Fab Bag is that they always have a different theme for every month which makes it all the more unique and exciting. This month's theme was "Hello Gorgeous".
There were four products, two sample sizes and two were full size products, which came in a very cute faux leather look bag with red lips printed across. It's perfect for carrying makeup when you are travelling.
I know this review is a bit late but the bag arrived around 15th of this month and I wanted to try the products for at least a week. So, I can make up my mind properly and give an honest review about it. This is basically about what I feel and what worked for my skin type, the experience might differ depending on various factors.
So that being said, let's get started.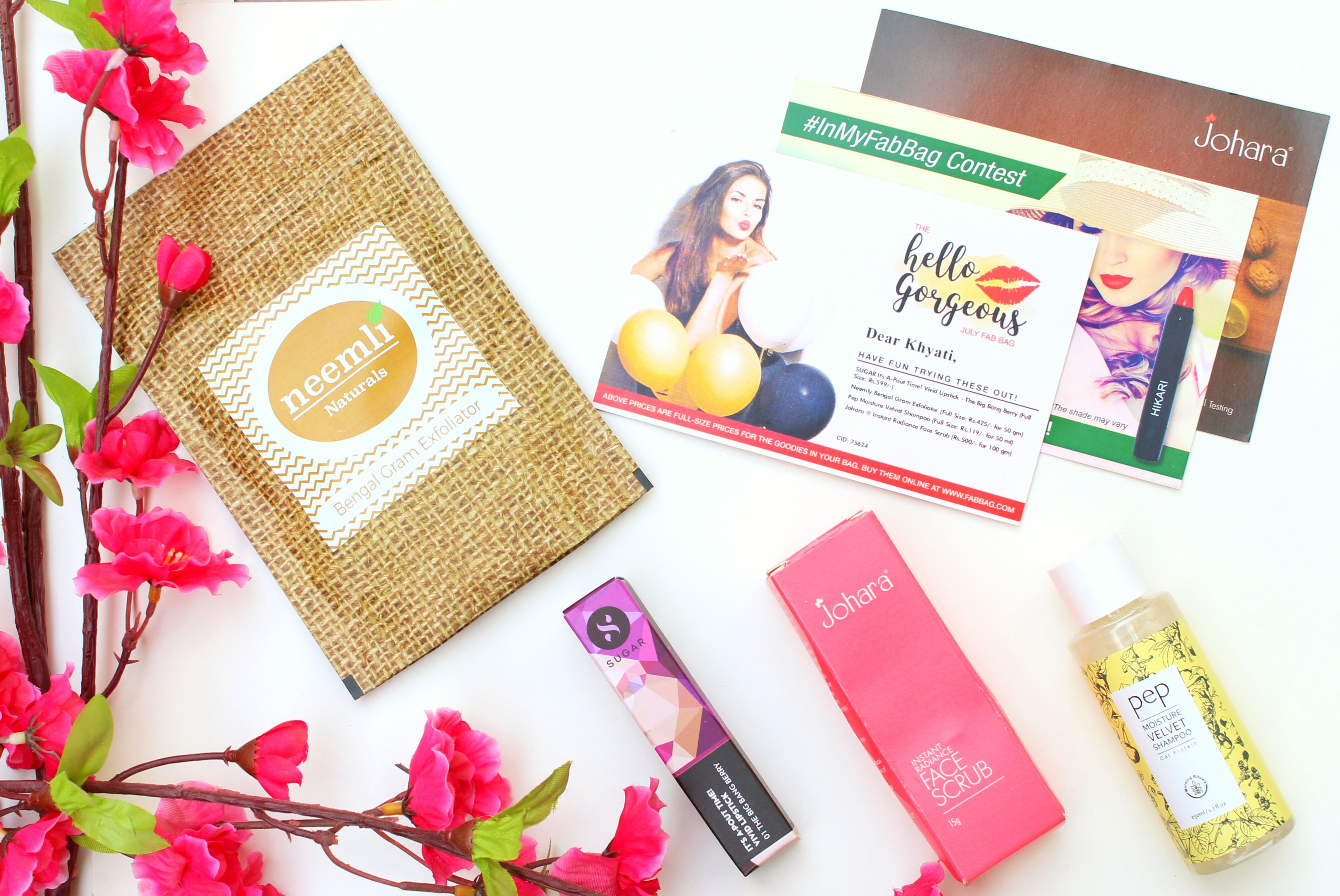 1. Sugar it's A Pout Time! Vivid lipstick in the shade – Big bang Berry. (Rs. 599 for full size)
Since I'm a lipstick freak, this was an absolute bundle of joy for me. You are allowed to chose one product for the bag every month out of the given options. Rest of them are a surprise. So this shade is the one I chose for July Fab Bag. It is a Berry toned shade which suits the Indian skin tone and is perfect for the autumn and winter seasons. The formula is amazing and it goes on matte, yet it isn't drying. This was the first product I tried by the Sugar brand and I'm so satisfied with it that I'll surely try their other products as well. As you can see, the packaging is also very sleek and matte black which not only makes it travel friendly but also classy. So it is a must try for anyone out there who likes wearing the bold red lip.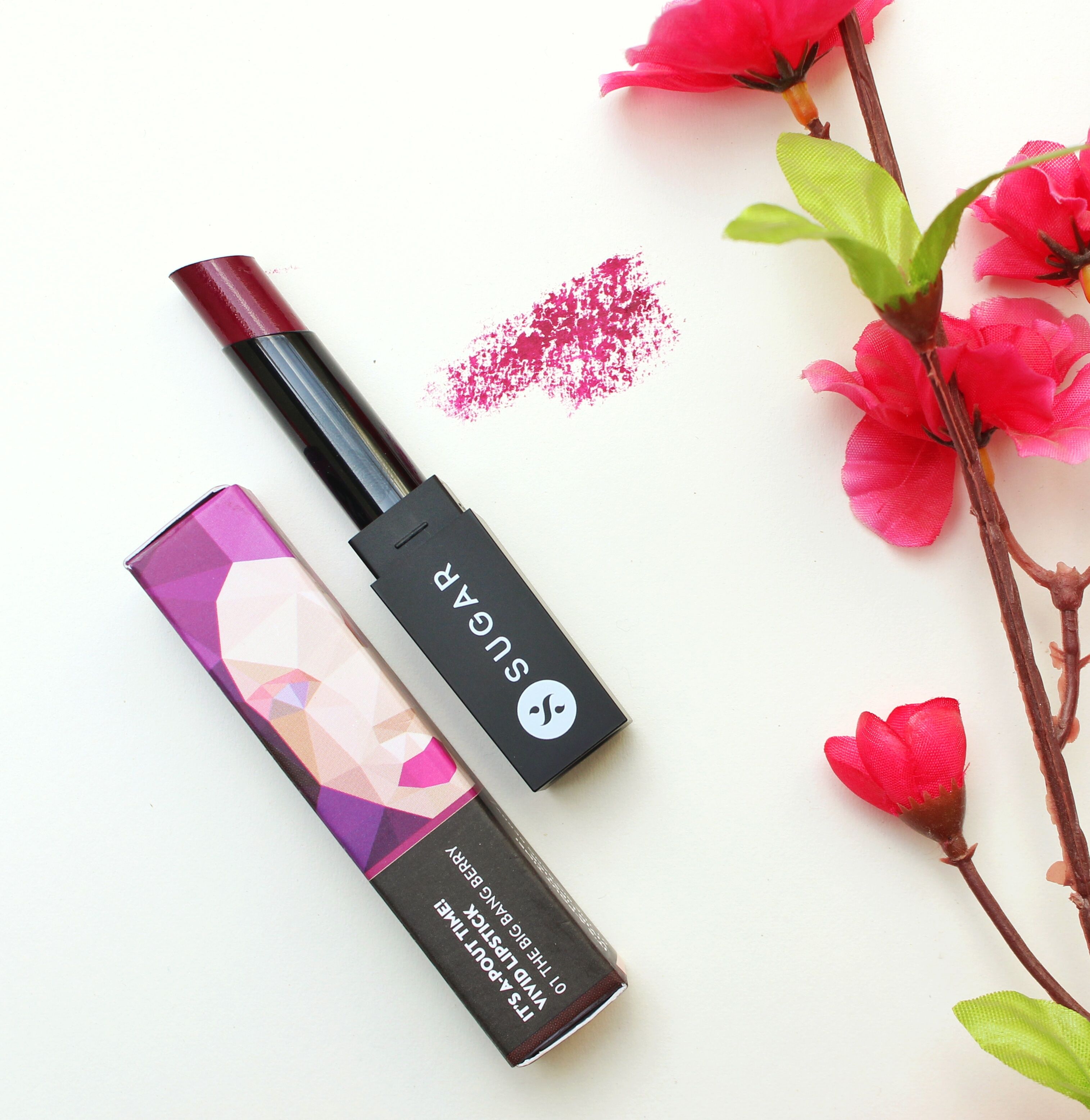 2. Johara Instant Radiance face scrub (Rs. 500 for 100gm)
To be honest, I haven't tried a lot of scrubs in the market but I felt this product did not work for my skin type. I have a combination to oily skin and this made me break out which I absolutely did not like. It also has a weird sort of smell which isn't something you look for in a scrub. Although it did cleanse my skin and it made me feel fresh the first time i used it. It certainly did not give an "instant radiance" which it claimed on the packaging. It might work for other people who but unfortunately I did not have a good experience with it.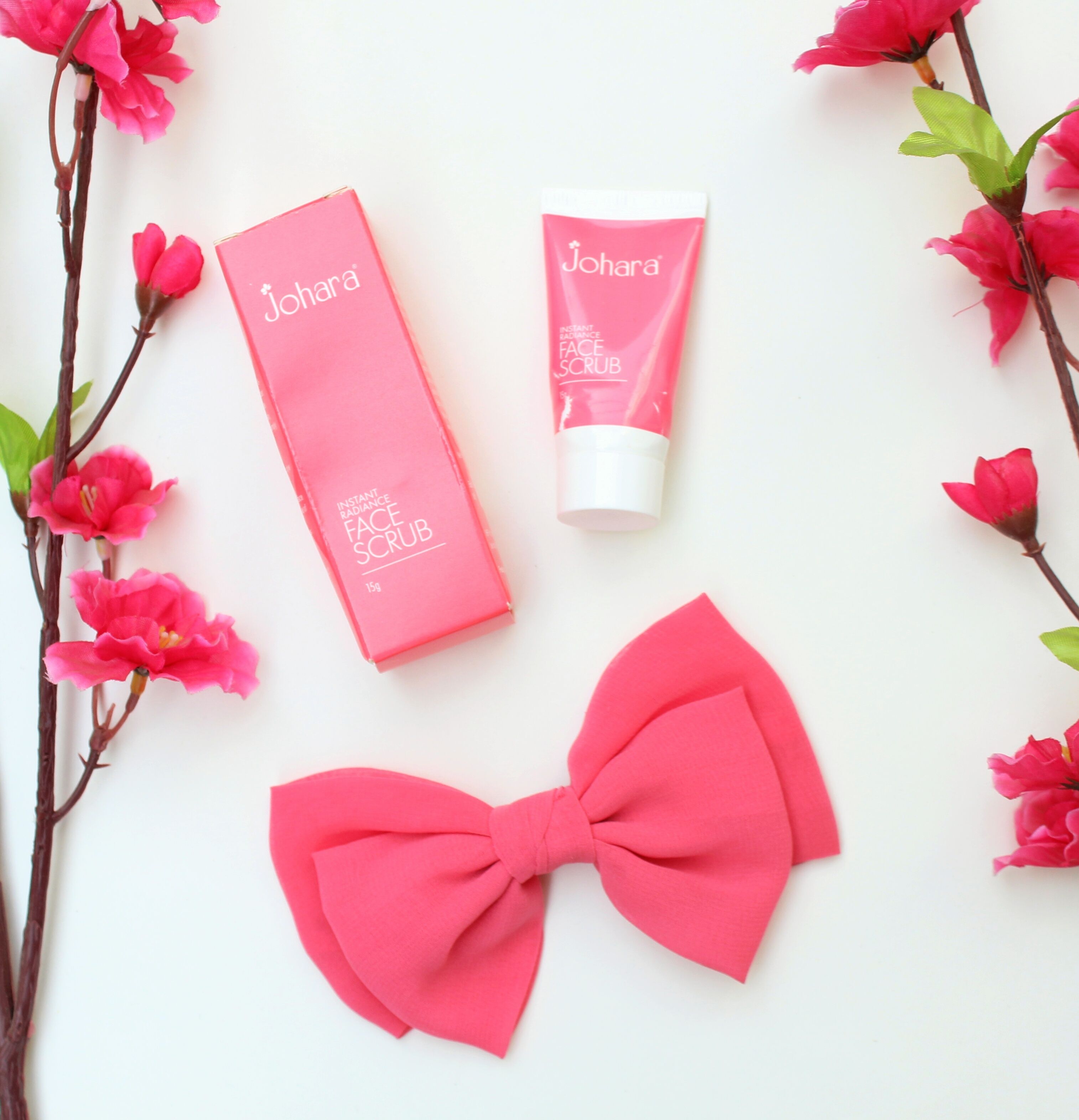 3. Neemly Bengal gram exfoliator (Rs 425 for 50gm)
This was an absolutely lovely surprise for me. Probably the favorite in this month's bag. Since I really like herbal and natural products, I was very excited to try this out. This exfoliator pack contains rice flour, turmeric, sandalwood powder and multani mitti in addition to the Bengal gram. After applying it like a normal face pack I let it dry and washed it off after about 10 minutes. This product works amazingly and left my skin feeling so fresh and hydrated. I think anyone who is suffering from acne or tan should definitely give this a try.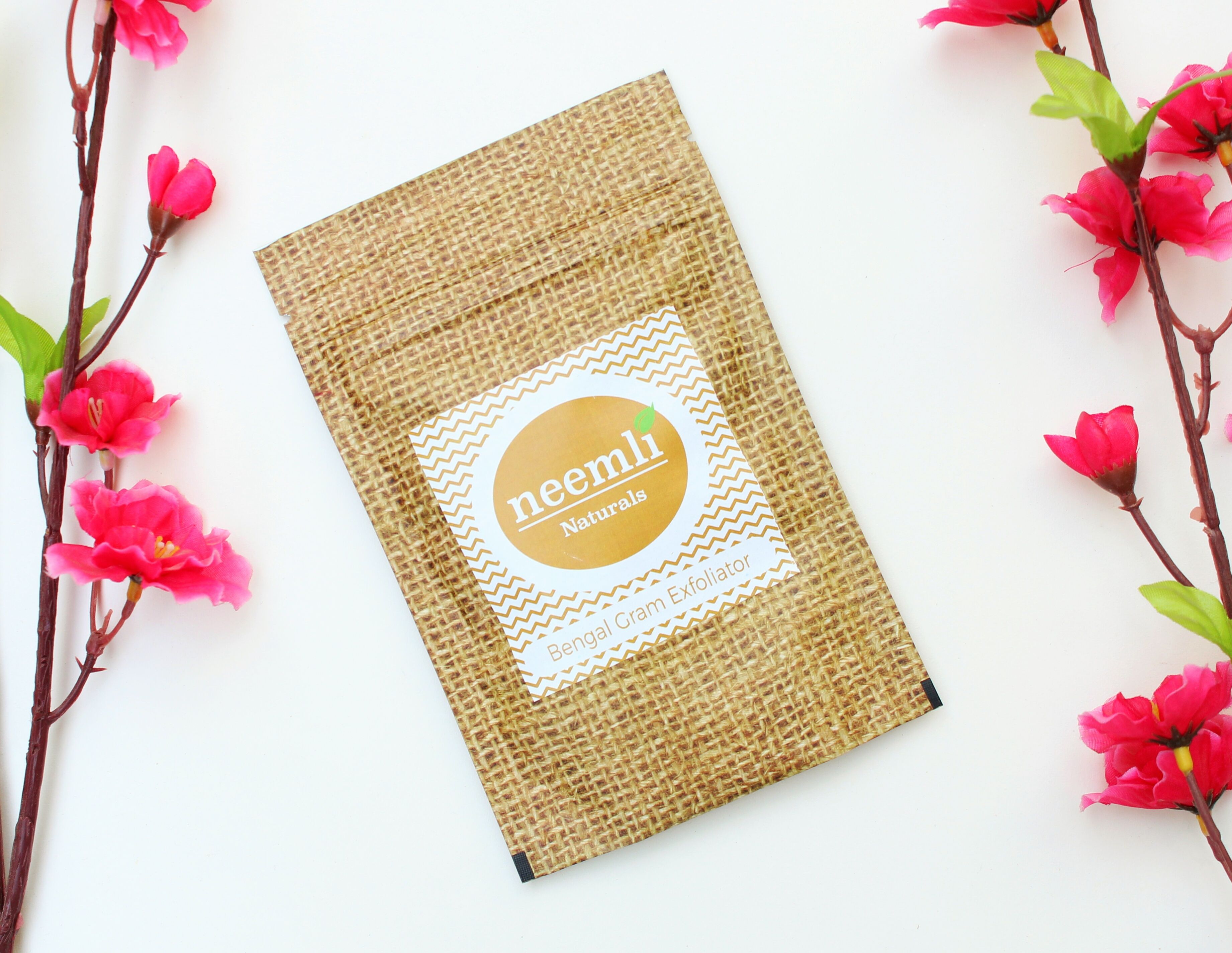 It is formulated with oat protein milk and provides extra nourishment to hair. This is a good product to use in the monsoon season as hair tends to get frizzy and unmanageable. Since, it is a sample size product and my hair are long it, lasted for just 2 washes. It made my hair really smooth and soft after conditioning. And it has such a sweet fruity fragrance to it which makes it even better.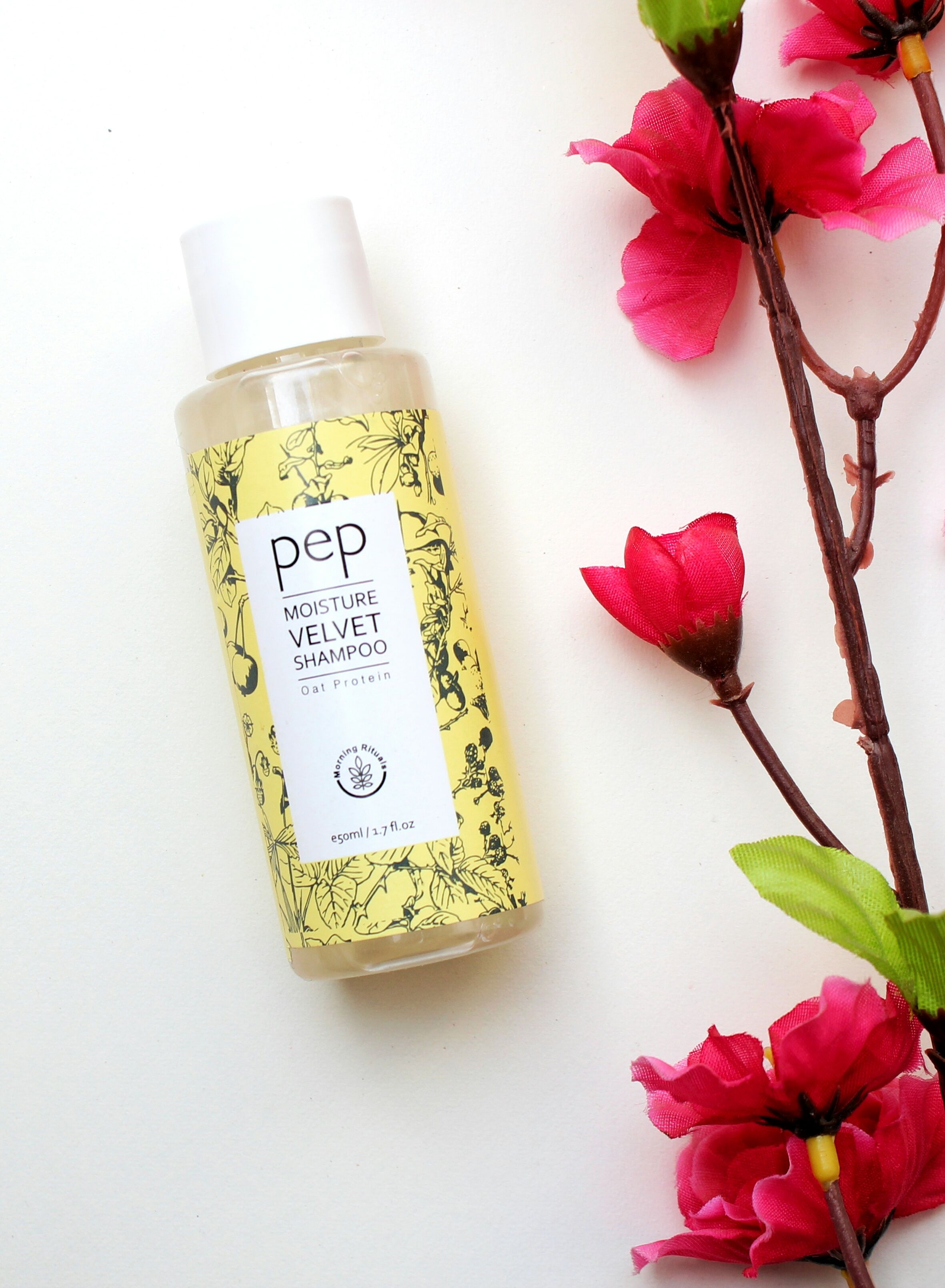 So all in all I would give The Hello Gorgeous July Fab Bag 2016 a 4/5.
This concept of beauty/skincare/makeup subscriptions is unique and fun and I feel everyone should try it once at least. So go ahead and pamper yourself.