Hey Everyone,
So, This is a new series I came up with, which is going to be all about creating chic & stylish outfits without burning a hole in the pocket. What I've learned from my experience is that you don't have to spend a lot to find a perfect designer dress or cute shoes with incredibly uncomfortable high heels.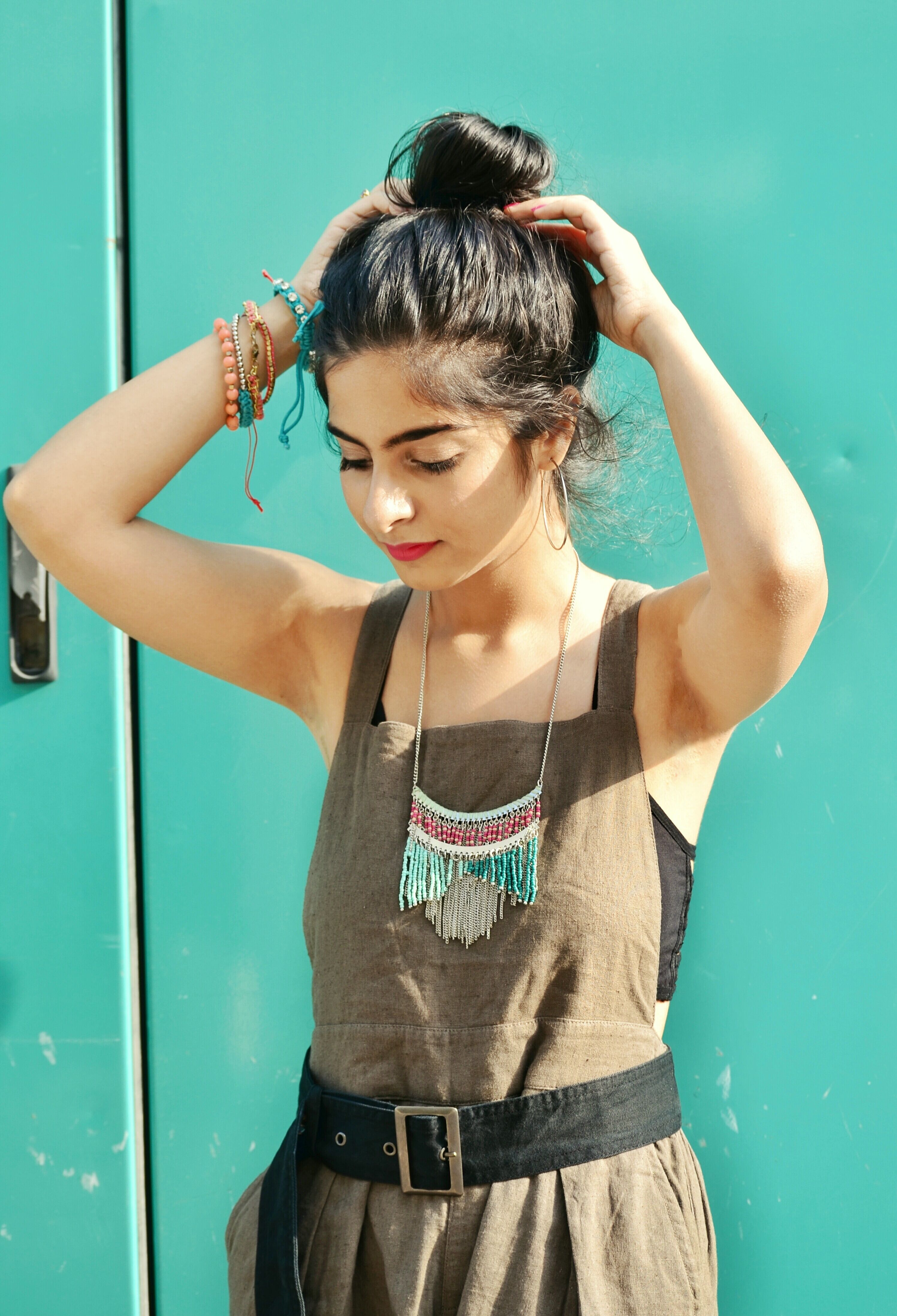 All you need to know is how to make things work according to your style. And additionally, adding your personal touch by accessorizing it properly to give an edgy look.
Choose wisely, be a smart shopper, go for the clothing items that you can mix & match with a variety of things and you'll be good to go.
So let's get started.
For this look, surprisingly I did buy everything from one market only, that is Sarojini Nagar.
So if you're a Delhite you very well know Sarojini Nagar and every girl's fascination with it. It's a local market in Delhi, which has loads of export surplus material at very discounted prices. You can find very trendy pieces ranging from Off-Shoulders to Bohemian tops to beachy dresses to cool bags to junk jewelry.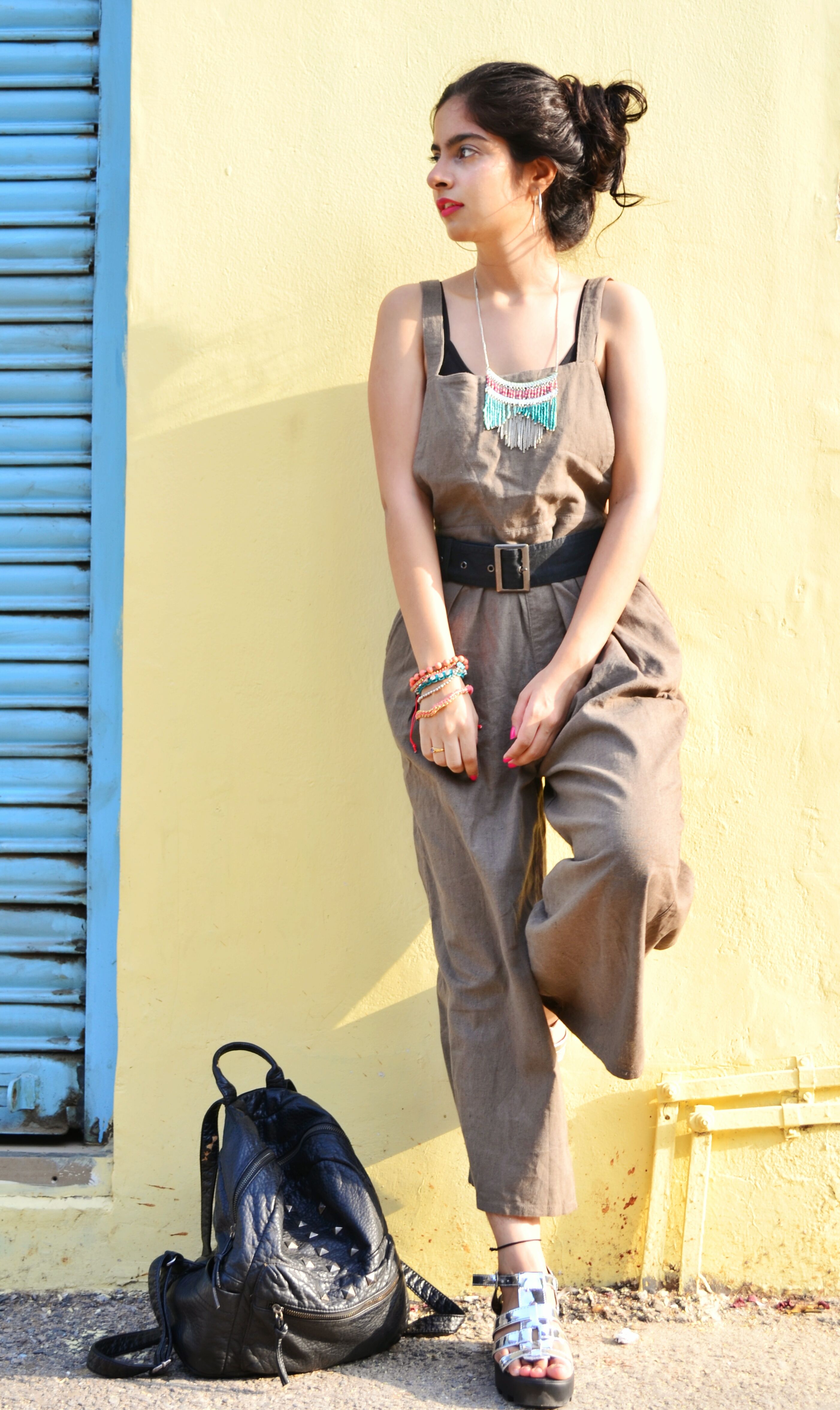 I believe if there's one fashion item above all else that never fails to call out its wearer as a bonafide fashion girl, it's a jumpsuit. It is the most comfortable piece of clothing, easy to carry and style. Also, jumpsuit happens to be the ultimate lazy girl go-to item.
So yep, it's true that wearing a jumpsuit isn't rocket science—you can just put it on and go. But, the right accessories and proper layering pieces are key in injecting your personal style.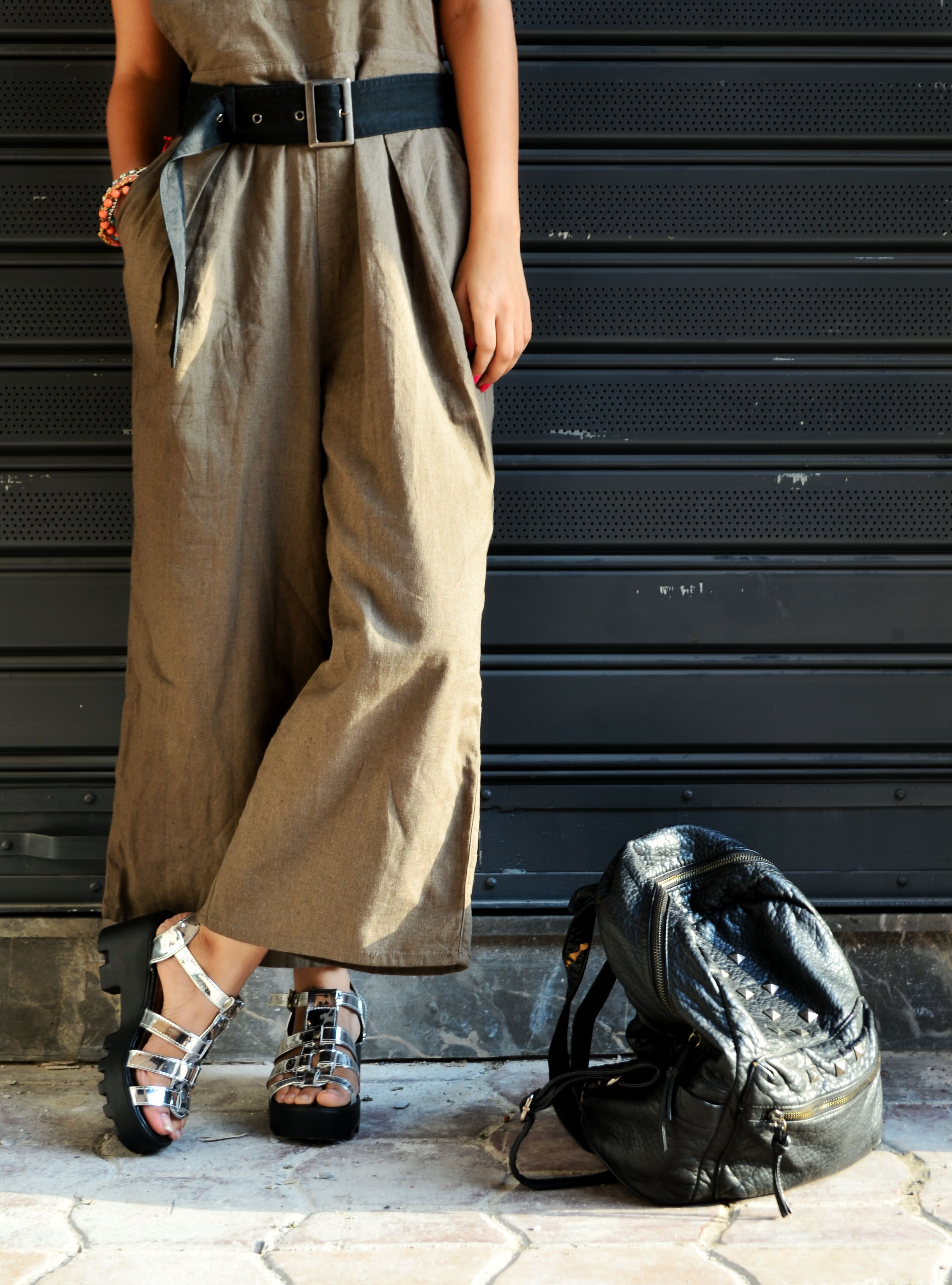 Here, I'm wearing an olive green colored cotton jumpsuit (buy similar HERE). It's pretty simple and a solid color all over. I have paired it up with a black belt which gives a shape to the whole outfit and looks chic. I paired it up with a black bralette underneath it because I like how it adds an edgy feel. You can also wear an off-shoulder or printed or a striped or floral top, whatever you feel comfortable in.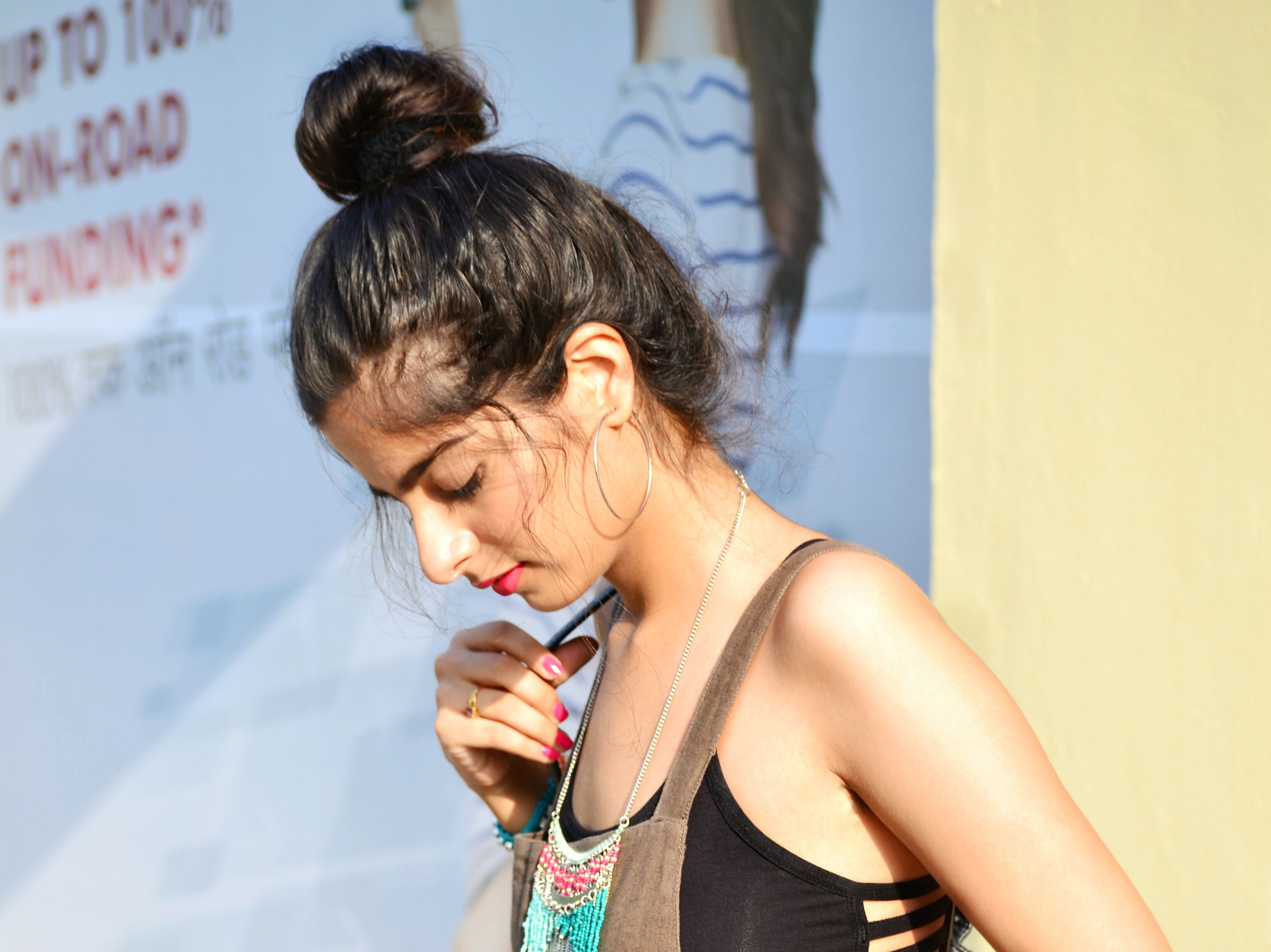 For accessories, I added silver hoops earrings and some cute bracelets in turquoise and coral colours which look feminine.
And the statement neckpiece (Buy Similar HERE) was literally a steal for just 100 bucks. It's so beautiful, I see myself wearing this a lot.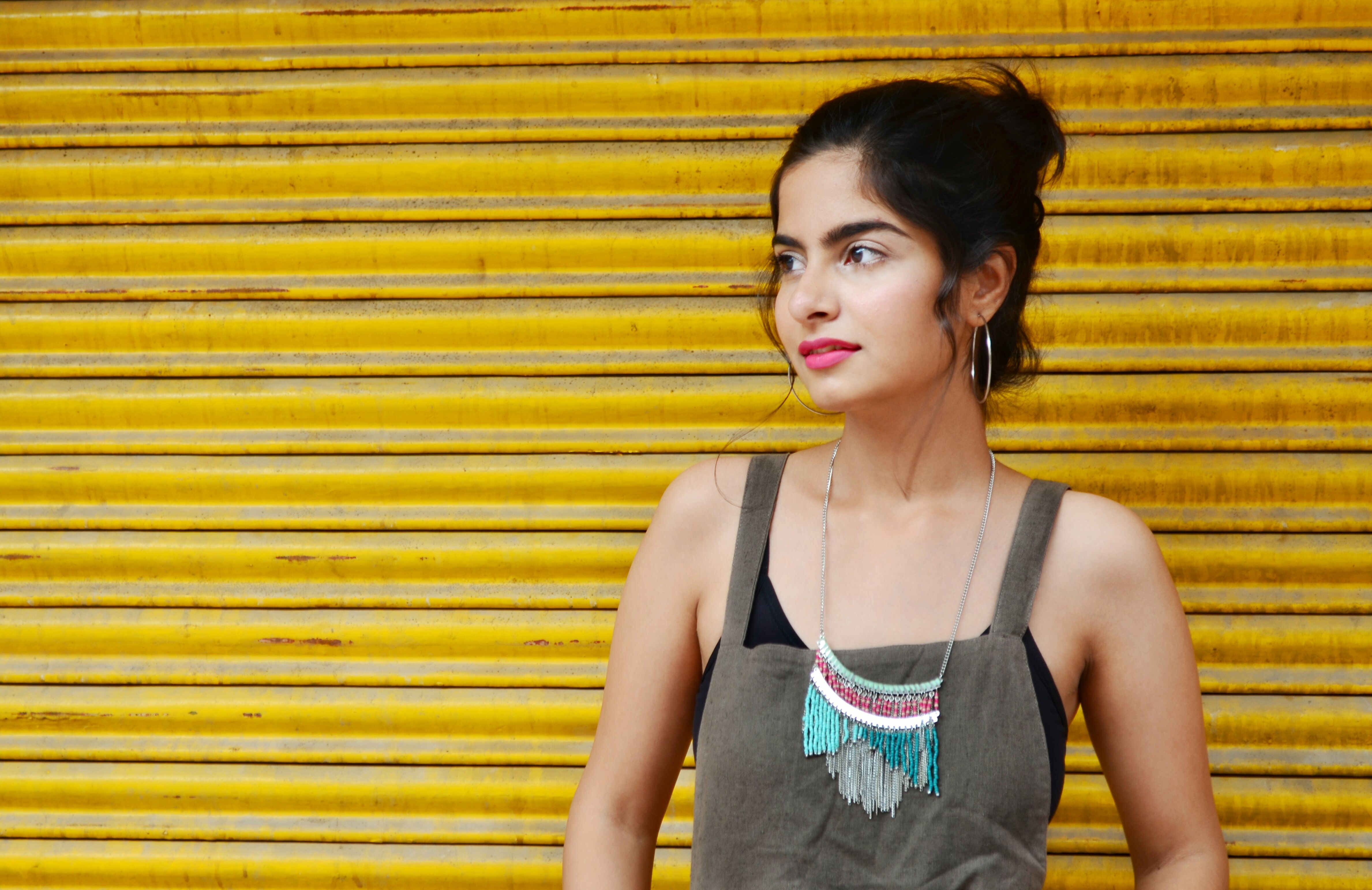 For the show stopper, please let's take a moment to admire how gorgeous this pair of chunky silver heels (Buy Similar HERE) look. I instantly fell in love with these as soon as I saw them and knew I had to take them. You can even wear heels for a more elegant look if you're going for a cocktail party or fancy dinner. Else, stick to basics by pairing it with flat tie-up shoes (very trend these days).
So, all-in-all this outfit has a turquoise, coral and silver vibe going on and it quite balances the look with the solid coloured jumpsuit.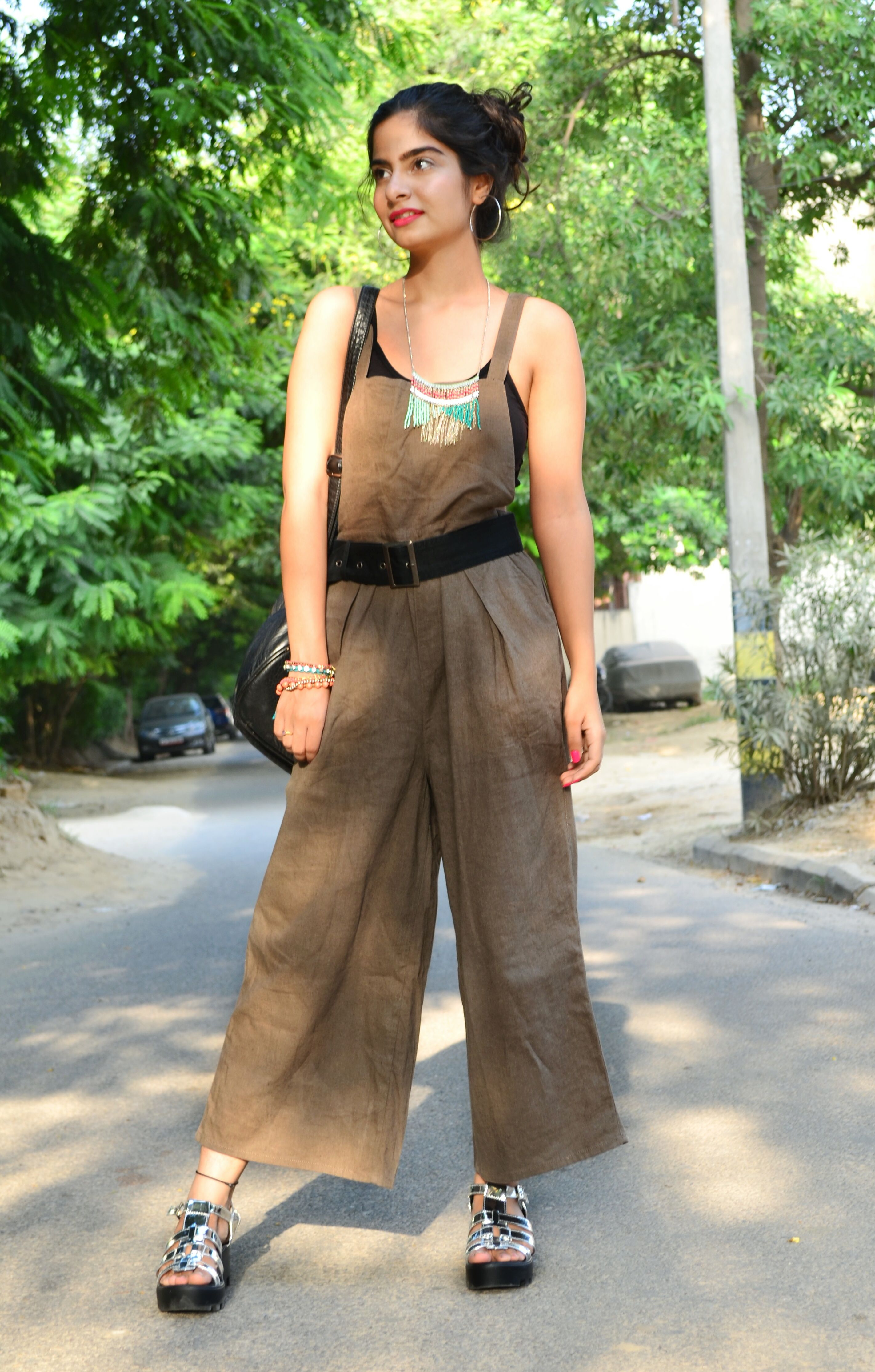 Since I kept this an easy breezy day time look, I wore a messy bun and anyone can rock the hairstyle in their good and bad hair days. For makeup, I kept it simple with a light base, loads of mascara, a highlight for the glow and a pretty pink matte lipstick matching with the nails.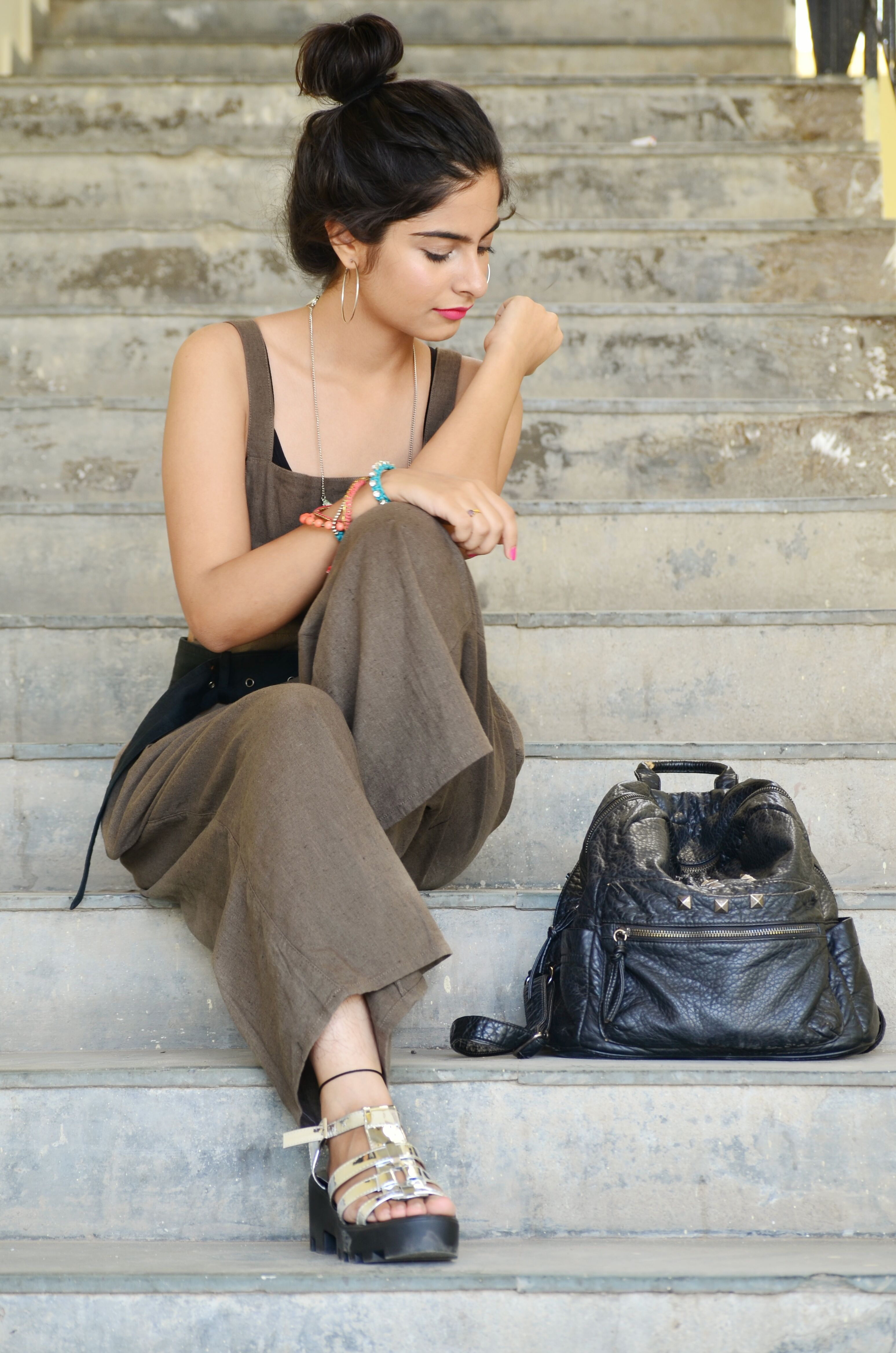 This whole attire was created in less than 2000 rupees and I'm glad it did turn out well. Jumpsuits have proved to be quite versatile and can be styled in a range of ways, completely casual or smart.
So go ahead and experiment with fashion. You can connect with me on my social media. You can find the links on the home page of the blog & tell me what you think about this outfit. I'll love to hear from you all.
If you like "Style on a Budget" posts, comment down below telling what would you like to see next.
Until next time,
XOXO.