Hello, lovely ladies!
This post is dedicated to all the college girls out there. Someone who is on a budget yet wants quality and trendy products in their makeup bag. College is a time when you step out of uniforms and braids and start experimenting with makeup and beauty products. But it's always better to start from basics like compact powders and eyeliners before you graduate onto funky lipsticks and bright eye shadows.
Whether you're a beauty junkie or not, every college girl needs a beauty kit to rely on for moments. When sleep just isn't an option because of an assignment due the next day. Or you want to impress your crush. Or for days when you just want to feel extra beautiful on the campus. Building a robust kikay kit doesn't necessarily mean owning a handful of creams, contour kits, and hundreds of palettes.
A reliable beauty kit is merely owning the basics to help cover up little flaws and enhance your natural beauty to keep you looking fresh all day in college.
To be honest with you guys, I don't even wear makeup every single day to college, but there are days when I want to look put together and presentable. But that only happens if I have some time in the morning, which is not so often. Lol.
Anyway, this post will include only the makeup essentials that a girl requires and are readily available. Therefore – no primer, no makeup fixer mist, or eyeshadows.
So, let's check out the college must-have makeup list.
BB cream/CC cream and Compact powder
How do you brighten tired skin after a late night of partying, gossiping, or studying?
With a BB cream, of course. It's way lighter than foundation. It gives just the right amount of light coverage with clearer and hydrated skin all day long. However, you can also try using a CC cream, which is a little heavier than BB cream and gives brighter and even-toned skin instantly.
I generally use the "Maybelline Clear Glow BB cream" or "the Garnier BB cream". Both of them are great, but the Garnier one has only one shade, which is a bit of bummer.
I sometimes also use the "Lakme CC cream" in the shade Bronze, and it has excellent coverage for everyday use.
Need to touch up your makeup on a hot day, want to blot up excess oil, or simply need to sneak in a glance in the mirror?
A compact powder will always come to your rescue. If you are using BB cream, then lightly dab the dust as a touching. Or, if your skin is oily, make sure that you have applied the powder evenly all on the face and neck. I like this for every day because it provides excellent coverage and SPF, and they leave you fresh-faced and glowing. It also keeps in place your sunscreen and moisturizer.
This is one product which is always in my college bag. It's surely a life savior as it is an all-in-one product.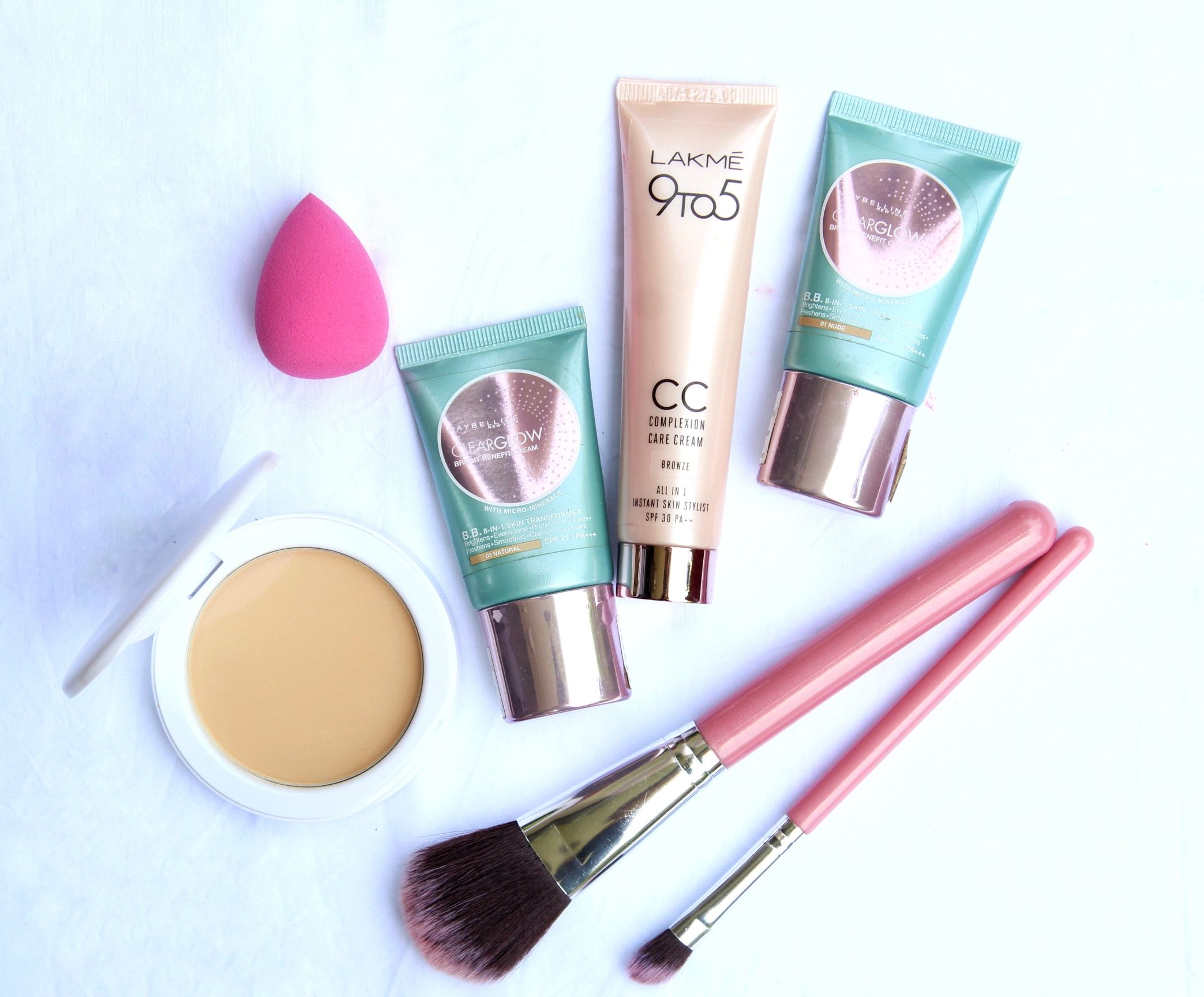 Concealer
One thing that comes with being a college student, and staying up late to study or party, are dark circles. Some dark circles are heredity, and others are from sleep deprivation. Either way, an excellent way to counteract those dark circles are using concealers instead of having fantasies about coffee. This is one product that I swear by and probably never leave the house without it because it makes a huge difference and makes me look so much more confident about myself.
Maybelline Fit Me Concealer in the shade 25 Medium is my go-to drugstore concealer. It's perfect for covering up the things that a BB Cream can't, such as under-eye circles and spots. It's not heavy-duty, because it doesn't have a very thick consistency, and it can be a little drying if you have dry skin, so be sure to moisturize.
I sometimes also reach out for the Dream Lumi concealer even by Maybelline, but it's more of a highlighting concealer than a coverage one.
Also, if you tend to break out, especially when you're stressed, look for a concealer with zit-fighting ingredients like salicylic acid to conceal and heal zits at the same time. So, next time just because you rolled out of bed 5 minutes before your 8 AM class doesn't mean you have to look like it.
Pro-Tip: Make sure the concealer is a couple of shades lighter than your actual skin tone. Your eyes will look brighter, and they will thank you later.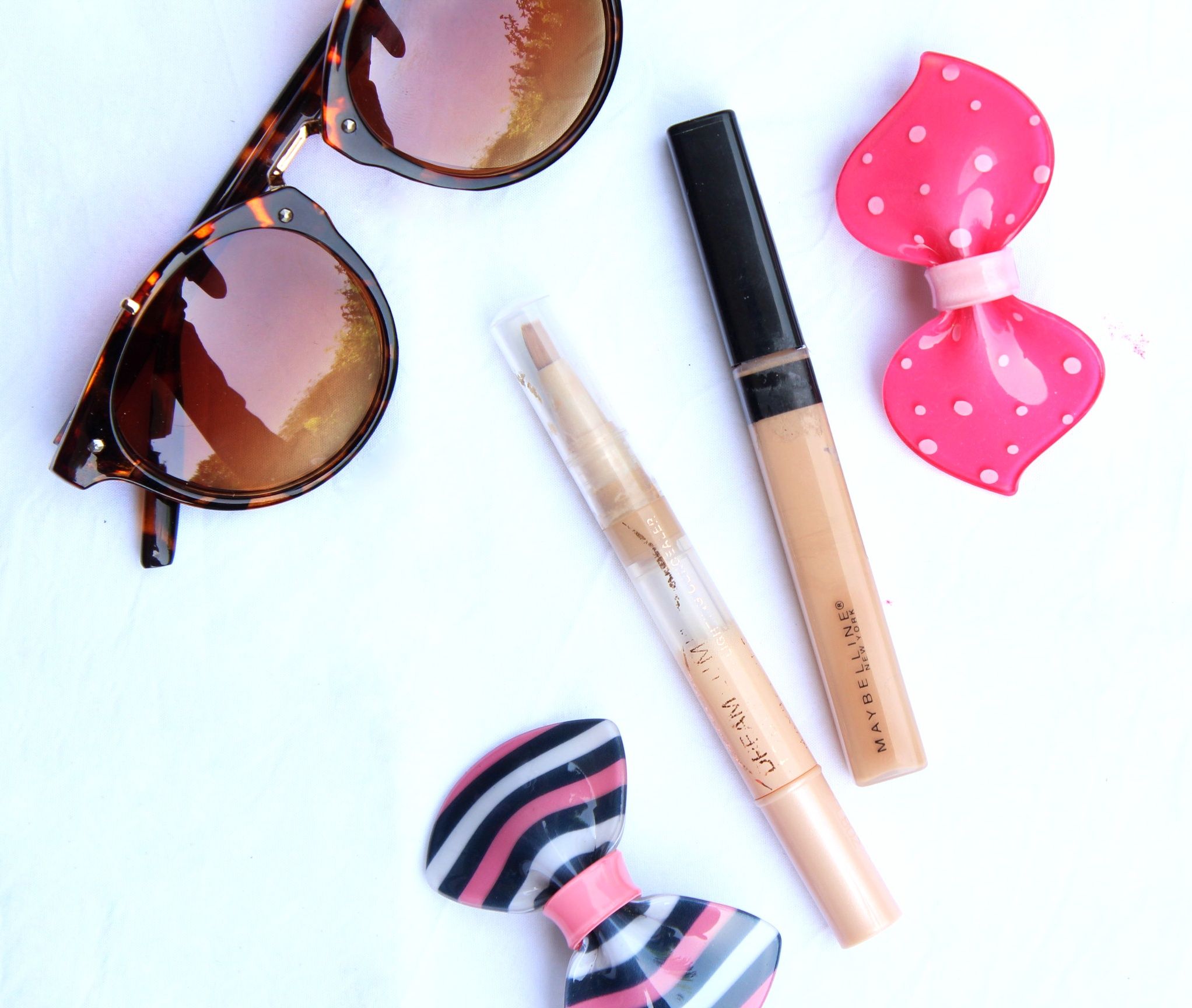 Blush
I consider blush to be a non-negotiable makeup item. A swipe of color on your cheeks is natural and creates a healthy glow. In the middle of finals, a quick swipe of blush will leave you looking fresh and healthy instead of like you just spent all night studying. Subtle shades of pink, coral, and peach look amazing. You can also wear earthy colors if you are new to blushes.
For an everyday basis, I use the Maybelline's Colour Show blush in the shade Creamy Cinnamon, which is a beautiful soft coral color.
However, when I want to make the apples of cheeks look extra glowy and pink, I use the L'Oreal Paris Lucent Magique Blush, which is also gorgeous, as you can see in the picture below.
Pro-Tip: Remember to use a fluffy brush as it will give a non-patchy application and will be blended well.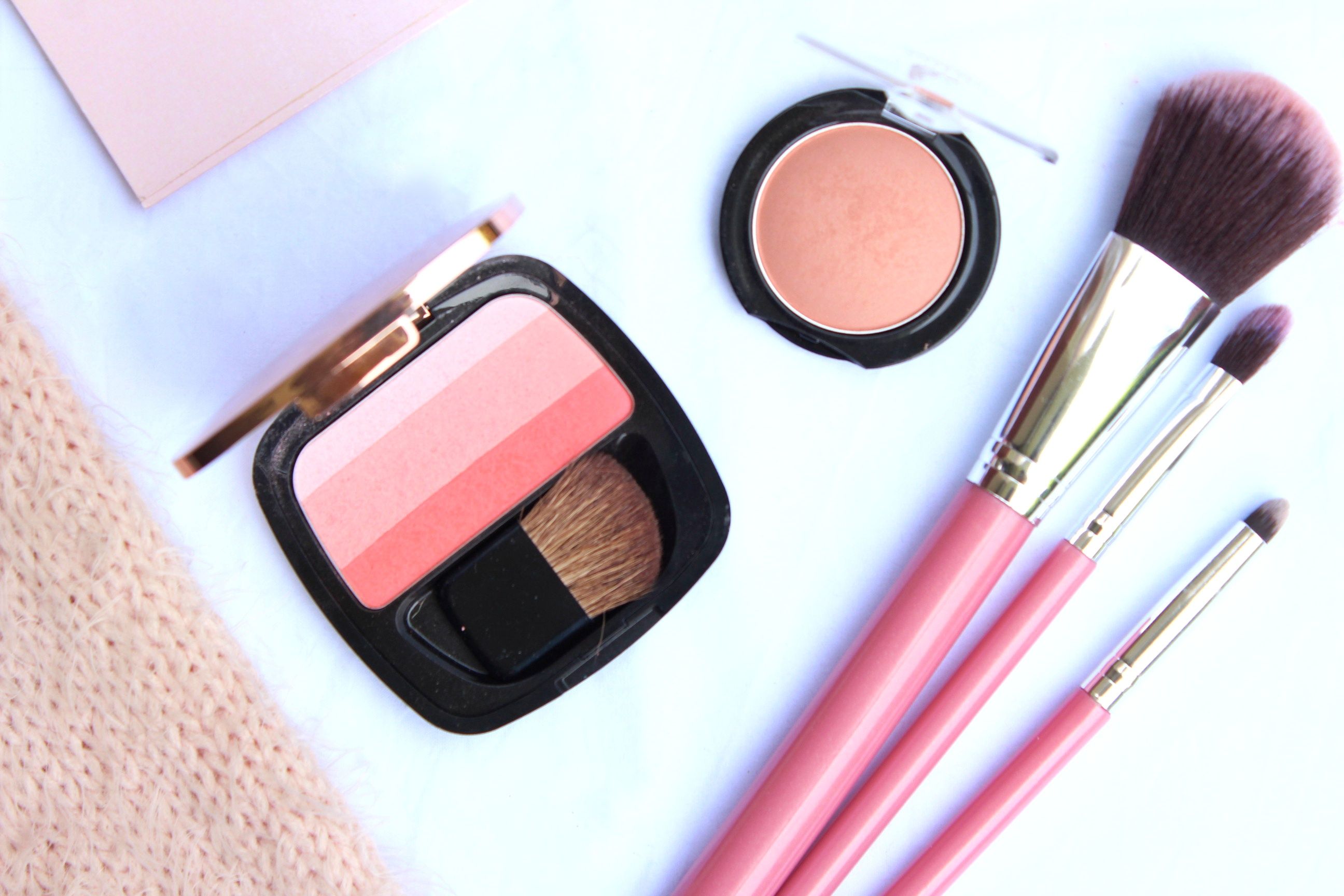 Eyeliner/Mascara/Kajal
Now, you all must be pretty familiar with this category as these are probably the first things introduced to us as "makeup". You can use any one of them or a combination of two or be extra fancy and wear all three of them. The liquid black eyeliner can give several looks; I'm especially fond of making a cat eye on days I like to feel a little fancier. The brown is great for lazy days to give a little life to your eyes. The best part is, eyeliners help you experiment with a pop of color and without being too evident like a lipstick.
Colored eyeliners are fun, girly, and accentuate your eyes. You may not use makeup too often or prefer going bare-faced sometimes, but mascara is that one thing that can help you look fabulous always. A few swipes to lengthen and thicken your lashes can also help open up your peepers and bring that spark you were looking for. It instantly opens up your eyes and makes you look more rested for even the earliest morning class. Layer it on to add volume and length for a night out.
Pro tip : Pick a waterproof formula to keep it in place all day.
I use the Maybelline Lash Sensational waterproof mascara, and oh boy! It is one the best I have ever used, it separates your lashes and adds length too. However, if I want to add some volume to my lashes, I use the Mac False Lashes.
We're all pretty dependent on our kajal to add a bit of drama to our daily look. There's just something about it that helps us feel more fabulous and better equipped to take on the day, right? You can also use it on your upper lids as an eyeliner when you're in a rush. If you have big eyes, then you can apply kajal on the waterline as well. But skip this step if you have small eyes or your eyes will look even smaller. I use the Maybelline Colossal Kajal, yep, the one we all have in our closets. I have used it for years and works pretty well for me.
Pro-Tip: Instead use a nude or white kajal on your waterline to make your eyes look bigger.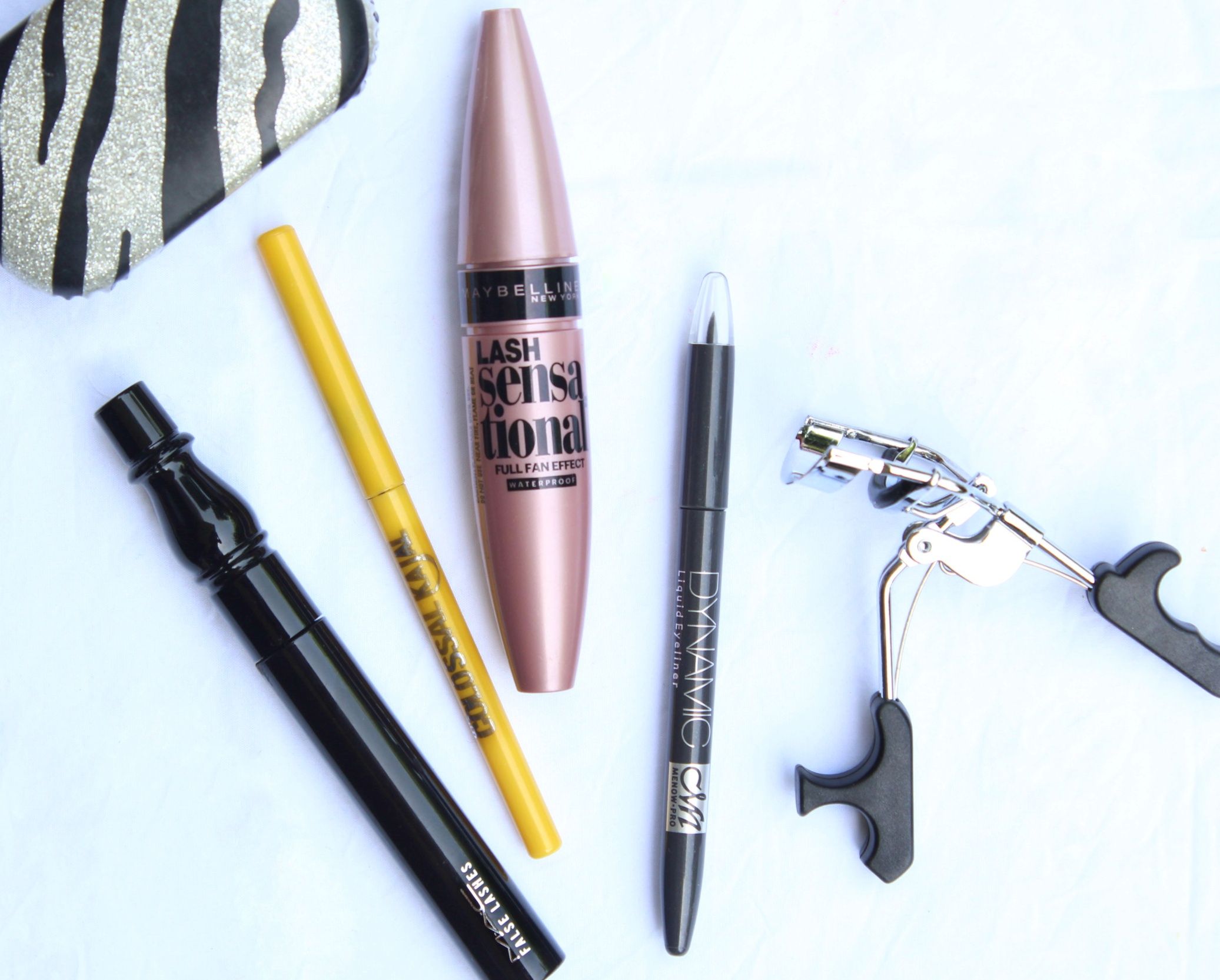 Lipstick/Lip gloss/Lip balm
The most preferred types of lip colors for college girls are lip glosses or tinted lip balms, as they are easy to touch up as well. As most of you probably know, a great balm does wonder for keeping your lips smooth and healthy. Lip glosses or satin and creamy lipsticks have a more sheer, natural look and are so much easier to apply than a matte lipstick. However, if you don't always like to touch up your lipstick, then you can also use a matte or liquid lipstick to keep it intact all day long. I love using soft coral and pink-toned shades during summer, as they give my lips that little extra and look super cute. Sometimes, I also want to wear nude shades because, oh well, they are my favorite.
Pro-Tip: The Lakme Enrich Mattes range is AMAZING. It's affordable and has a variety of shades with great pigmentation. You should definitely check it out.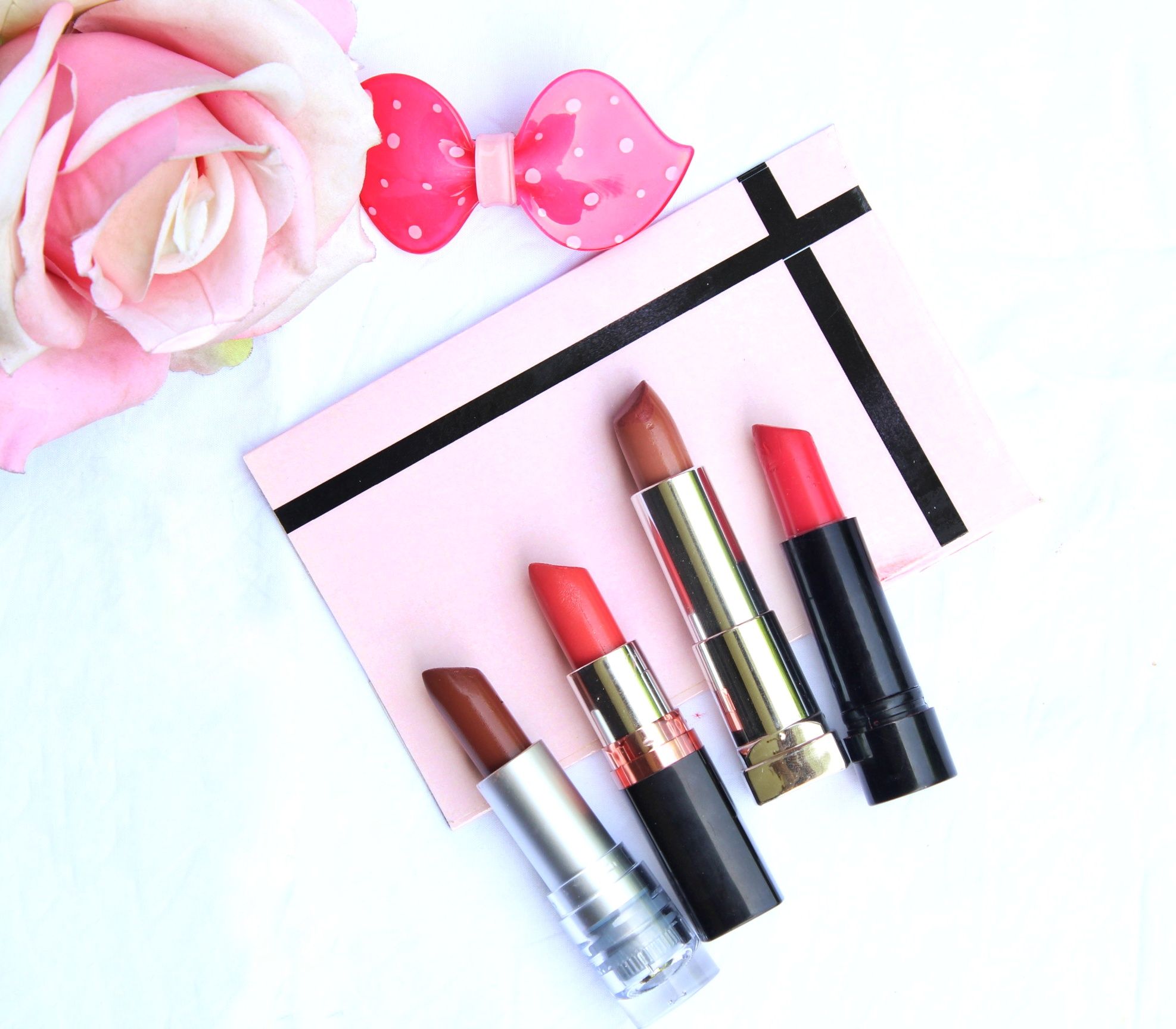 So that's about it for this post. I have not included any skincare or other products here because then it would have been long.
If you want me to do a separate post on it, do let me know. You can reach out to me on my Instagram or comment here or drop me a message and tell me what you feel about it.
Peace out lovelies.
xoxo.