Happy Valentine's Day to all my lovelies.
All around the globe, February is the season of love, reds, chocolates, roses, and all things sweet. Whether you are spending time with your family, going out to lunch with your boo, shopping with your girlfriends, or just pampering yourself with some Netflix and fries. No matter what you're doing on this day, one thing's for sure: you'll want to spend Valentine's Day looking your best.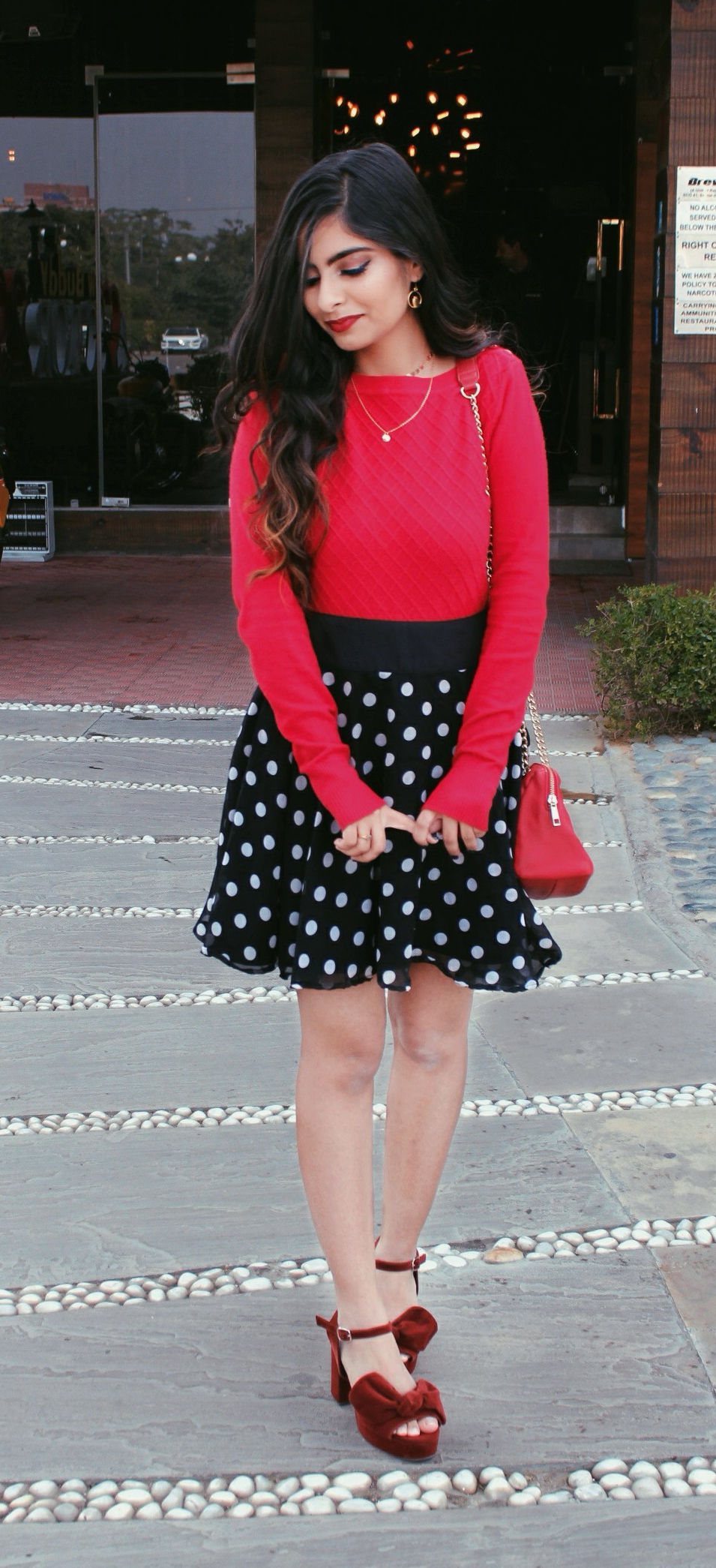 Today, I decided to go for the ultimate low-key Valentine's Day look. Sweet, feminine, and romantic, with a bright burst of poppy red to keep things seasonal but not overly cliché.
Nothing says Valentine's Day quite like the color red. So, I wore a cute red sweater with a criss-cross self pattern on it, which not only kept me warm but also is super adorable.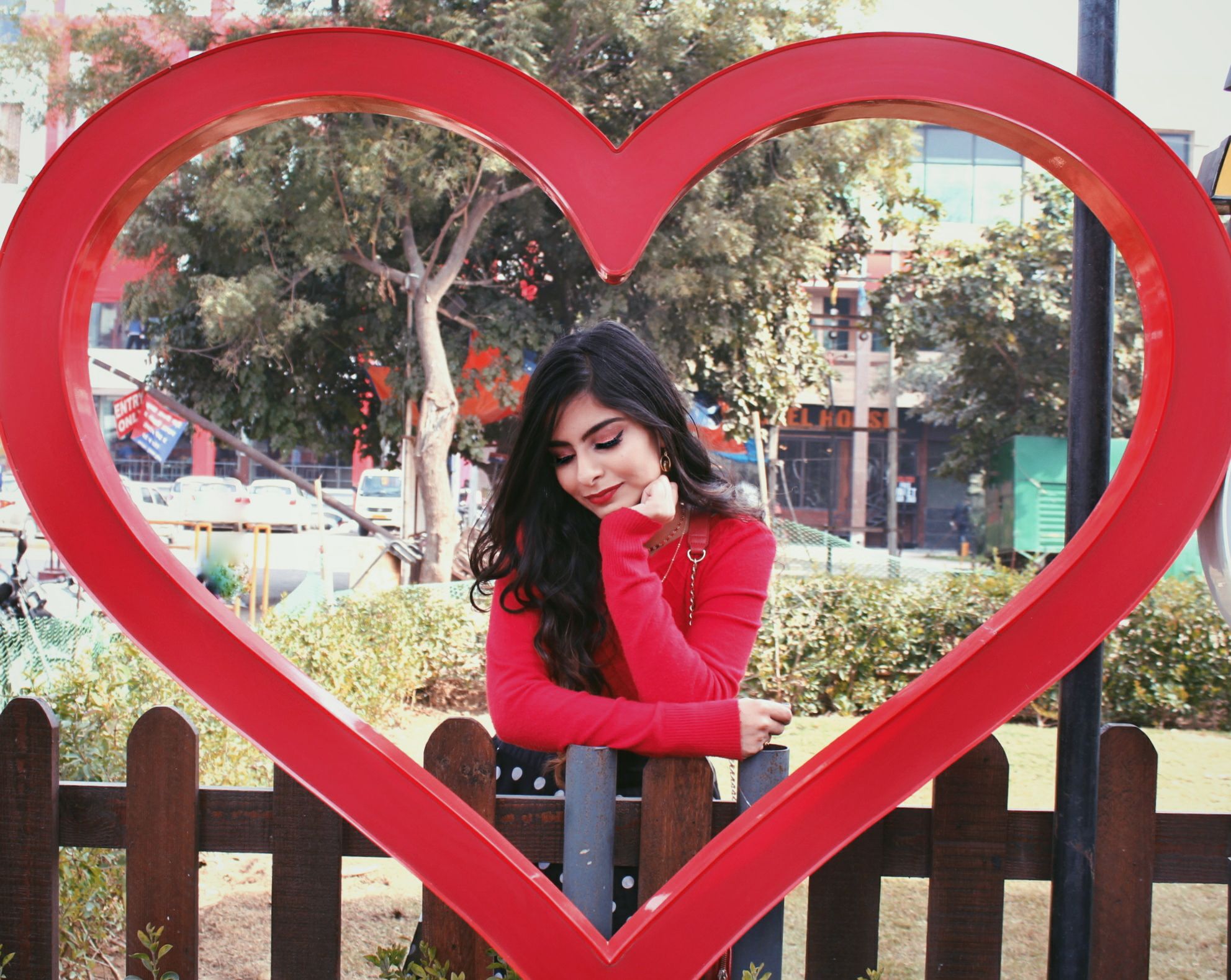 If you know me personally (even if you don't, now you do), then you know that my favorite clothing item is a skirt! You can style a dress in so many ways, be it with a tank top, jacket, leggings, sweater, shirt, literally anything. Because of this reason, a considerable chunk of my closet is full of so many different types of skirts. Anyway, so naturally for Valentine's, I decided to wear a beautiful black skater skirt with white polka dots all over.
Pro tip – polka dots are a huge trend that will dominate 2018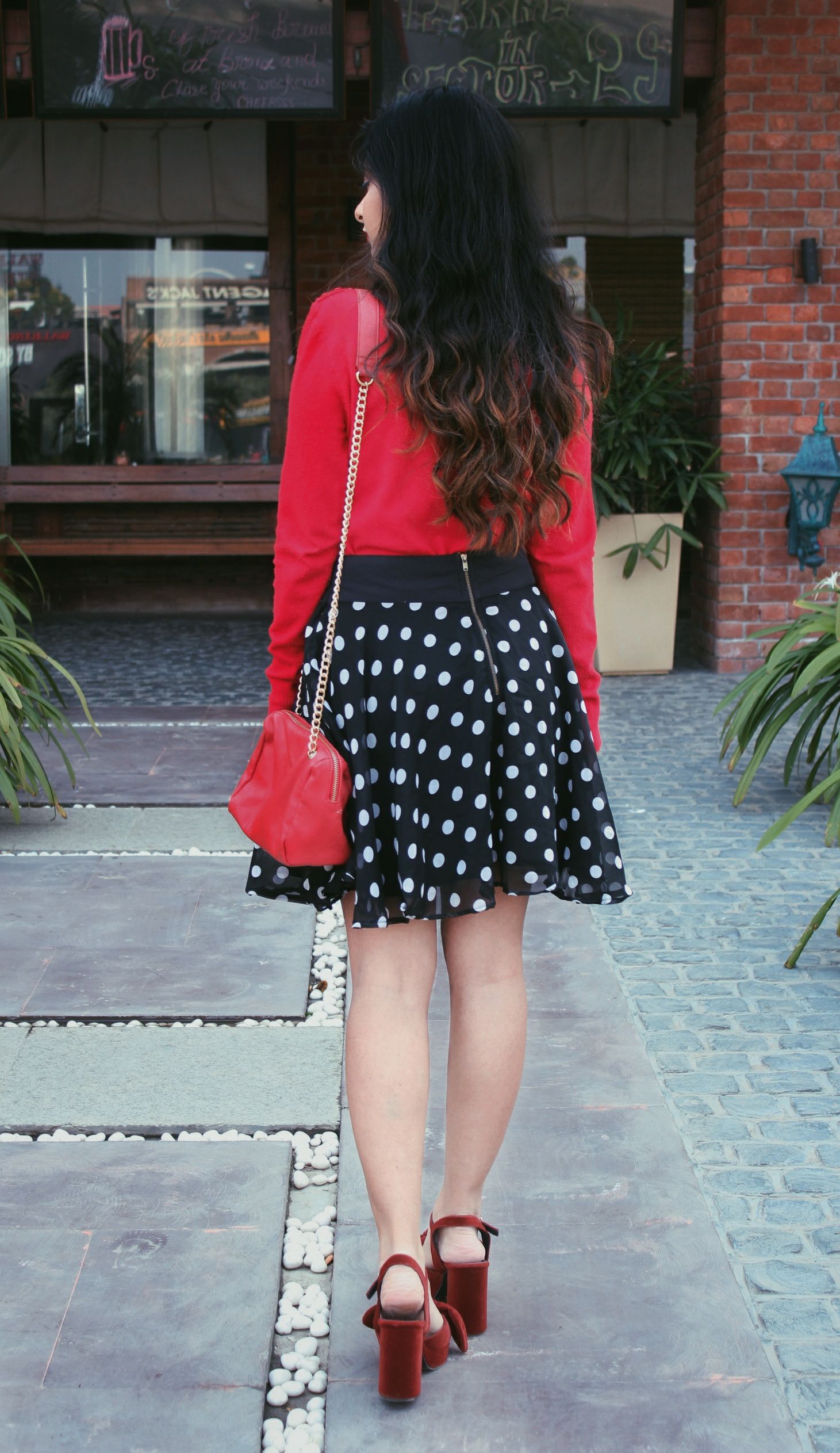 For accessories, I went ahead with a gold theme. I wore a double-layered coin neck-piece, which I think adds the perfect amount of oomph without going over the top. I also paired it up with delicate little hoop earrings.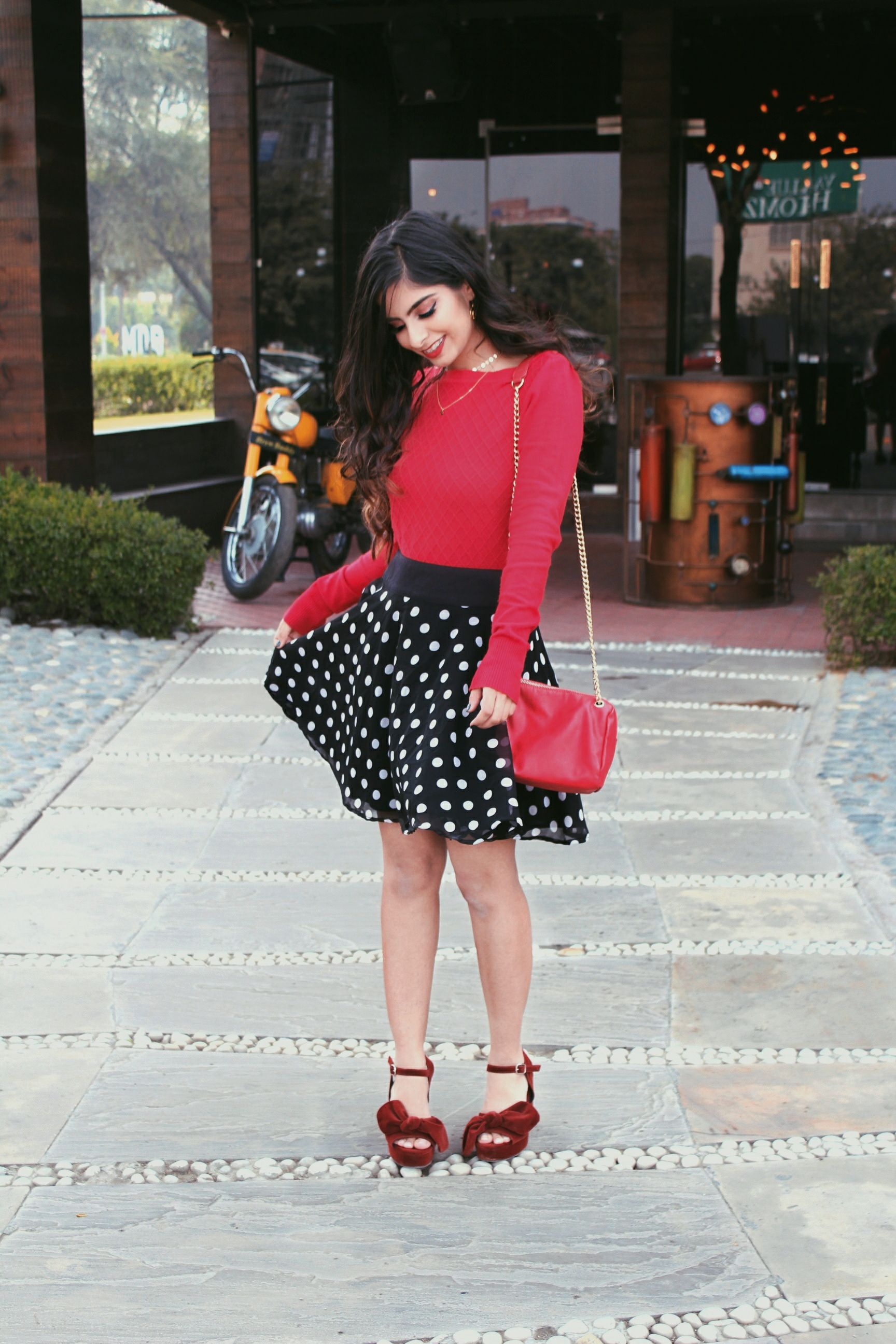 To top it off, I carried a red sling bag with a gold chain for an extra something sweet.
For shoes, I wore dark red colored block heels with bow detail on top.
Finally, for makeup, I went all out and did a bright red lip, rose gold mauve eyeshadow, pink blush, and falsies.
If you guys want me to do a full post on the exact products I used for this makeup look then drop comment below or DM me on my Instagram, I would love to do so.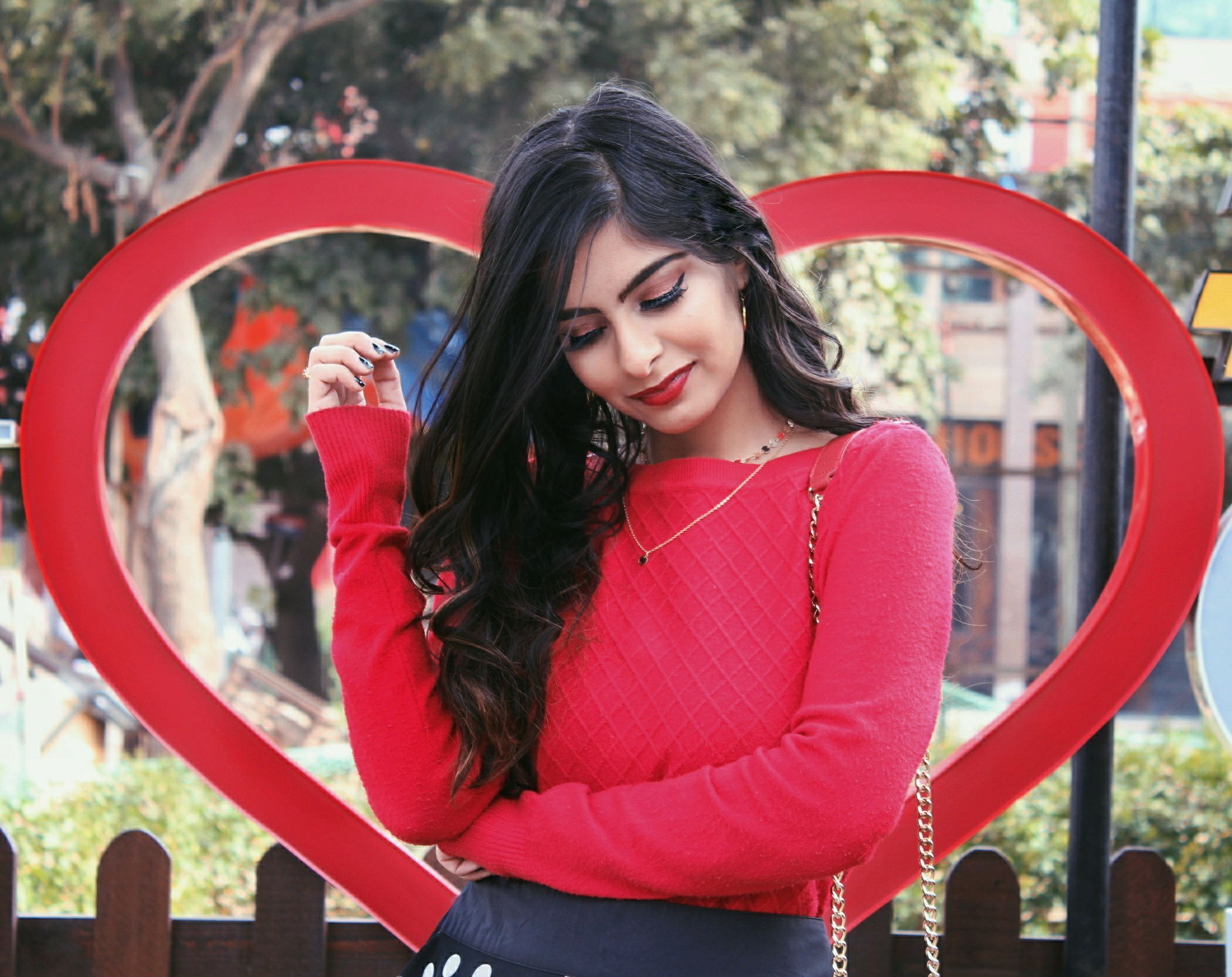 Outfit Details:
Skirt – Stalk Buy Love (Buy Similar HERE)
Sweater – Park Avenue (Buy Similar HERE)
Neckpiece – H&M (Buy Similar HERE)
Sling bag – Gift (Buy Similar HERE)
Heels – Koovs (Buy Similar HERE)
I hope you enjoyed reading this and had lots of fun on this Valentine's day.
*virtual love and hugs*
Xoxo
Khyati.